While Texans spent most of last year in their homes because of the pandemic, the live entertainment industry slowly began dying.
Small theaters — many nonprofit organizations — shuttered a year ago and most haven't reopened yet. Gainesville's Butterfield Stage community theater held its last performance of the play "Marvin's Room" just two days before local pandemic restrictions were put in place March 17, 2020.
It wasn't the only one. Huntsville's Old Town Theatre and other theaters across Texas closed the same month.
"We really have had no revenue since we closed last March and we have discovered that our ongoing bills are right at $2,000 a month," said Lauren Edwards, president of Friends of Old Town Theatre. "We were fortunate enough that we had enough in savings to cover expenses, but we are at the end of that rope."
It's the same across the state, even in Dallas, where Deep Ellum Art Co. owner John Larue said they're just barely able to stay open.
"We won't last another month," he said at the end of February. "I'm laying off employees this week that I've kept on this entire time because we can't make the next payroll let alone make rent next month. We have lost as much as we can afford to lose."
A hanging lifeline
"Barely surviving" is how most live venue owners in Texas feel, and the government has promised help but hasn't yet delivered.
U.S. Rep. Roger Williams, R-Austin, was among the lawmakers speaking out for music venues, theaters and museums struggling to survive. Williams' bipartisan Save our Stages Act allowed the creation of the Shuttered Venue Operators Grant program and was signed into law by President Donald Trump on Dec. 27.
The program includes $15 billion in grants to shuttered venues, to be administered by the Small Business Administration's Office of Disaster Assistance.
"Two months since becoming law, the SBA still has not made the application for the $15 billion SVOG program available for the thousands of music venues, theaters and museums that are struggling to survive the COVID-19 pandemic," Williams said.
Williams has had numerous meetings with owners and managers of dozens of independent venues throughout his district. Many share the same sentiment — they need help.
"Venue operators have nowhere else to turn and the SBA is not acting with the necessary urgency to provide a lifeline to the businesses who were the first to close and will be the last to reopen," Williams said.
Requirements for the grant and program details have been added to the website slowly during the past few weeks, but as of Thursday applications weren't available.
Navarro County's Warehouse Living Arts Center Director John Kaiser III said his organization is aware of the Save our Stages Act and emailed Sen. John Cornyn voicing his support.
"I appreciated his efforts to work across the aisle to address the struggles theaters across the nation are facing," he said.
The WLAC theater is funded mainly by grants and season ticket holders, supplemented by fundraisers, donations and individual ticket sales. Kaiser said any Save Our Stages Funds would go directly into maintaining operations, new productions and allow the theater to rehire staff they had to let go as funds quickly depleted throughout 2020.
Once the program launches, though, there may be questions about who qualifies.
At Butterfield Stage, Treasurer Guy George is monitoring the SVOG website for updates on when the program may start taking applications, and he's made some preliminary calculations to estimate how much the theater might be eligible to apply for.
But grant guidelines say disbursements will be based on how much "earned income" was lost, he said, and he's not sure yet what exactly counts as earned income.
"If you have a youth theater program and someone gives you a contribution towards your doing that, is that earned income? I don't know the answer to that question," George said.
Butterfield Stage typically puts on five main stage productions and two youth productions each year. The theater usually hosts several smaller events in a year, too, but most are designed to break even rather than generate revenue, George said.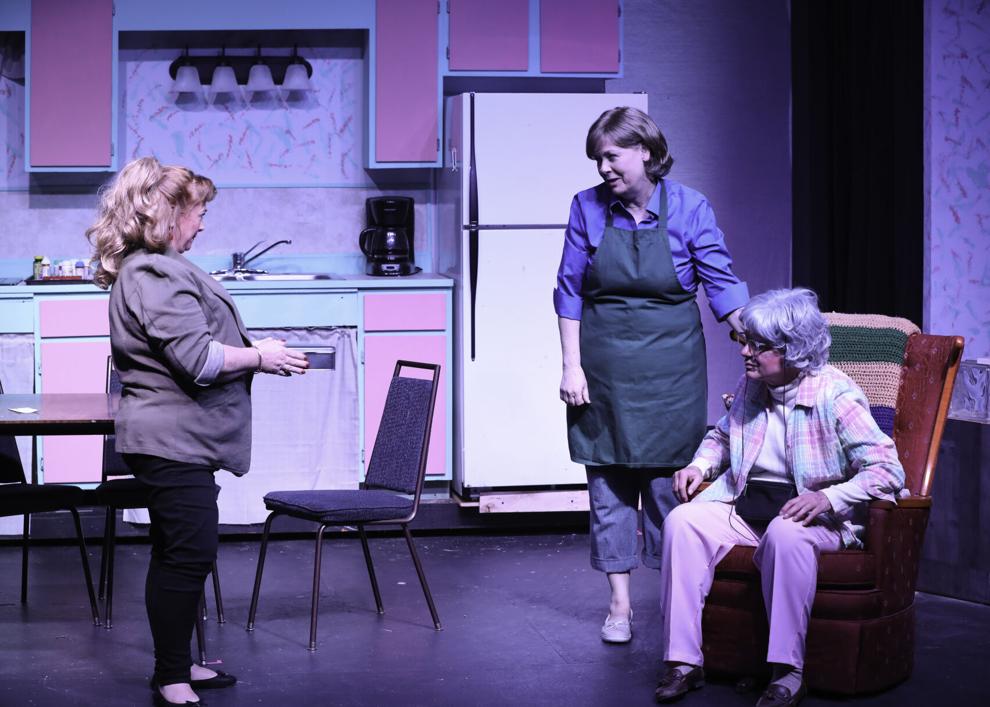 Finding a way
Theater groups are getting creative in finding ways to bring in even a little income.
Plaza Theatre Co. in Cleburne made national news by offering outdoor drive-in movie theater shows. Some shows were by donation while others charged admission. None came close to realizing the revenue stream Plaza realizes in a normal pandemic and shutdown-free year.
Gainesville's Butterfield Stage's only performance this year was a virtual production of an original stage play written by two longtime Butterfield performers.
But even virtual shows proved problematic for theaters in rural areas without broadband. Huntsville's Old Town Theatre held one virtual show with Sundance Head.
"It was not successful for us," Edwards said. "We don't have livestream capability at the theater.… We had to have it livestream from someone's home and then it took a long time to get the money to us. It was a lot of work for not a lot of benefit."
Even with some money still coming in — Butterfield Stage in Gainesville gets a portion of city and county hotel-motel tax revenues, and received a Paycheck Protection Program loan that was later forgiven — George said this season's revenue forecast is a loss.
"We will be in the red," George said, unless grant funding comes through. "That's a little hard to say."
However, the Gainesville community theater used the downtime to carry out or at least start some facility improvements using the hotel-motel tax revenues that were still coming in, George said. Season donations and advertising fell much less than earned income — they're down less than 10% compared to averages over the preceding five years — and the theater sold 166 tickets for its first-ever virtual production earlier this season.
Butterfield's youth theater program kept going, too, hosting a virtual youth camp in fall 2020 and going back to in-person youth camps for spring 2021, with precautions to limit the spread of the coronavirus.
Nonprofits in trouble
As a nonprofit with an all-volunteer staff, Theatre Off the Square in Weatherford, wasn't able to qualify for any kind of financial aid.
"There were no salaries to pay, but we still had a mortgage and bills that we had to take care of," TOTS Board President Laurie Jones said. "We've always tried to stay healthy financially, and we did have some backup funds that we could've dipped into if we had to."
Fortunately, it never got to that point.
During the nearly yearlong shutdown, Jones said some donations came in, some patrons would write a small check and, in December, the theater was able to hold a community yard sale, raising about $1,500.
"That's a mortgage payment," Jones said.
Henderson County Performing Arts Center Board Member Jo Ann Johnson said her theater is a non-profit, all-volunteer organization and does not qualify for Save Our Stage funds.
"Community theaters have also had a troubling year, and many have not survived," she said. "As most have no paid staff, they were unable to take advantage of PPP loans or grants made available to other businesses during the closures due to the pandemic."
HCPAC had to get creative to continue serving its audience despite COVID-19 restrictions, and teamed up with a local radio station to broadcast an original play live over the airwaves.
Slowly reopening
Now that Gov. Greg Abbott has reopened Texas, the theater groups are slowly and cautiously determining when to reopen.
"Even with the governor's adjustments to reopening the state and mask mandates well, that allows us to have more people in our theater," said JaceSon P. Barrus, co-owner of Cleburne's Plaza Theatre Co. "But right now that's still more people than we're comfortable with allowing in there. So, once we do reopen it's going to be a soft opening. We're going to start small audience wise and hope to grow from there."
Getting people to purchase tickets and attend live shows may take a while, some fear.
"It's going to be hard to get people interested again and trusting that it's safe to come," Edwards said. "That's the scary part. When you book these entertainers you are having to pay a deposit to get them to come and then we don't know if we will be able to meet their guarantee. It's really, really scary from a small theater standpoint."
With only 350 seats, the theater needs to have every seat sold for shows like Johnny Rodriguez, who is coming in April.
"I don't know if that is going to happen," she said. "We've got to give it a try, because otherwise we are out of money."
Register Editor Sarah Einselen contributed to this report.