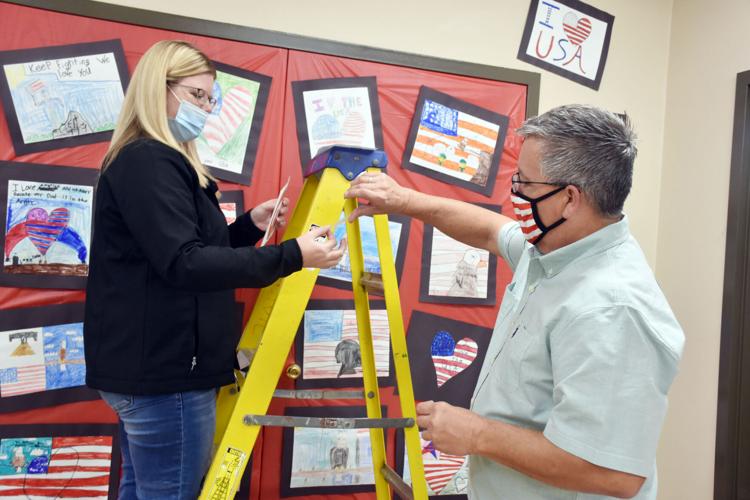 The city's Veterans Day celebration might look a little different this year but that doesn't mean it's less patriotic.
From 8 a.m. to 5 p.m. today, Tuesday, Nov. 10, the public can come and go as they please to view more than 200 pieces of artwork and essays celebrating veterans by area elementary school students inside the lobby of the Gainesville Civic Center, 311 S. Weaver St.
City and county offices are closed Wednesday, Nov. 11, in observance of Veterans Day. The Veterans Day display will remain through Friday, Nov. 13. Masks are required to be worn inside the city facility.
Gainesville Parks and Recreation Department Director Patrick McCage said the plan was to have the city's Veterans Day celebration indoors at the civic center. However, out of an abundance of caution because of the rising coronavirus cases in the county, the event was canceled.
"Even though we do not have a program, we are just doing our part from the parks and recreation department to extend our thanks and appreciation to the veterans who sacrifice so much for our country," McCage said.
A few weeks ago, Jennifer Carpenter, an administrative assistant with the parks and recreation department, reached out to area elementary schools asking for submissions from students so she could plaster the walls of the civic center to honor those who have served in the U.S. Military.
Carpenter said Monday, Nov. 9, that this was before the parks and recreation department knew they were going to cancel their annual Veterans Day event. However, all the "beautiful" artwork still needed to be on display for the public — including the county's veterans— to see, she said.
So, the parks department decided to showcase the submissions from students at Thomas A. Edison Elementary School, W.E. Chalmers Elementary School and Lindsay Elementary School in the civic center lobby.
"Now [the veterans] can come by on their own time and not worry about a mass gathering and still see part of what we had planned for them," Carpenter said.
McCage credited Carpenter for the "fantastic idea to commemorate our local and national veterans."
"It's so pretty," Carpenter said while glancing over some of the students' submissions. "I'm proud of it."
Carpenter pointed out a piece submitted by a little girl whose father serves in the U.S. Army.
"They did really good," Carpenter said of the students' efforts while encouraging everyone to come out to see the display.