The church has left the building as congregations have been asked to halt traditional worship services and suspend other group gatherings due to the new coronavirus.
While the pandemic presents unique challenges, it's also spurring churches to engage people in new ways — online, in congregants' homes or even in their cars.
"The church has been creative for thousands of years to be able to get the message of the Gospel out," said Brady Martin, senior pastor of Temple Baptist Church. "Sometimes we think of the church as just a building, but we are reminded during the season that the church isn't just the building. It is the people and the people have been given the mission to go out and make disciples.
"There are still thousands of lost people who do not know Christ and who do not have hope during this season. We have not been furloughed from that mission."
Congregations large and small have looked to alternative ways to host worship, usually through online streaming services or prerecorded sermons posted on their websites and YouTube. Smaller church groups including prayer meetings, Bible studies and staff gatherings are often using Zoom videoconferencing.
"The church community in Gainesville will have to change forever," Phil Larson said. Larson is president of the Cooke County Ministerial Alliance and host of the Facebook group "Morning Moment," which hosts services 24/7 on Facebook. "Churches are adapting rapidly," he said.
Churches and their leaders have had to modify their ministry routines since the novel coronavirus started spreading globally.
St. Paul's Anglican/Episcopal Church in Gainesville has extended its presence online by posting its Wednesday afternoon Zoom group Bible study to its Facebook page. Archived sermons also are available there. Because St. Paul's congregation has many elderly and rural parishioners who may not be technically savvy or have high-speed internet service, the church also hosts a drive-in Mass at 8 a.m. and 10:30 a.m. Sundays.
The services include most of the elements of their usual church Mass, including the liturgy, offertory and communion, which has been modified weekly to mitigate the spread of the new coronavirus.
"We decided to do this as an alternative way to allow people to worship together in the safe environment of their own car," St. Paul's Father Jeff Stubbs said.
Churches with little to no previous online presence have been experimenting weekly.
"This was the third Sunday we've streamed services using Facebook Live," the Rev. Jonathan Jones of St. James CME said.
Until mid-March, when live worship services began to dwindle nationally, St. James' only online presence was its website and a private Facebook group. This Easter Sunday, it will move its 11 a.m. online service to its regular Facebook page. Before its Facebook Live services, the church hosted about 20-25 attendees at its 115-year-old building on 430 Throckmorton St. Its second Facebook Live service, on March 29, drew 49 viewers, not counting views of the recording later.
Some of the larger local fellowships like Real Life Church, 2205 E. U.S. 82, and Temple Baptist Church, 1811 E. California St., already had a broad online streaming presence. Both churches have recently incorporated Zoom for private, specialized group meetings.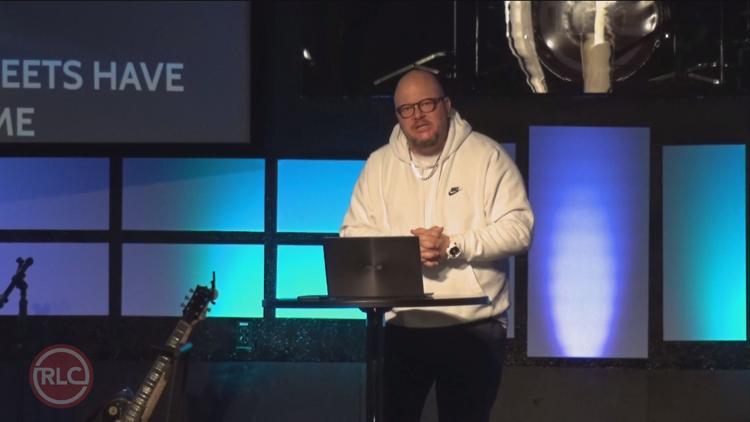 To adhere to social distancing guidelines, the churches are now posting prerecorded worship services, music ministries and children's programs on YouTube and other popular streaming platforms.
Real Life is incorporating church members' home videos into their online worship services, expressing their faith, gratitude, hope and wish to meet in person again.
"We are very relational," Real Life Church senior pastor Charlie Pickett said. "I've always said, relationships pull you into the church, religion pulls you out.
"We are human. We try to carry on and do the best we can with God's help. Loving God is easy. Loving people can be trying at times, so we need to take church wherever we go. Jesus gave us a mission. Jesus gave us a message. Now, it's up to us to think like missionaries in the situation God has placed us in so that we can leverage the greatest opportunities we've ever had to communicate the message of Jesus."