The employees at Scivally's Grocery have been working longer hours, dealing with panicked customers and facing a shortage of supplies while putting their lives on the line to serve the community — and they're proud to do it.
Dale Scivally said he couldn't be more pleased with the commitment from his team.
"I'm very proud of them and they're all showing up for work like they're supposed to," Scivally said. "They're putting their health in danger also by coming to work, but that's what we've got to do."
Cody Morrison has been working at Scivally's for nine years and he said crazy is the only way to describe things lately.
"There have been an insane amount of customers," Morrison said. "There's not a describable way to tell how many people are coming through. There have been 20-25 people a day telling me that they've been to every grocery store from here to Dallas."
Morrison does much of his work in the meat department, where he said has been constantly taxed each day.
"The companies can't even keep up with the customers like the meat market," Morrison said. "They're not sending out enough and when we do get enough, we don't have enough manpower to put it out as well as handle it."
Morrison said he is also proud to be working with such a great group of people.
"The biggest thing I could say is we have an amazing staff," Morrison said. "They're going above and beyond. They're keeping things sanitary and they're fighting through all this. I can't brag on them enough and they're working so many extra hours."
Several products have been flying off the shelves and Scivally said it has been a challenge to keep some in particular in stock.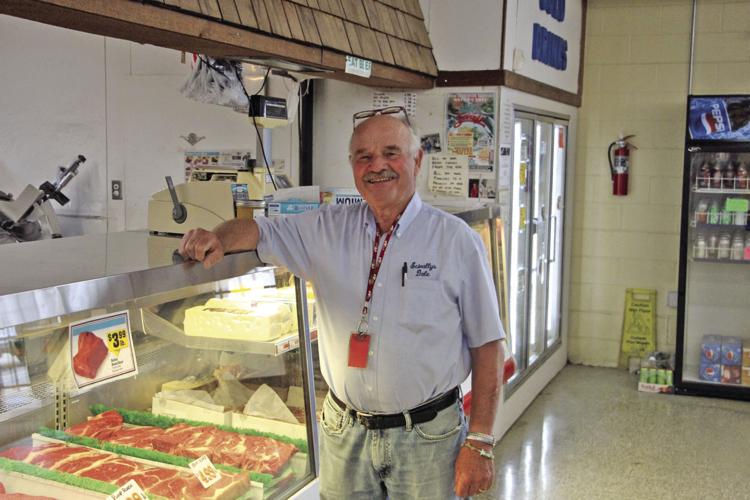 "It's tough getting the truck unloaded and that's very time-consuming," Scivally said. "They're buying way more toilet paper than they need. We can't keep that on the shelf. We have a hard time keeping flour and hamburger meet on the shelf. About a third of the items we order don't come in. The same thing is happening to our warehouse. They can't get it in as fast as we sell it. When sales triple, you're going to have shortages."
Canned items along with beans and rice have also been in high demand as well as bread, but Scivally said the bread issue has been remedied.
"For a while, we couldn't keep bread, but we've upped our order and we're doing pretty good," Scivally said. "We even took the limit off of our bread. We had a limit of two, but this week we've finally caught up."
Scivally said the store is doing all it can to make sure its customers are as safe as possible.
"We're doing all the sanitizing we can," Scivally said. "We spray the handles of the carts down and after we're closed we do more. As the carts go through the check lane, girls spray the disinfectant as the customers are leaving."
Scivally's cut its hours from 7 a.m. to 7 p.m. to 9 a.m. to 6:30 p.m. Monday through Saturday to keep from wearing out the employees, according to Scivally. The grocery is closed on Sundays.
"We just hope people understand because there is only so much you can do in a day," Scivally said. "We've added extra help but it's hard to find people that can immediately step in and do what is needed to be done."
Scivally said the store gets 90% of its product from Affiliated Foods in Amarillo and that it is also having trouble keeping up with the demand.
"We've been with them for 20 years," Scivally said. "We were getting products from Fischer's Meat Market, but they're slammed and we can't get those now. They can't keep up either. I don't blame them. They can only do what they can do."
Morrison said the workers at Scivally's are a really tight-knit group and have pulled together to help out the public.
"They're really going above and beyond," Morrison said. "It's difficult. It takes some going home and recouping to come back and face it all again."