The multitude of chairs and foot spas are empty, but that isn't keeping the owners and workers of I Love Nails and Spa from staying busy.
Despite closing due to the coronavirus until at least April 3, the spa is filled with people as legally allowed.
A host of staff members along with owners Jeff Clancy, his sister Victoria Pham and her husband Joseph Pham have been spending the past week sewing medical masks for people around the state.
From first responders to hospital workers to police offers to the elderly, the workers have been hard at work pumping out orders of masks and shipping them out as fast as they can.
"After we came up with the idea, our workers volunteered to come up here every day," Clancy said. "We get here about 9 in the morning and work to about 9 at night to make the masks. We bought supplies with our own money."
The masks are made out of 100% cotton with carbon filter in between two layers with elastic straps for a universal fit to faces. They are also reusable and are able to be washed.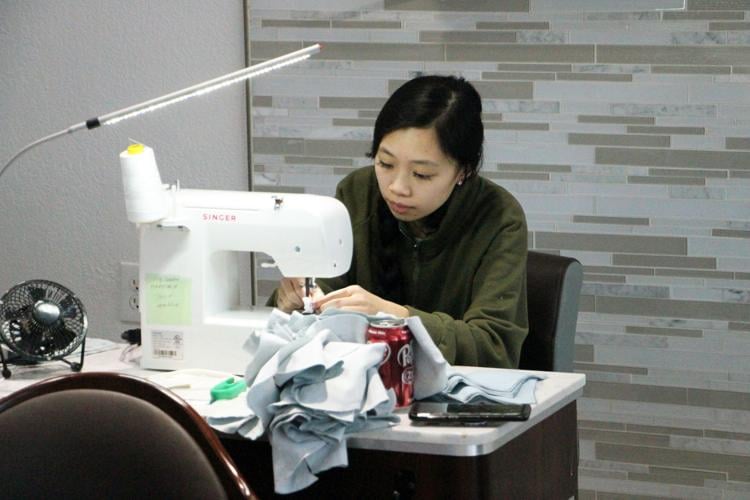 Clancy said the spa at 113 N. Grand Ave. has put together a makeshift assembly line to simplify the process, but the spa has been so efficient that they have begun to run out of materials.
That's when the Gainesville community stepped up.
Not only have locals flooded the spa with the necessary supplies, but after it became clear that it was able to handle the process, the spa reached out on Facebook to see if anyone would be willing to donate sewing machines to help facilitate the process.
Again, people responded and supplied the spa with more sewing machines so it could ramp up production.
Clancy said the support from the community is overwhelming.
"People have been great about bringing supplies," Clancy said. "That's why this community is great. We sent out one Facebook post and we're not too big on social media, but I posted a few things and even though we had 1,300 members, all of a sudden 60,000 people have responded and passed on the message. This community has been together and it's awesome because of that and a lot of people are stepping up."
Clancy and the Phams have been in Gainesville for 12 years after moving their spa from Arlington to raise their family.
"We just wanted a smaller town that we could make a home in," Clancy said. "We're from Arlington, but with the growth, we didn't think it was the best place to raise our kids. We are Catholic and we just wanted an area that we could feel part of the community and give back to the community."
Clancy said he has tried to create a family atmosphere from the moment a customer walks through the door.
"The business opportunity has been great," Clancy said. "We run it like everybody is family. The bulk of our customers have been coming to us for a long time. They trust us and we try to make sure they're happy and that they come back. We're about respect and a warm welcome feeling when they walk through our doors."
Once the word got out about the spa's ability to make masks, the response from people in need has been constant and the spa has been sending out shipments of 50 masks to them across the state.
"We've been flooded with requests from Austin to Houston to Cooke County," Clancy said. "It's 100% donation for us. We are running out of materials so we have asked customers to drop off materials. Some of my staff brought their own sewing machines and my wife had three, but that wasn't enough."
As long as the spa has the materials and the need, they're going to keep at it, according to Clancy.
"We have already filled about two dozen orders and 500 masks, but we're still working," Clancy said. "We plan on doing this until we're told to shut down. I have the county commissioner messaging me saying we could keep doing this and if we're told to stop we will, but as long as we can we will keep doing it."
Donations of fabric and sewing machines can be brought to the spa's location. Staff can be reached at 940-665-1111.