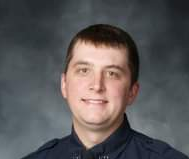 Gainesville Fire-Rescue Lt. Ross Pilcher will no longer be employed by the city after Nov. 8.
"I, Ross Pilcher, would like to formally resign with my last day being 11/08/2020," his letter of resignation turned in Friday, Oct. 16, states. "I have enjoyed the last 6 years working for the Gainesville Fire Department and that will be a time that I will never forget. Unfortunately, all great things must come to an end. Each and every one of you have impacted my life in a way that you will never know. Thank you for an amazing time here."
Pilcher was recently under internal investigation after the fire department was made aware Sunday, Oct. 11, of a racist remark he made.
Effective Monday, Oct. 12, Pilcher was placed on paid administrative leave pending the internal investigation.
The investigation revealed that the city employee did use a racial slur in a text message he sent in a personal group text while off-duty, the Register previously reported. No other GF-R employees were engaged in the conversation, according to a press release issued by GF-R on Oct. 16.
While Pilcher is still on the city's payroll, he is not actively at work, according to Human Resources Director Leah Gore.
"He had remaining vacation and compensatory time to use up," Gore said.
Pilcher has been with GF-R since July 2014 and was promoted to lieutenant this summer.