When the nation shut down because of the pandemic, couples planning to exchange vows were left scrambling to make new plans. Some postponed their weddings, while others opted for smaller, more intimate ceremonies.
Wedding venues across Texas still are recovering from the effects of the months-long closure.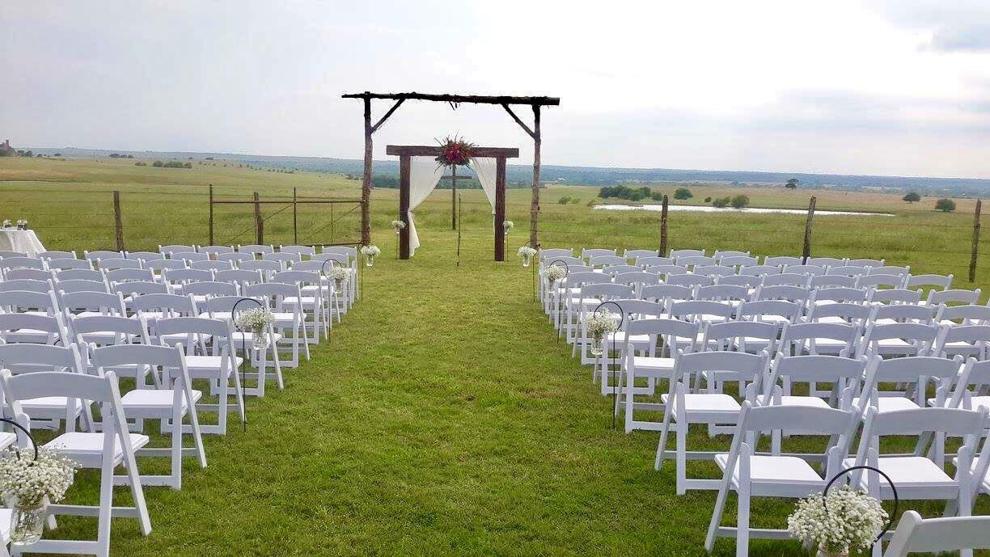 "I had to reschedule 13 weddings in three months of 2020," said Kathy Cannella, owner/operator/coordinator of Chisholm Trail Rustic Venue in Cleburne. "All my brides were amazing and were so understanding because they knew it was all out of our control. I had to reschedule a few of them more than twice."
At Rustic Rose Events in Willis, 15 events were postponed, 10 by brides before the state shut down.
"It was hard on employees who had nothing to do while the venue was closed from March until early June 2020," Manager Dustin Moore said.
Kathy and Karl Metzler, owners of Double K Rustic Ranch in Cooke County, said an estimated 80% of their booked clients either canceled or moved their wedding date more than once last year.
"Coming into this year, we probably only had half of our normal bookings of what we did prior years because usually people book a year in advance," Kathy Metzler said. "The pandemic significantly dropped our business."
Other venues — like The Pines of Alvarado co-founded by Arielle Powell and Lexi Bowles — found more business coming to their doors.
"We had friends and friends of friends reach out to use our event space due to their venue cancelling on them," said Powell, who is also the chief marketing officer. "The pandemic provided us with an opportunity to create The Pines of Alvarado due to the interest the pandemic brought. Since we opened our doors, we have had many couples interested in replanning their wedding after pandemic related push backs and cancellations."
Moore said the Rustic Rose Events has also seen more bookings, with some from brides whose venues shut down because they didn't make it through the pandemic.
"It seems like things have gotten super busy, I think it was more like people waiting in the wings to get married and it's almost been a kind of onslaught," Morris said.
Tough start to business
The James Event Center in Joshua, which is a project between three couples, had a delayed opening because of the pandemic.
"Our venue is brand new," Managing Partner Angela Jakobsson said. "We delayed our opening due to the ongoing situation during the pandemic in 2020. Our goal was to open in summer 2020 but due to the global situation and some details we needed to wrap up with the city, we opted to officially open in January of this year."
The event center also picked up bookings from others who have been slammed trying to reschedule.
"We are fortunate to have available choice dates this year and into 2022, since a lot of area venues that made it to the other side of the pandemic were swamped this year once things started to open back up," Jakobsson said. "Our group has been thrilled with the events we have been honored to host so far, and the bookings we have scheduled into 2022."
The same was the case at The Space in Cleburne, which was supposed to open in April 2020 but had to delay.
"Our target market was events such as rehearsal dinners, showers and parties but because of the pandemic we received more inquiries for smaller weddings and elopements," Owner and Manager Hannah Marroquin said. "We found that many couples shifted focus from having a large extravagant party to an intimate, meaningful celebration and we believe this trend will continue for many couples in the future."
The unknown
Brook Watson, owner of the Barn at Watson Ranch in Cleburne, said besides weddings the venue also had to cancel several private parties and charity events, as well as graduation parties.
"There was so much 'unknown' with them pandemic," Watson said. "No one really knew what was happening or how it would affect long term. I think our state was responsible in shutting down, to be safe. However, in my personal opinion, we could've opened up sooner.
"Unfortunately, it was a no-win situation. If you open up too early, you upset people; If you don't open up, you upset people. It was a hard time for businesses and families to stay afloat. Thankfully, we have been steadily booked for weddings and events, and are booking into 2023. It is so nice to have everything getting back to normal now."
Melody Ball, owner of Five Oaks Farm, LLC in Cleburne, said that they rescheduled about 40 percent of their 2020 weddings and events, and had one cancellation.
"During our process of adaptation, we offered our couples to have a micro-wedding on their original date and choose another date for their larger celebration at no cost when the guidelines dictated small groups," Ball said.
Ball said they were pleased with how the state handled the crisis.
"It was confusing, however, to have such a disparity of guidelines between the different counties," she said. "We realize that this was necessary due to the prevalence of reported cases in our county vs. other counties."
Reopening and recovering
Despite reopening, the wedding venue industry has undergone many changes.
"Things are still not 100 percent," Cannella said. "Last year changed our industry in the fact that people are still at that mindset of doing smaller packages, less money because of the pandemic."
At Chisholm Trail Rustic Venue, Cannella offers weekend packages, which allow the guests to spend the night and use the venue for several days.
"I still provide the weekends. That's still my most popular package," she said. "But more people have been asking for the smaller packages than ever before. So I have had to adjust for that."
Owner Janan Benefield said the Dove Ridge Vineyard in Weatherford has also seen smaller packages more often since reopening.
"We are seeing a lot more 'short term' bookings and weekday weddings than ever before," she said. "People wanting to marry in as little as two months. This is something we normally don't see."
The Metzlers — who own Double K Rustic Ranch — said they aren't back to where they were before, but they have also branched out to offer more than just weddings to make up for the loss in business. They can host birthday parties, reunions, proms and more.
"We are not where we want to be but we are OK," Kathy Metzler said. "We're doing what we can."
The Dove Ridge Vineyard had to reschedule about 45 weddings, Benefiel said.
"The financial impact for venues was huge," Benefiel said. "We allowed our brides and grooms to move to new dates with no transfer fees, so we basically lost all the revenue for the first dates during our busiest peak time of the year. This represented a six figure loss for our venue."
Though they are operating at a normal pace now, all venue owners said it will take time to recover 100 percent.
"All venues will need to recover from the first year losses (2020) and the reduced income for (2021) for the weddings we moved to dates that usually would have went to new brides and grooms," Benefield said. "It will take a while for the industry to recover. What brides and grooms needed to understand was that while weddings were cancelled during COVID, the venue expenses like mortgages, electricity, salaries, etc. still went on.
"I have many friends in the industry, and while most of us were in very good financial positions, some venues were barely making it during COVID and there was a lot of support and encouragement being shared in the industry. They always say what doesn't kill us makes us stronger, so I think the industry has learned a lot and come closer together during this really stressful time.
"I think we have all experienced the worst case scenario of any business model and we are very fortunate to have made it through and learned valuable lessons. We have grown closer to our brides and grooms, many having very emotional journeys during this stressful time period."
Powell shared the same sentiment.
"The COVID-19 pandemic was the first of its kind in our lifetime," Powell said. "We feel that through facing so many unknowns each day, the wedding/event venue industry was thoroughly put to the test.
"We are thrilled that many of our fellow venue owners have the opportunity to bounce back in the wake of the pandemic. The pandemic has provided us with a learning opportunity to be more innovative and accommodating."
Learning how to be creative and flexible was the biggest lesson learned, The Pines of Alvarado's Powell said.
"Many couples postponed or downsized their weddings because of COVID," Powell said. "We were not operational throughout the peak of the pandemic, but we have learned from what the pandemic taught us. Some couples experienced the loss of wedding celebrations due to the unknown that COVID brought. We strive to be flexible in the wake of the unknown to provide our customers with their dream event."
Register reporter Megan Gray-Hatfield contributed to this story. Monica Faram is managing editor of the Cleburne Times-Review, one of the Register's sister publications.