Oak Ridge resident Carla Rickert-Gonzalez believes God has a way of putting people in the right place at the right time.
Friday morning, June 19, Rickert-Gonzalez was on her way to work in Pilot Point when she stumbled upon a fire sometime between 7 and 7:30 a.m. at the Gray Hill Apartments, 915 E. U.S. 82.
"I never go that way," she said of how she commutes to work, explaining she had to make a stop at the U.S. Post Office on California Street in Gainesville.
She said she saw the blaze, pulled over and began banging on doors and windows because Gainesville Fire-Rescue had not yet arrived to the scene. Rickert-Gonzalez said she helped three elderly people out of their homes who were "all still asleep."
She said she wasn't the only one who helped the residents of the apartment complex escape the fire. Two men were also assisting her, she said.
Rickert-Gonzalez described a bottom apartment unit with "flames shooting out both the north side and west walkway."
She said one man was trapped on his second-floor balcony and "shimmied over" it with the help of two men guiding him down.
Rickert-Gonzalez said she was a volunteer firefighter with the Oak Ridge Volunteer Fire Department for 10 years and instinct kicked in.
"People needed help and the fire department wasn't there yet so I did what anybody would do," Rickert-Gonzalez said.
However, once the fire department did arrive she said firefighters "jumped on it."
Fire Chief Wayne Twiner said department personnel, including some who were off duty, responded shortly after 7 a.m. Friday to a two-story structure fire with an apartment engulfed in flames on the first floor.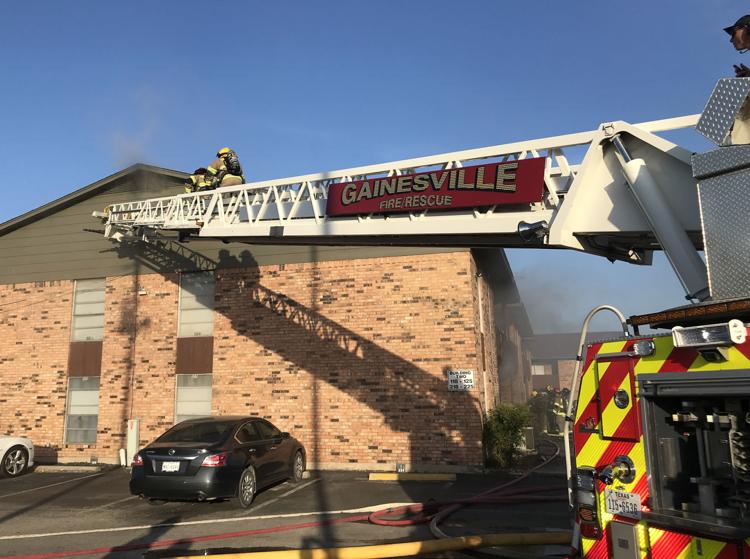 "The fire came in right at shift change so we were able to have a lot of resources on scene early," Twiner said. "Firefighters were unable to confirm if all residents were out of the units so an aggressive fire attack was initiated and a primary search was conducted in all units involved and in close proximity to the working fire."
He said "Ladder 1's crew were able to get a quick knockdown" while other firefighters conducted search and evacuations of the adjacent apartments.
There were no reported injuries to residents of the apartment complex or firefighters, Twiner said.
"Two pet boa constrictors were saved in the upstairs apartment above the fire floor," he said.
The fire, according to Twiner, appeared to be accidental as of late Friday morning and likely caused by an electrical malfunction.
He said at least four families were displaced and the American Red Cross had been notified to assist prior to GF-R clearing the scene. The scene was cleared around 10:55 a.m., Twiner said.
Rickert-Gonzalez said she thinks everyone responding did an exceptional job.
"It was the grace of God that helped us get through that one because it went up quick," she said.