UPDATE 8:05 a.m.:
The Cooke County Sheriff's Office updated its social media post early Tuesday morning saying all four girls had been found safe.
"We would like to thank everybody for sharing the picture and the tips called in. We couldn't be successful without y'all," CCSO's updated post read.
UPDATE 7:40 p.m.:
The Cooke County Sheriff's Office indicated on its Facebook page that one of the girls, Emily Hunter, has been located.
ORIGINAL: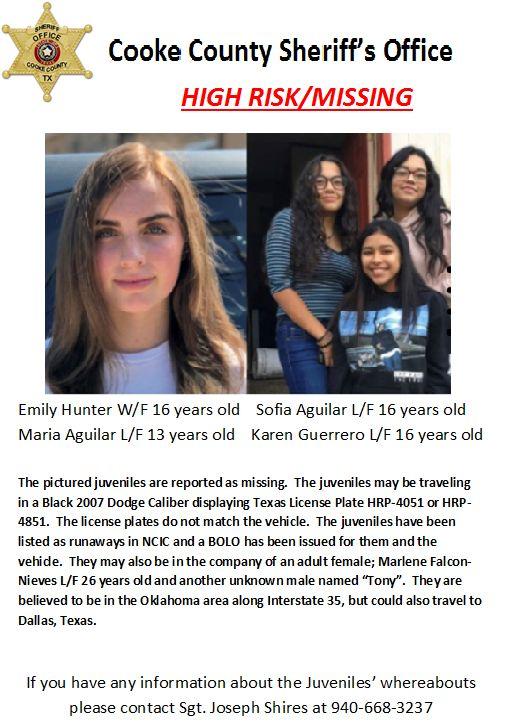 The Cooke County Sheriff's Office is seeking the public's help to locate four girls that are believed to be missing and at high risk.
Emily Hunter, a white 16-year-old girl; Maria Aguilar, a Latina 13-year-old girl; Sofia Aguilar, a Latina 16-year-old girl; and Karen Guerrero, a Latinoa 16-year-old girl, are believed to be in the Oklahoma area along I-35 but could be traveling to Dallas.
The girls may be traveling in a black 2007 Dodge Caliber displaying Texas license plates HRP-4015, according to a flyer issued Monday afternoon by the sheriff's office. The plates do not match the vehicle, the flyer indicated.
The juveniles have been listed as runaways and a BOLO has been issued for them and the vehicle, according to the flyer.
They may be in the company of an 26-year-old Latino woman, Marlene Falcon-Nieves, or an unknown male named Tony.
Anyone with information about the girls' whereabouts is encouraged to call Sgt. Joseph Shires at 940-668-3237.
Editor's note: This version clarifies earlier information provided by CCSO regarding the license plates on the missing vehicle.