Veterans Lee Roy "Bud" Yosten and Gene Davenport can still recall the time they spent serving the country.
Davenport, a 92-year-old Gainesville resident, enlisted in the U.S. Navy in May 1944 and was discharged in June 1946.
(Story continues after video)
"I was a big hand at reading newspapers," the World War II veteran said of how he came to serve. "I was following the development and the activities that was taking place and because of that, I guess I built up a real strong mind or attitude of what we were doing in WWII and I decided that I wanted to do my part in protecting our country so I volunteered."
He said his parents had to give consent to let him serve because he was "only 16."
During his tenure in the Navy, he tended to boilers.
"I actually had the position to be a chief petty officer. My job title was oil king," he said of the end of his two years of service.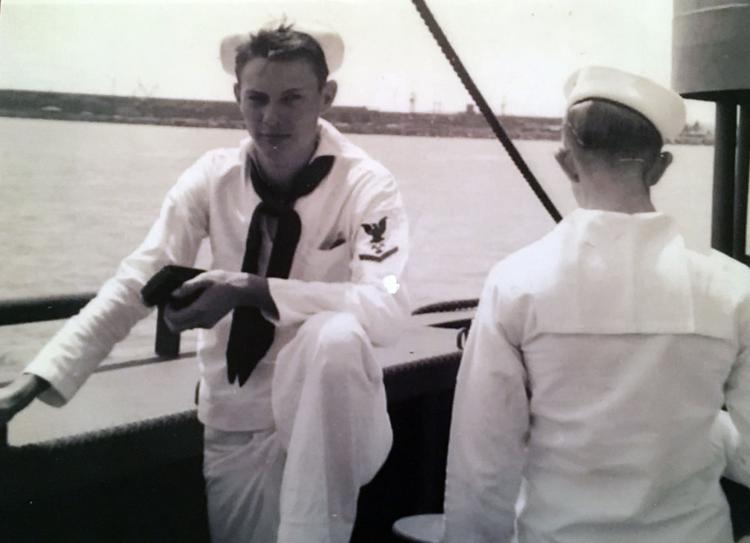 Davenport said he was in the Pacific headed from one island to another to pick up troops during the invasion of Normandy. He would be doing much the same during the Battle of Iwo Jima a year after the D-Day campaign.
"We went to Iwo Jima and unloaded (U.S.) Marines there," Davenport said. He went ashore and stood at the foot of Mount Suribachi, where six Marines raising a U.S. flag were photographed to make one of the war's most enduring images.
"They were still fighting down on the other end of the island," Davenport said.
Davenport, who said he thinks he served with Company B, wouldn't hesitate to go back and do it all over again.
"Yeah. I'd do it over cause you don't have any memory of before it took place," he said. "Yeah, I'd do it over again. Cause I don't think that anything I did was in vain or what have you."
Drafted during the aftermath
Yosten, a Muenster resident who said he will be 95 years old this month, was drafted into the U.S. Army in 1948 and got out in 1950.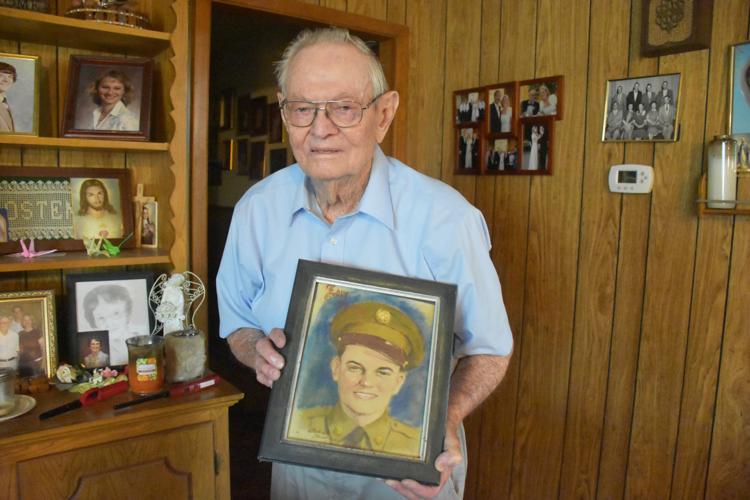 The WWII-era veteran said he was in the 34th Infantry Regiment, 24th Division, Company C as a private first class.
Yosten said he was sent to Japan.
"We had some advance training over there and (did) a lot of guard duty," he said.
(Story continues after video)
Yosten recalled being stationed 15 miles from Nagasaki, or its ruins.
"There wasn't anything left," he said.
In August 1945, an American B-29 dropped an atomic bomb on Nagasaki, killing an estimated 40,000 people, according to history.com. The attack on Nagasaki occurred a few days after a B-29 bomber dropped the world's first deployed atomic bomb over the Japanese city of Hiroshima.
Yosten said he participated in combat training.
"I was mostly trained on a machine gun," he said. "Which is a powerful weapon."
Getting to Japan from San Francisco, California, was a journey unto itself, according to Yosten.
He said on the third day of the approximately two-week trip, they hit a storm.
"It seemed like it lasted forever," Yosten said. "There was sick people on it. Homesick and seasick."
Yosten arrived via a Liberty ship, designed during World War II to be built quickly in order to fill the military's urgent need for troop transports. He said he stayed in Japan "for about a year and a half."
"Some of them boys weren't the same person when they got loose from the Army," Yosten said. "They repeated day after day on their mind."
Yosten said never had to go into combat.
"They sent the draftees home before the Korean War hit," he said.
Commemorating D-Day
The 75th anniversary of D-Day will be recognized in a special ceremony from 1-3 p.m. Thursday, June 6, at the Stanford House, 401 W. Garnett St.
At least six WWII veterans are expected to attend. Each WWII veteran will receive a folded American flag and an individually numbered commemorative badge, according to information provided to the Register. Taps will be played live to close out the ceremony, which is expected to last less than an hour. Refreshments will be served until 3 p.m.
Dec. 7, 1941, is "the day of infamy," and for Gainesville resident Louis Schmitt, it changed his life forever.
Cold temperatures didn't dampen the spirit of the Veteran's Day commemoration at the War Memorial outside Leonard Park Tuesday as Gainesville …