Six weeks before Carla Klement's wedding more than 35 years ago, Klement's mother, Pat Walterscheid, was diagnosed with breast cancer. But the experience of the mother ended up inspiring the daughter when Klement faced her own battle with breast cancer almost three decades later.
"I grew up thinking I could get it," Klement, a Muenster resident, recalled this week ahead of National Mammography Day, Friday, Oct. 18. She had long suspected she might be among the small number of people — about one in 400 — who have the "breast cancer gene," a mutation in one of two genes labeled BRCA which makes a person significantly more susceptible to developing breast cancer, according to the National Breast Cancer Foundation Inc. Klement began getting yearly mammograms at age 30 because of her family history and they'd come back clear through March 2013.
In September that year, though, she felt a lump she could swear wasn't there the day before. She called her doctor to have it diagnosed as soon as possible and a biopsy confirmed it was stage 1 breast cancer.
Klement chose to undergo a double mastectomy and reconstructive surgery on Oct. 28, 2013, followed by 12 rounds of chemotherapy.
"By the time I had the surgery," she said, her cancer "had already progressed to stage 2," meaning it had invaded the lymph nodes.
"Growing up, with her having it, we were told to do the self-exams and all that stuff but I didn't, as most people don't," Klement recalled. "My main thing is early detection — if you find something, have it checked out right away. Had I not, had I waited even two months, I don't know where it would've led since it was so aggressive.
"The day you find it, go to the doctor. And if it's nothing, great. I'd err on that side rather than wait."
The National Breast Cancer Foundation pointed out on its website that "with early detection, the vast majority of breast cancer cases can be successfully treated — and that's true even for people who have a BRCA1 or BRCA2 mutation."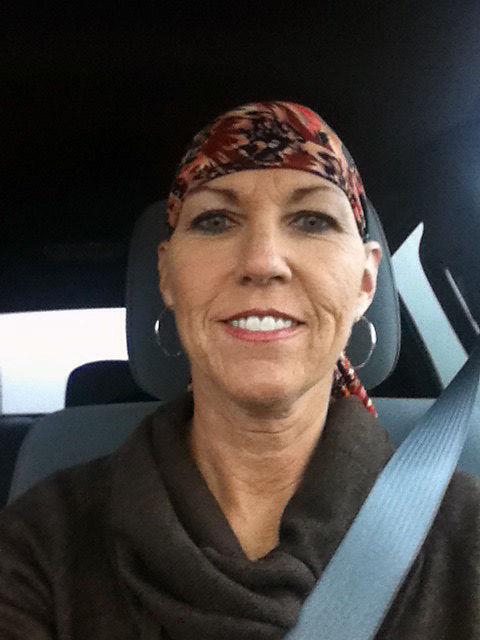 Klement said she struggled most with losing her hair during chemotherapy, finding strength in wearing a collection of printed scarves she purchased to wear instead of a wig. "These became kind of like my armor," she said, holding one of the scarves this week.
She also looked to her mother's experience.
"Because she was a survivor, my mindset was, she can do it, I can do it…. Had she not been a survivor, my attitude may have been different. But I thought, well she can do it, then I can do it."
During the process, Klement chose to be tested for the BRCA gene and was found to have it.
"I have two daughters of my own, so I wanted to do it for them," she said.
Klement's mother, Walterscheid, also of Muenster, said she's had one recurrence of breast cancer since her diagnosis, single mastectomy and radiation and chemotherapy in 1984. In 2003 when she was diagnosed again, the cancer was treated with a lumpectomy, or a surgery to remove only part of the breast instead of the entire organ, followed by chemotherapy and radiation therapy.
Walterscheid continues to see her oncologist once a year. During her last visit, she had a 3D mammogram instead of a traditional one, she said, and thought it was more comfortable than traditional mammography.
Because it's relatively new, 3D mammography "isn't yet considered the standard of care for breast cancer screening," according to breastcancer.org. However, it's being adopted more quickly than traditional 2D mammography was, the charity states on its website. "According to 2018 statistics from the FDA, about 4,000 facilities out of 8,726 certified mammography facilities in the country offer 3D mammograms."
Both women say their initial diagnoses changed their attitude toward life.
Walterscheid, who still had two children in school in 1984, said "it makes you wonder if you're going to live to see them grow up."
"I've got great-grandkids now," she added, smiling.