Seven-year-old Jordan Hughley sat calm and still on Judge Janelle Haverkamp's lap as the judge spoke with his great-aunt, Sherri Edwards, about the responsibilities she was about to take on.
Did Edwards understand that Jordan and his little brother, 3-year-old Jaxson, would from that day forward be hers just as if they had been born to her? She did, she told the judge of Cooke County's 235th District Court during the county's first-ever National Adoption Day event. And a few questions later, the Lancaster woman went from being almost an empty-nester to the mother of two little boys just on the cusp of grade school.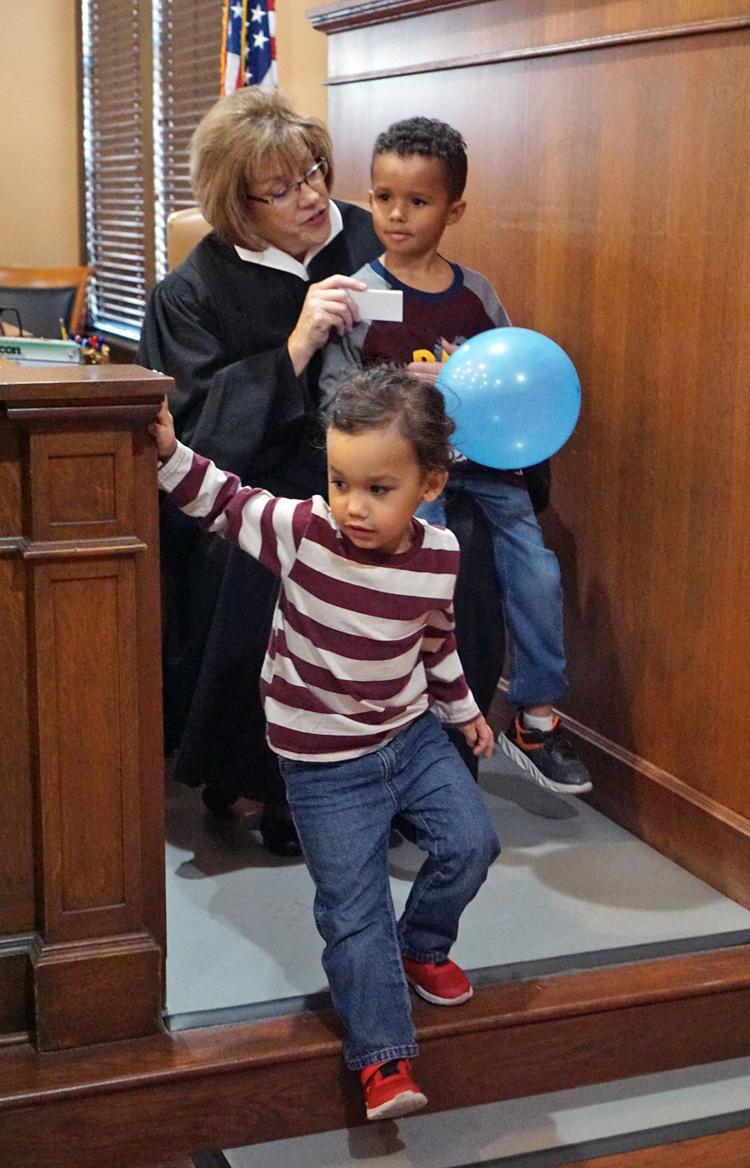 "It's scary, but we'll make it," Edwards said shortly after her adoption of the two boys was finalized Friday, Dec. 6. She'd been looking after them since March 2018, when they were placed in her care by the Texas Department of Family and Protective Services.
Haverkamp told little Jordan, just as she told all 11 children adopted that day in Cooke County, that he'd need to celebrate two birthdays every year — one for his birth date and one for his adoption date.
"He's going to remember that story that she told him, about the two birthdays," Edwards said after the adoption ceremony. She added she wasn't going to be surprised if he asked for a birthday party that very day.
"We've got a lot of stories," she said. "We're looking forward to more."
The Edwards' case was one of eight concluded in a daylong slate of adoption ceremonies at the Cooke County Courthouse in downtown Gainesville. Staff from DFPS and CASA of North Texas cooperated to turn the district courtroom into a festive place, complete with more than 100 stuffed animals filling the seats in front of Haverkamp's bench. Some dressed as characters from the Wizard of Oz, too, and posed for pictures with the newly formed families, who were then invited to a reception room for refreshments.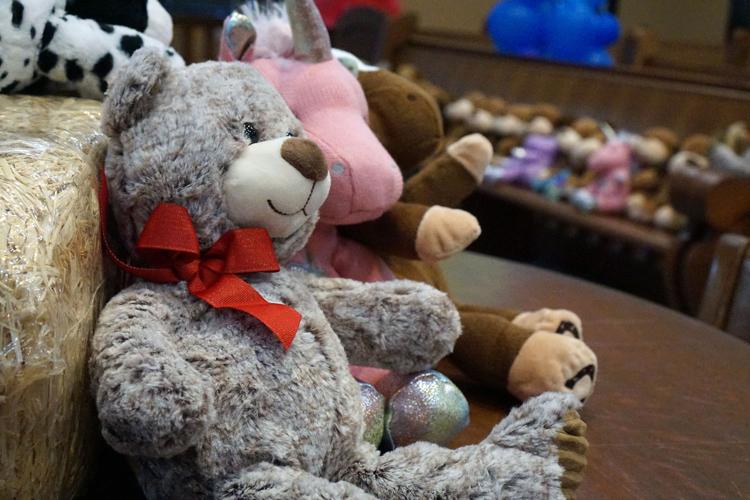 Similar events happen "all over the state and probably all over the country," CASA Executive Director Vicki Robertson said, usually in conjunction with National Adoption Month in November. "It's a great thing before the new year starts to officially begin families that are intended to be forever families — to make it official."
All the children adopted Friday had a court-appointed special advocate, or CASA, to ensure their interests were considered in the adoption process, she said.
"They all came into foster care from Cooke County," Robertson said. On average, she said, the county has more than 200 kids in foster care each year.
Another new mother teared up as her adoption of her grandson was declared final.
Patti Brown, of Gainesville, said it was "overwhelming" and that she felt "blessed."
"It's been a long time coming," she said. Her daughter struggled with poor choices and couldn't give 13-year-old Cole Brown the care he needed, she explained, so they'd brought their grandson into their home about a year ago, after he'd been in foster care for 18 months.
"We know now it's the way it always should've been," Brown said.
For his part, Cole said he's glad to be in a safe, loving home and he's excited at the prospect of "free college." Texas state law waives tuition and fees for youth formerly in DFPS custody or adopted from DFPS.
He added he admired the way his grandparents had turned their lives upside down to make him part of their home.
And that's what Friday's event was all about, Robertson said.
"The importance to the individual children who have been through so much and lost a lot and come out with a family that they love and that they're committed to, that's the most significant part of any of this and that's really why we all do it," she said.