Gainesville Independent School District honored five retirees this year who had a combined total of 137 years with GISD and 175 years total in education.
Glenn Fry, W.E. Chalmers Elementary School principal, leaves GISD with 49 years of experience, 39 of those with GISD.
Lois Fry, Robert E. Lee Intermediate School PEIMS clerk, came to GISD 39 years ago and leaves with a total of 44 years of service.
Linda Cox, curriculum coordinator, worked for GISD for the last eight years of her 30-year career.
Donna Patterson, Lee counselor, has a total of 27 years of experience, with all but one of those with GISD.
Pattie Hellinger, custodian, is retiring after 25 years with GISD.
Teachers of the year
Two GISD educators were named the district's teachers of the year for the 2019-2020 school year.
Whitney Carden, a seventh grade teacher at Gainesville Junior High School, was named secondary teacher of the year. The Elementary Teacher of the Year was Taryn Krantz, a first grade teacher at Thomas A. Edison Elementary School.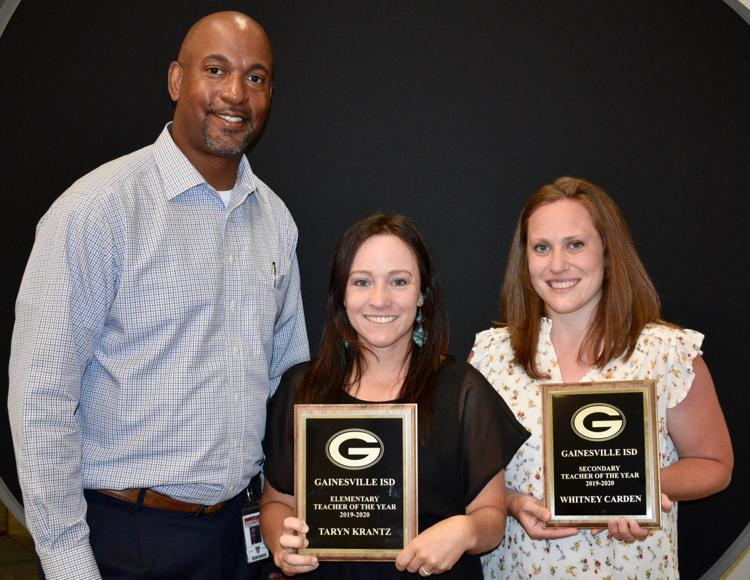 The announcement came during the end-of-year service virtual awards celebration Friday, May 29. The following Monday, Carden and Krantz were presented with the awards.
The two were nominated during the year by their campus principal and then selected by their peers as campus teacher of the year. Teachers so honored included Cecily Weaver of Gainesville High School), Carden, Kaitlin Amos of Robert E. Lee Intermediate School, Carey Bean of W.E. Chalmers Elementary School, Krantz and Falicia Bell of Head Start.
After reviewing applications by all campus teachers of the year, a district level committee then determined who would be the district teachers of the year.
Carden and Krantz will now go on to represent GISD in the ESC 11 Teacher of the Year contest.
Service awards
GISD employee service awards were also announced in the virtual end-of-year celebration. Staff members who reached a milestone with the district are to receive a token of appreciation when the staff are brought back together in August for convocation.
Honored employees were as follows, by years of service.
35 years: Vikki Estes.
30 years: Vance Wells and Zach Terry.
25 years: Cindy Dulock.
20 years: Traci Skinner, Kelli Bond, Melissa Henderson, Jana Stoffels, Vickie Watson, Teria Ravert, Deborah Erb and Kathleen Schroeder.
15 years: David Wisian, William Hendricks, Juana Martin, Tracy Henry, Melissa Bryan, Jill Linnell, Elizabeth Foster and Robin Hobbs.
10 years: Ofelia Rodriguez, Nicole Rich, Keli Royal, Julie Lang and Lindsay Dodson.
Five years: Lexi Wells, Kristal Young, James Polk, Edwina Barnes, Kira Perkins, Windy Fulmer, Bonnie Cox, Janet Crawford, Michelle McDonald, Nancy Rakestraw, Ashley Weir, Kristy Wilson, Marlen Fisher, Isreal Garcia, Tracy Slovacek, Ceci Garcia, Tori Godi, Dienitza Villa, Konner Ward, JR Spikeston, Klay Jones and Amy Bland.