After losing his leg in an IED explosion in Afghanistan, Vincent "Vinny" Reynolds found a new life in hunting and fishing. Now, a veteran-focused nonprofit is helping build his "forever home" near Valley View to allow him to pursue outdoor sports.
Homes For Our Troops is kicking off construction of a specially adapted home for Reynolds with a community celebration this Saturday, Nov. 2, at the Bob Andrew Agriculture Science Building at Valley View High School, 700 S. Frontage Road in Valley View. The kickoff will be at 10 a.m. with check-in at 9:30 a.m., according to information from HFOT.
The event is open to the public and Reynolds will be on hand to greet area residents, he said. "I'm looking forward to meeting more people in the community," he added.
Reynolds enlisted in the U.S. Army in 2007 after he graduated from high school. He was an indirect fire infantryman with the 1st Battalion, 23rd Infantry, 2nd Infantry Division, according to an HFOT biography of him. Based out of Fort Lewis in Washington state, he was deployed multiple times to Iraq and Afghanistan, he said, until the day he sustained the injury that ended his career as a soldier.
In 2012, Reynolds, then a staff sergeant, was on patrol in the Kandahar region of Afghanistan and had located two large improvised explosive devices in time to defuse them, avoiding explosions that he said could have taken out the vehicles in the patrol. However, he stumbled onto the next one, a smaller IED, which tossed him into the air as it exploded and briefly knocked him unconscious.
"It threw me about 10-15 feet," Reynolds said. "I was out for the duration of the airtime, and when I hit the ground I came back to. I didn't even realize it was me that got injured."
He knew an IED had gone off and was trying to check on his fellow soldiers when they alerted him to his own injury. "I looked down, and I was like, man," he said.
Reynolds lost his left leg in the incident and had shrapnel in his right leg, his hands and his back. He was sent to Walter Reed National Military Medical Center in Bethesda, Maryland, to recover, and medically discharged from the Army a little less than a year later, in 2013.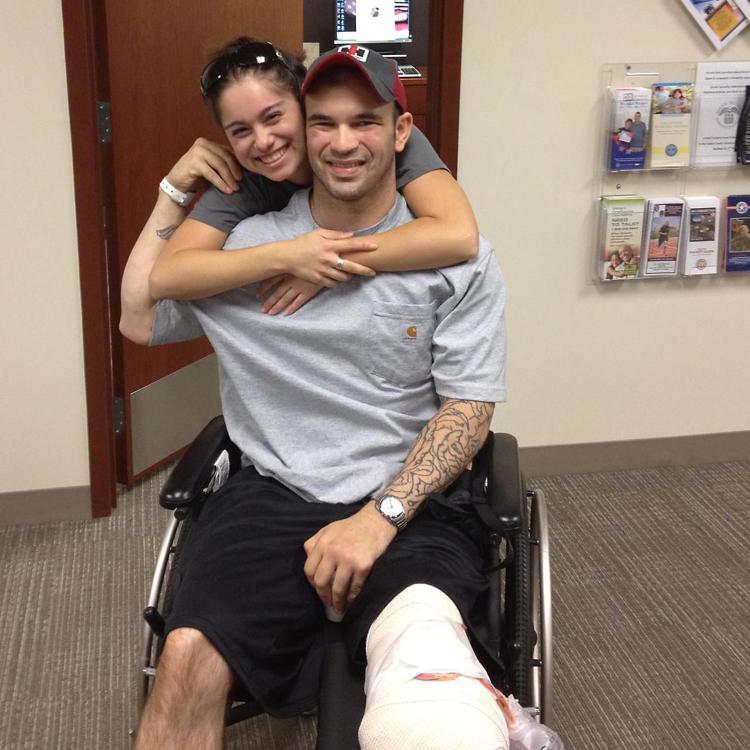 Originally from Pennsylvania, he moved back there to be with family but said he "just wasn't comfortable." He struggled with cabin fever and anxiety in the winter. A visit to his fiancee's family in Texas changed that.
"I came down here to visit the in-laws over Christmas one year," Reynolds said. "I was like, I'm wearing shorts in December!… I can hunt and fish year-round."
So about two years ago, Reynolds moved his family to Texas. He heard of Homes For Our Troops, which builds and donates specially adapted custom homes for severely injured post-9/11 veterans, through a friend from high school. His friend, a former Marine, had lost both legs in the service and received a house from HFOT. Reynolds wrote to the organization's staff members thanking them for what they'd done for his friend.
He was surprised when they responded by asking if he was interested in a house, too.
"I was like, no, I'm just missing one leg," he recalled. But they encouraged him to apply anyway.
HFOT is now working with Reynolds to build him a home with more than 40 major special adaptations like widened doorways for wheelchair access, a roll-in shower and kitchen amenities that include pull-down shelving and lowered countertops, according to a release from HFOT.
"The shower's the biggest thing I'm looking forward to," Reynolds said. "Some people have problems standing in the shower on two feet. Try doing it on one!"
The house is to be built on a rural lot with "plenty of space to pursue his outdoor sports pursuits and activities," according to HFOT spokeswoman Teresa Verity. She said construction is expected to take six to nine months, depending on the weather.
Until it's finished, Reynolds is living elsewhere in Valley View and has enjoyed getting to know his neighbors, he said.
"What drew me out here is, it's small town," Reynolds said. "That's the kind of atmosphere I wanted my kids growing up in."
He has two daughters, he added. "If they want to kick a soccer ball, they're not worrying about it flying over into the neighbor's yard."
Reynolds said he also appreciates how near his new home will be to Ray Roberts Lake, where he frequently goes fishing. He fishes competitively with Army Bass Anglers, which is made up of Army veterans and raises funds to help military service members. He also volunteers with the CAST for Kids Foundation and other nonprofits whose goals are to help kids with special needs or terminal illnesses.
"To me that's what it's all about, giving back," Reynolds said. "It gives me a purpose again. So this home is going to allow me to continue to do that."