As Nancy Perez watched instructors demonstrate some of the moves taught in the Gainesville Police Department's new women's self-defense class, she hesitated to try them out at first.
She's "not a fighter," she said, and felt like she'd be too slow or not athletic enough. But with encouragement from the instructors, patrol officers Daniel Stief and Katy Cagle, and other women in the class, she gave it a go during practice periods.
By the time the two-day class wrapped up, she'd changed her mind: She could pack a punch after all.
"I feel more confident now," Perez said Monday, Nov. 11, the day after she participated in GPD's first public session of RAD, a women's self-defense course.
RAD, which stands for rape aggression defense, is a basic women's self-defense curriculum developed by RAD Systems, whose aim is to "challenge society to evolve into an existence where violence is not an acceptable part of daily life," according to the organization's website.
GPD received an "unbelievable" number of responses when the department announced in late October it would be offering the course for the first time, GPD Capt. Mark Brazelton said. People had occasionally asked over the years if the department could provide self-defense training, he said, but "we've never had anybody that was trained to do it."
"One of the people that we recently hired, Daniel Stief… was a RAD instructor," Brazelton explained. "So I jumped on it."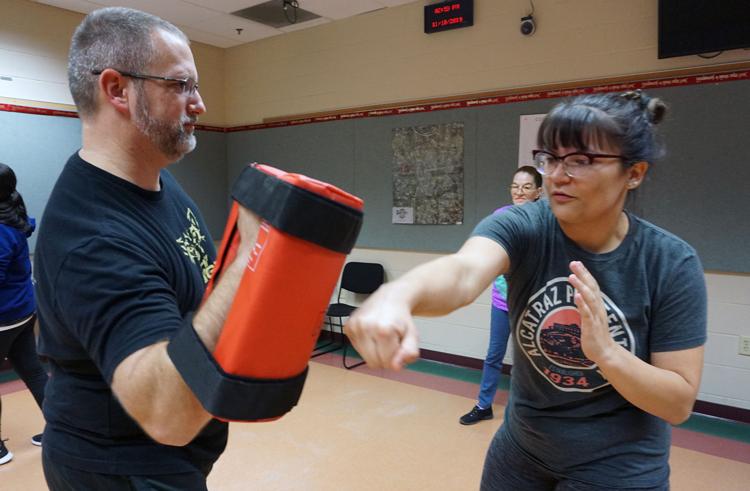 RAD requires instructors to have a law enforcement background or submit to a background investigation, according to its website. Stief, whose first day with GPD was Dec. 31, 2018, earned RAD instructor certification in 2017 while at the Midland Police Department. Cagle, GPD's only female officer when Stief joined the department, got certified this year as well so the two could teach as a team.
During GPD's public course on Saturday and Sunday, Nov. 9-10, the officers spent about two hours discussing how to avoid risky situations before moving on to teaching and practicing defensive moves. Cagle often showed how the moves could work even on an attacker who's larger or stronger. At 5-foot-5, she's small compared to Stief, but the martial arts-based techniques makes that physical disadvantage irrelevant, they explained to class participants.
"It's a basic self-defense course, but it at least gives them options," Stief said of the curriculum. At the end of the course, "they get to go through a simulation where they actually get to try the moves out… actually see, 'I can do this.'"
RAD curriculum is designed to put women at ease as they learn the moves, Stief and Cagle said as they wrapped up the class Sunday. They periodically told participants they didn't have to do a move they didn't feel comfortable with. If a woman wanted to try a move and was simply worried she couldn't do it, though, they encouraged her and coached her through.
"The trainers, both, are very professional and patient, specifically with me," Perez said, and having a female officer teach also helped build her confidence. Plus, she added, "pushing or fighting a cop and not getting charged is fun."
The department intends to continue offering the course every other month or so as long as demand warrants it, Stief said. GPD doesn't charge for it and it's open to ages 15 and up. Minors who attend need to have their parent sign a release form at the start of the class, Stief said.
Class sizes are limited by the size of the training room, he said, and there's already a waiting list of women who were interested but couldn't attend the first session. However, it's common for some participants who sign up for a class session to cancel, so he said the department would email everyone on the waiting list anytime a spot opened up at the last minute.
Women interested in getting on the department's email list for future class opportunities can email rad@gvps.org, Stief said. Instructors also invite women who have previously completed a RAD course to take it again to review or practice the techniques.