First United Bank is putting $1.5 million into remodeling its Gainesville location this fall and winter, Community Bank President Justin Krebbs says.
"We are expanding into the space on the west end," Krebbs said Wednesday, Oct. 9. "That space was rented out previously."
Demolition wrapped up this week inside the west wing, which spans an estimated 1,200-1,500 square feet, and walls are expected to go up soon in the gutted space. Krebbs said the bank is moving its loan offices there and converting some of the space into a community room with audio-visual and food service capabilities.
The community room will have outside access and be usable outside normal bank hours, Krebbs said.
Once that wing is finished, workers with Sherman-based Plyler Construction will move on to updating the existing bank space inside and out.
As far as remodels of existing commercial buildings go, "that one remodel is half our value from the previous fiscal year," Gainesville Community Development Director Calvin Manuel said Wednesday, Oct. 9.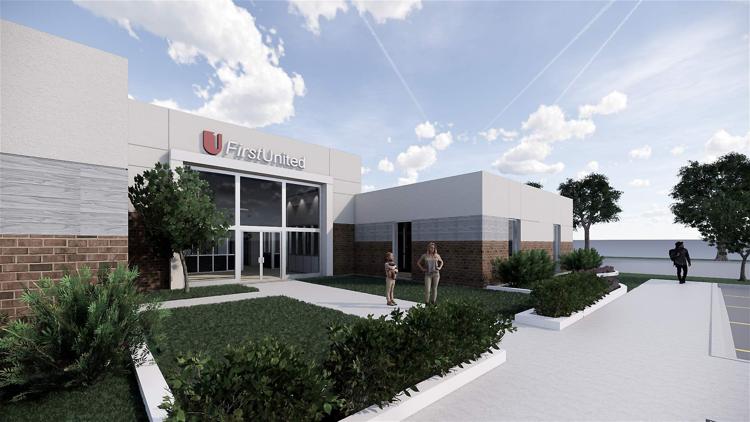 From Oct. 1, 2018, through Sept. 30, 2019 — the city's last fiscal year — the community development department issued permits for 27 commercial remodels with a total value of $3.2 million. So far this fiscal year, which began Oct. 1, "we already have two decently significant remodels" counting the bank project, Manuel said.
Krebbs said in a prepared statement that the investment shows the bank's commitment to its customers and the area. "My hope is that the remodel will create an even better banking experience for each person who walks through our doors," he explained.
While renovation is underway at the bank, 101 E. Broadway St., Krebbs is sharing one office with three other employees. He gave up his desk to a new loan officer, leaving just a small round table for himself, where he works off a laptop.
It's just one example of why he says the expansion is needed. Since taking leadership at the bank this past February, he's hired four positions, including the two loan officers he's temporarily sharing an office with. The bank needs more space, he said.
The project represents the first facilities investment the bank has made since American Bank of Texas, the bank's former brand, merged with Durant, Oklahoma-based First United Bank in 2016. The Gainesville branch is one of more than 85 bank, mortgage and insurance locations in Texas and Oklahoma, according to bank press releases. All told, the firm's assets amount to more than $7 billion, releases indicate.
Updates to the Gainesville branch lobby include the addition of a "tech table" with outlets to plug in a smartphone so customers can practice using the bank's mobile app, Krebbs said. Tellers will stay where they are, but their counter will be updated, too. The mansard roof will be replaced with a more modern facade as part of the exterior work.
He hopes to have the project finished in February 2020.
"Inside the building, there will be some local wall prints of things that are specific to the community," Krebbs said. What exactly will be depicted remains to be decided, but it could include landmarks like the Santa Fe Depot or Frank Buck Zoo, he said.