Representatives of the North Central Texas College Foundation recently honored employees who donate to scholarships with a luncheon that followed the annual Donor and Scholar Breakfast.
Both meals brought scholarship recipients and donors together so students could thank their benefactors and the donors could learn more about the students' plans, according to a press release from NCTC. The theme of the Nov. 15 events was "Racing to Success."
NCTC's Vice Chancellor of External Affairs Debbie Sharp announced the foundation had established 13 new scholarships in the past year.
Tim and Mary Turbeville established the Megan Elizabeth Turbeville Scholarship to support NCTC students from Cooke County who are pursuing a degree in education. The scholarship is in memory of their daughter, Megan, who attended NCTC and was passionate about education.
Honoring their mother, Karen Simpson and Garth Budlong and their children and grandchildren established the Betty Kirby Budlong Scholarship to assist NCTC students.
The board of the Medal of Honor Host City Program established the Medal of Honor Host City Scholarship to support veterans and their children attending NCTC.
The Gainesville Firefighters Association established an endowed scholarship to honor a fellow firefighter. The Doug Anderle Scholarship will benefit students from Cooke County majoring in fire science or agriculture.
Along with a gift to the First State Bank Exchange, First State Bank allocated funds to establish the First State Bank Scholarship to assist NCTC students majoring in business, information technology, marketing or human resources.
The NCTC Foundation recently received a donation from the Jan Parsons Estate to add to the Colonel Albro Parsons Jr. Scholarship and the Jan Parsons Music Scholarship to assist NCTC students. Jan Parsons served on the foundation board for several years.
Frank and Dorothy Knapp were recognized again this year for their contribution to NCTC students. They are assisting 20 students this year through scholarships.
Maurice Robeson Irish, an NCTC instructor and administrator, established a Robeson Family Promise Fund.
Over the past year, the Flower Mount Summit Club funded the remaining balance in its first endowed scholarship and fully endowed a second scholarship.
William "Bill" Adams provided additional scholarship funds through his commitment to the foundation's Empower the Future campaign.
Bud and Lynn Peters were already major contributors to the NCTC Foundation through their scholarship support, according to the release. This year prior to Bud's passing, they established the Bud and Lynn Peters Success Fund to assist students who need extra help to stay in school. They have also selected the NCTC Foundation as a beneficiary as part of their estate planning.
Through an anonymous donor and friend of Eva Followill, an endowed scholarship has been established in her honor to assist students with a financial need to attend NCTC.
Finally, Claud and Carol Cash Fry established a charitable trust to fund the Claud and Carol Cash Fry Scholarship. This scholarship will assist NCTC students majoring in education or accounting.
James Cooksey, a 1969 NCTC Alumni from Saint Jo, spoke at the breakfast and luncheon, encouraging students to be fearless, feel urgency, capitalize on their creativity and be aggressive when racing to success. Cooksey was recently named the Commercial Real Estate Executive of the Year in D Magazine's D CEO's 2019 Commercial Real Estate Awards.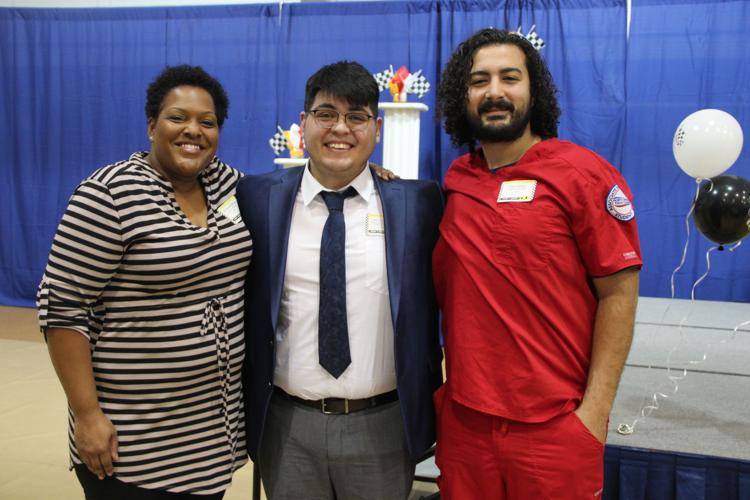 Three scholarship recipients, Piero Centurion, Nia Damali, and Gaby Antoun, also spoke about how the scholarships they received have helped them obtain an education.
Since 1986, more than 25,000 scholarships have been awarded valued at more than $9.5 million, according to NCTC Denton County Foundation board member Sheldon Connell.
For more information about the NCTC Foundation, contact Sharp at 940-668-3305.