More Cooke County families seem to be hopping on the homeschooling bandwagon since the coronavirus pandemic, according to Red River Christian Homeschoolers organizer Nicki Truesdell.
"It's definitely grown our numbers," Truesdell said, adding the RRCH group has around 200 families who homeschool in Cooke County.
Truesdell, a Gainesville resident, said she is a second-generation homeschooler. She was taught at home after fifth grade and now teaches her children. She has five kids — two have graduated and three are still being taught at home.
Truesdell said she didn't have exact numbers of new homeschooling families but recalls at least 20 have reached out to the group in some way since the pandemic.
Gainesville resident Cortni Kordi said she is a first-time homeschooling mom this year. She and her husband, Matthew, had been talking about homeschooling before the pandemic.
"We just really wanted a different alternative in teaching methods," Kordi said. " … We talked to the homeschooling community here and they were amazing. We did a lot of research and most importantly, prayed about it."
She said when school closed during spring break this past March, the Gainesville Independent School District offered virtual learning for the remainder of the school year because of the pandemic. That, she said, was an opportunity to see how teaching her daughter from home worked with their family.
"I realized it really worked good for us and she was really thriving," Kordi said.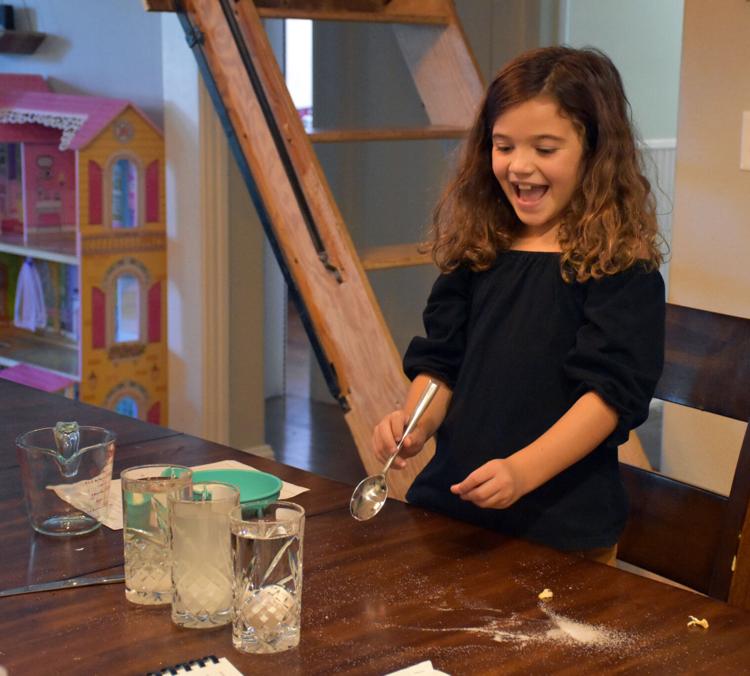 Lilliana Kordi, 7, started second grade last week with her mom as her teacher. Her younger sister, Everly, is 4 and goes to Lighthouse Preschool a couple days a week, according to Kordi. Everly is also taught lessons at home, Kordi said.
Kordi said they are not working off the school district's traditional calendar and are enjoying the flexibility of homeschooling.
"We're just making sure she is getting her lessons and mastering her skills," Kordi said of Lilliana.
Truesdell, who recently published a book on homeschooling called "Anyone Can Homeschool: Overcoming Obstacles to Home Education," said during her 20 years of teaching she has been a single mom, working mom, had a low budget and dealt with chronic illness.
"I really want people to understand homeschooling is possible for everyone," Truesdell said.
She encourages those on the edge of making a decision to reach out to the RRCH group on Facebook.
"In Texas, we have wonderful homeschooling laws," Truesdell said. "All you have to do is withdraw and tell them [the school district] you are homeschooling."
Gainesville ISD had 12 students whose families notified the district they were homeschooling this year, according to Kay Neu, administrative assistant to the superintendent.