A Tuesday evening candidate forum hosted by the Cooke County chapter of the League of Women Voters of Texas looked a bit different than your typical political gathering.
On Tuesday, Sept. 22, candidates for Texas State Senate District 30, Texas State House District 68 and the 13th Congressional District were kept socially distanced in a meeting room at the Gainesville Civic Center, 311 S. Weaver St. to participate in a forum hosted by the league to be broadcast live on KGAF Radio, FM 92.3 and AM 1580.
The public was not invited due to the coronavirus pandemic. Everyone was encouraged to listen to the radio or to a livestream online.
Each candidate had two minutes for opening and closing remarks, as well as for answering questions generated by either the state or local chapter of the league and reviewed by Steve Eberhart with KGAF, according to Alice Gruber, president of the Cooke County chapter of the LWV.
The League of Women Voters of Texas is a nonpartisan, grassroots civic organization that encourages informed and active participation in government.
SD-30
The first to face questions were candidates from the SD-30 race. Republicans Craig Carter, Andy Hopper and Chris Watts participated. State Rep. Drew Springer, R- Muenster, reportedly had a last-minute conflict and was unable to participate. Shelley Luther, known as the Dallas salon owner who defied shutdown orders from Gov. Greg Abbott, did not respond to a request to participate in the forum, according to event organizers. Democrat Jacob Minter also was in attendance.
Last month, Pat Fallon, R-Prosper, received the Republican nomination for the 4th Congressional District in the U.S. House of Representatives, leaving his current state seat open. The vacancy prompted Abbott to call for a special election.
Early voting for the SD-30 special election is underway and runs 8 a.m. to 6 p.m. weekdays at the Cooke County Courthouse Annex, 112 S. Dixon, through Sept. 25. Election Day is Tuesday, Sept. 29.
Craig Carter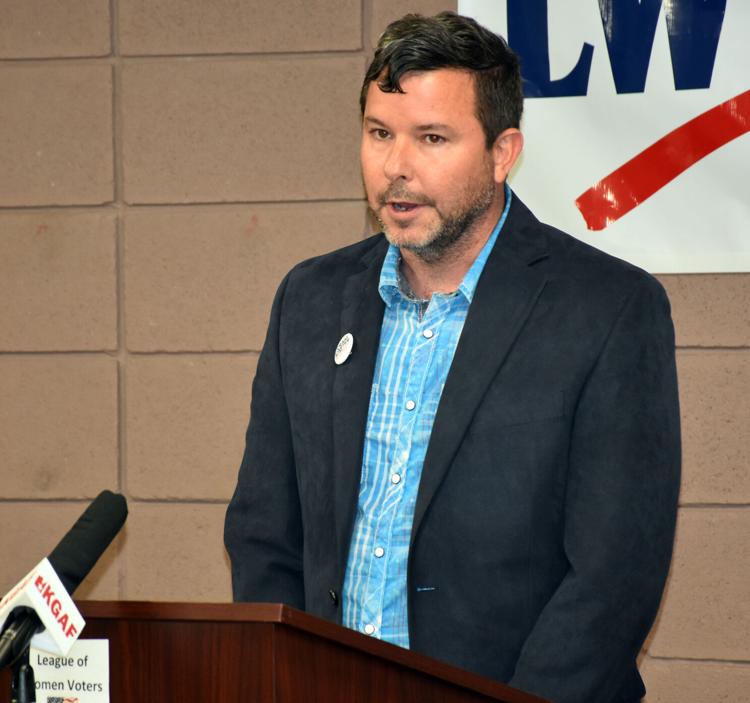 Carter said he's a businessman and not a politician. Since 2016, he's been working on revitalizing the Old Nocona Boot Factory in Nocona.
He said while restoring the building, he noticed a lot of poverty in the area.
"We started a ministry called Hope 29:11 which is after Jeremiah 29:11 giving people a future and hope," Carter said.
He said the ministry has fed more than 30,000 people two years in a row.
Carter ran for SD-30 in 2018 and received "almost 15,000 votes."
Carter said he is fired up and focused on creating jobs. Since 2018, he has created around 100 jobs, he said.
"My priority in being in Austin is to make sure that I am standing up for the little guy focused on small business moving forward through COVID and make sure I am leading the charge to make sure we have the tools to keep Texas great and to focus on leading our nation," Carter said.
Andy Hopper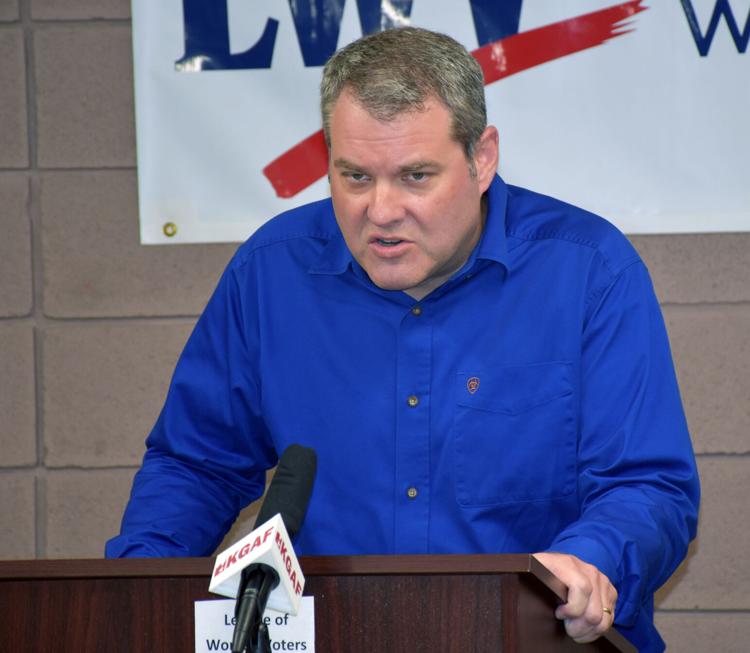 Hopper said he has a small farm in Wise County and is a software engineer. He is also a warrant officer with the Texas State Guard.
"The folks up here are so conservative and I am loving it," Hopper said of meeting people while campaigning. " … I believe the best folks to decide what's right for Texas are Texans and not unelected bureaucrats in Washington D.C. and unelected judges that constantly undermine the will of Texans."
Hopper said he is a huge backer of the 10th Amendment and if elected, he will support the right to "govern ourselves."
He also said he is passionate about small farm issues and wants to help farmers overcome regulatory hurdles. Hopper said he wants to overhaul property taxes and moved to a consumption-based tax in the future, as well.
Jacob Minter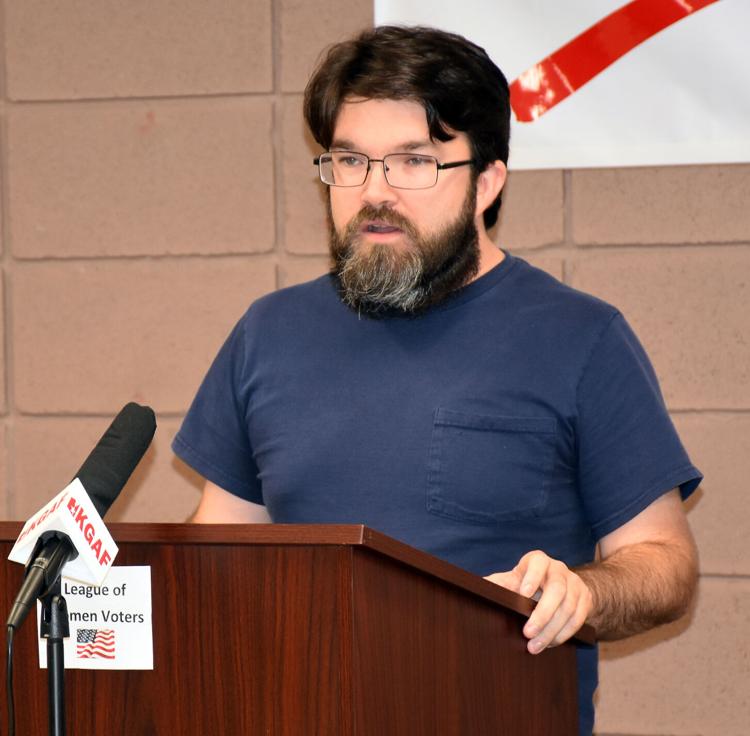 Minter said he's noticed that everyone in SD-30 has a need to be heard.
"We all are suffering from the same afflictions," Minter said. "A large number of our constituents are going to be in the older age group."
He said he would have a focus on building community health and trauma centers and expand Medicare.
Minter said he also would like to focus on education.
"We need to get our teachers raises that are more than just a token," he said. "The one that was provided by the 2019 legislative session started out as a $5,000 raise has wound up much smaller for some teachers. I think we can do better to support the people that are raising our future, our children."
Chris Watts
Watts, who serves as the mayor of Denton, phoned in to the forum. He had a city council meeting that day.
He said he's served in the role of mayor for six and a half years and prior to that, he was a councilman for six years.
He said he's had a real estate investment company for 30 years and "built it from scratch."
Watts said he became an attorney in 2000 but has fallen back on his real estate business.
He said he sees three major things facing SD-30 right now: property taxes, rural medical care and rural internet connectivity.
"We got to continue to lower the property taxes," Watts said.
As for health care, "we got to renegotiate the 1115 Medicaid waiver bill that is a $25 billion grant from the federal government in conjunction with the state government," he said.
Watts said the bill is up for expiration in 2022.
He also explained that funding internet connectivity is a must in rural areas.
"Without high-speed rural internet you cannot do telemedicine and you certainly cannot do remote learning … ," Watts said.
HD-68
Pat Ledbetter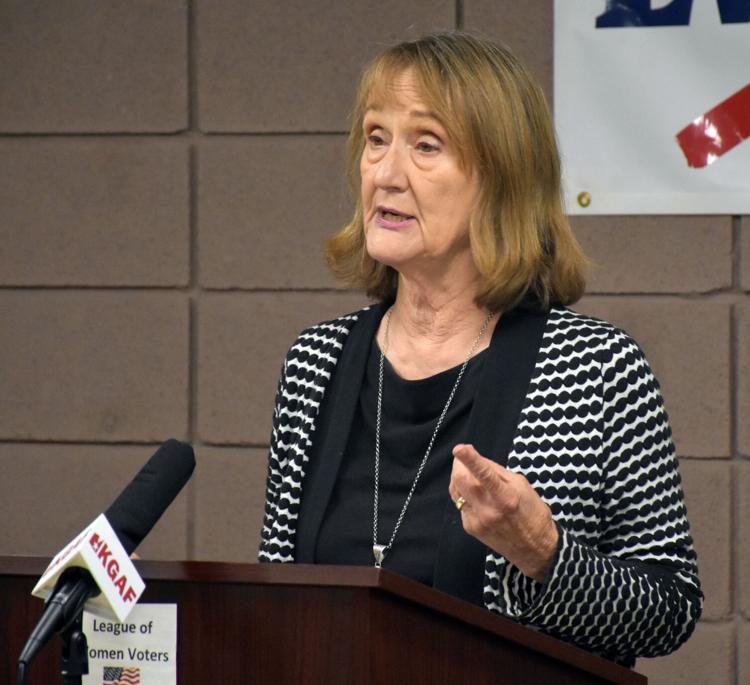 Democrat Pat Ledbetter is challenging Springer for his current HD-68 seat and she was next on the forum's agenda to speak.
Ledbetter said she's been teaching since 1967 and loves her job. The last thing she thought she would be doing is seeking office, she said.
"Frankly, I'm here tonight because I'm sick and tired of the my way or the highway attitude that's taken over our politics," Ledbetter said. "That approach divides us so deeply that we can't get anything done."
She said health care was a driving factor in her bid for the HD-68 seat.
Ledbetter explained she tried to get someone with skin cancer health care and he was dead before he could get help.
"Almost every time I talk with someone about him I hear another story of someone else suffering with Texas health care failure and COVID has made it worse," Ledbetter said.
She said she's also focusing on education, broadband internet and escalating college costs.
Ledbetter and Springer will be on the Nov. 3 general election ballot.
TX-13
Democrat Gus Trujillo and Libertarian Jack Westbrook expressed their thoughts for the TX-13 race. Republican candidate Ronny Jackson was not able to participate, according to the league.
Gus Trujillo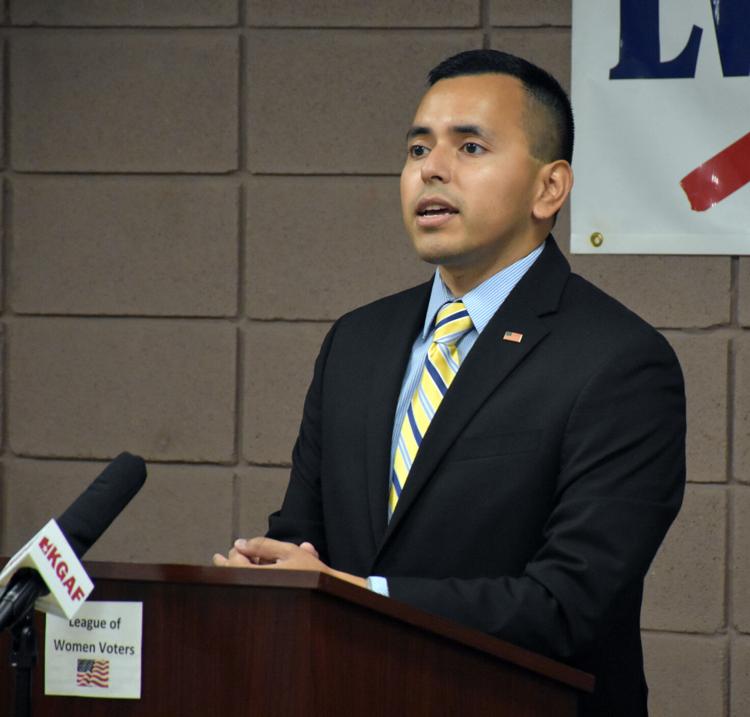 Trujillo said the congressional district spans 41 counties and about 42,000 square miles.
He said he was born and raised in Amarillo and interned in 2013 for U.S. Rep. Mac Thornberry — whose seat he is hoping to take over.
Trujillo said he's the candidate that's about "uniting and having fellowship in our country so that we can all come together and come up with common solutions to help the American people first."
He said he wants to represent you no matter what party you affiliate with.
"I want to represent everyone … ," Trujillo said.
Jack Westbrook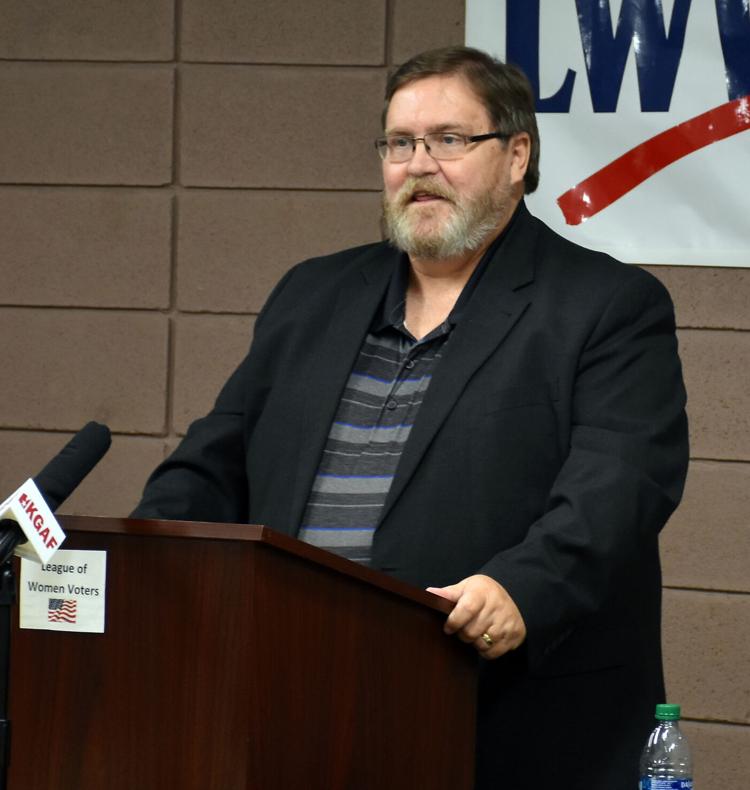 Westbrook said the reason he is running for Congress is because the two-party system fights with one another and doesn't get anything done.
"As a Libertarian, I'm trying to come in, and I hope other Libertarians will too, to come in and create a third party in Congress and in our government so that we have the debate that we had prior to the Civil Rights Act being signed …," Westbrook said.
He also said he spent 14 years in the U.S. Air Force.
The TX-13 race will also be on the November ballot.