Seniors in high school are teaching one-on-one cellphone lessons this year at the Stanford House as the senior activity center expands its partnership with Gainesville Independent School District.
Seniors in the Gainesville High School National Honor Society sat with 14 senior adults Monday morning, Oct. 7, teaching them one on one how to use their cellphones' tools and apps. It was the first of a monthly class series this year pairing high school students with elderly Cooke County residents.
Chris Glover, NHS adviser at the high school, said the project benefits both the high school seniors and the Stanford House seniors.
"We're based around providing service," Glover said of NHS. In addition, "our students need to be able to be paired up with some of the seniors and learn from the relationship."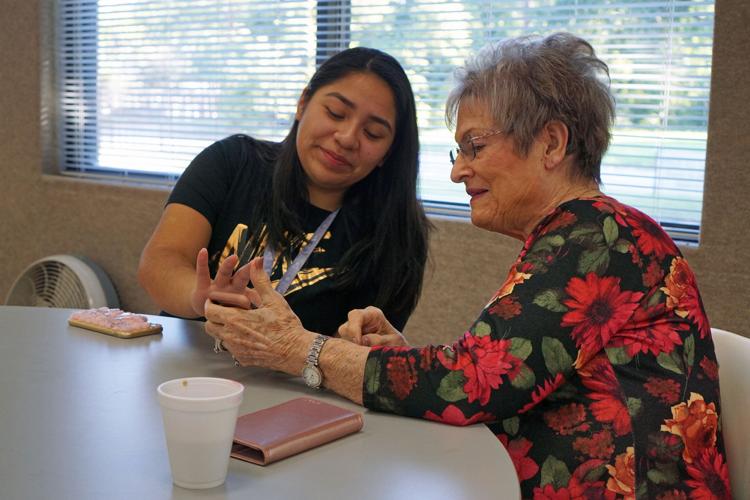 Stanford House Executive Director Kathi Kirby Husereau said she often fields questions from Stanford House seniors about their cellphones' functions. Her own 84-year-old mother, she said, got an iPhone and relies on Husereau to help her use it.
That's what inspired Husereau to launch cellphone classes this past spring, she said, in partnership with GISD. On average, Stanford House guests are 82 years old, Husereau said, and she estimated at least four out of five have cellphones. The senior center keeps a few extra charging cords on hand that guests use when they've forgotten to charge their phones.
The center hosted two cellphone class sessions in the spring, which Glover said were successful. "Our students really enjoyed it and the seniors really enjoyed it," he said.
"All this stuff comes second nature to our students," Glover added. "To let them come share it is incredibly valuable for them."
Class sessions will take place the first Monday of each month at the Stanford House, except in January — that month, the class will be Monday, Jan. 13.
Registration will be first come, first served at the Stanford House, 401 W. Garnett St.