Spending a little time in the Cooke County Jail isn't going to stop PRO Gainesville from protesting, Torrey Henderson said.
"The fact that I had to go to jail is still surprising," Henderson said shortly after she bailed out. "I just wonder how far they will go. This won't stop anything. Don't get me wrong, I'm tired, but it's not stopping anything."
Henderson, 27; Amara Ridge, 23; and Justin Thompson, 25, bailed out of jail before 10:30 a.m. Thursday, Sept. 3, not long after they turned themselves in that same morning. The three had warrants out for their arrests stemming from an Aug. 30 march the group organized.
PRO Gainesville is a Gainesville-based activist group that has been calling since June for the removal of the Confederate Soldiers and Sailors Monument that stands on the northeast corner of the Cooke County Courthouse. The more than 100-year-old monument has been the focus of major protests since July. Members of the Cooke County Commissioners' Court voted in August to keep the statue where it is.
All three Gainesville residents were booked in on Class B misdemeanor charges of obstructing a highway or other passageway. The offense is punishable by up to 180 days in jail, up to $2,000 in fines or both.
Next Generation Action Network in Dallas "stepped up" to help cover the three activists' bail, according to Henderson.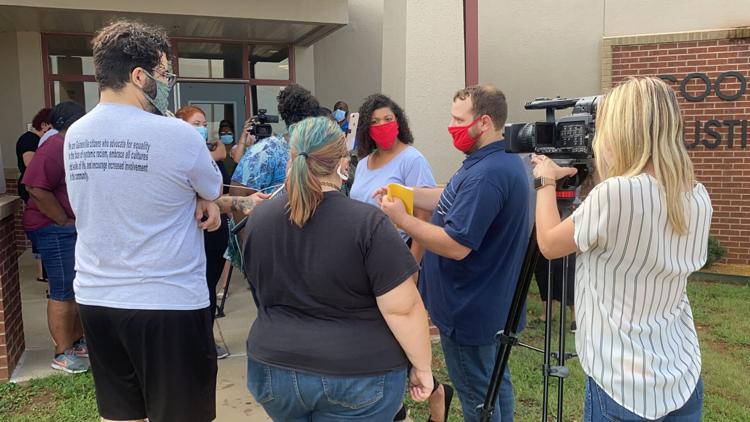 Following her arrest, Henderson said she doesn't believe the city's leadership is what it needs to be and called for the resignation of Gainesville Police Chief Kevin Phillips.
"Even though he claims to be impartial, he's partial," Henderson said. "Partial enough that he needs to resign, I think … In the position that he's in and the power that he has, for him to continue to say he's impartial but his actions show he's not, that is what is causing violence for us. That's what's making it dangerous."
She said the arrests made them look like they are enemies of law enforcement and she is now concerned about a protest and march the activist group plans on having at 6 p.m. Sunday. Counter-protesters who show up at the group's events are there to "back the blue," Henderson said.
Henderson said she doesn't trust the security provided by area law enforcement at their events, either.
"I know that they don't have our safety in their best interest," she said. "We'll continue to have to have people here to watch. We probably need to have more cameras up watching them."
The charges all three face stem from a protest the local activist group held Sunday, Aug. 30, in which participants walked from the courthouse several blocks east on California Street then turned back west.
In about the 300 block of East California Street, "the majority of the group left the sidewalk and moved into the street rendering the westbound lane impassable," Phillips said in a press release. He added a Gainesville police officer who had accompanied the group told participants repeatedly to return to the sidewalk, "but they refused."
The group kept walking in the roadway until reaching Dixon Street, where participants crossed the intersection diagonally, Phillips said.
Phillips said Thursday that the investigation into the march continues. No additional charges had been filed, he said.
During the investigation, Phillips said officers learned some participants in Sunday's march were unaware that the organizers hadn't obtained the required permit to walk in city streets.
"The leaders knew the rules or our stance very well," Phillips said.
As for organizers calling for his resignation, he said he believes that deflecting accountability is a national narrative at this time.
"We enforced the law," Phillips said. "A law they were informed repeatedly would be enforced."
Phillips previously told the Register that the last time PRO Gainesville was issued a permit was for its Aug. 16 march which was ultimately rained out. The city stopped issuing permits for anything on the courthouse grounds around Aug. 11. Those events are now referred to Cooke County Judge Jason Brinkley's office.
PRO Gainesville has held two marches since the last permit was issued.
Henderson, Thompson and Ridge are currently represented by Dallas-area attorney Alison Grinter. Grinter said she is working pro bono for now but is going to work on finding the three local legal representation.
"I would hope that this case stops being political and is just treated fairly," Grinter said.