July 31, 2017 will be remembered as one of the darkest days in the history of the rural Southeast Texas town of Trinity. That was the day Trinity's only hospital closed.
The retirement community of 2,700 on the outskirts of the Houston metropolitan area was left without an option for health care.
East Texas Medical Center had operated a rural hospital with an emergency room in Trinity. But in July 2017, the doors closed for good, just one month after Timberlands Hospital in nearby Crockett saw a similar fate — both casualties to Medicaid and Medicare reimbursement cuts, lower patient census, and the cost of treating the uninsured. The closures rocked the small community.
"For the nine of us who sit on the hospital district board, it was one of the hardest days we ever experienced," said Carlyn Bluis, the vice president of the Trinity Memorial Hospital District.
Now, two and a half years later, the former Trinity Memorial Hospital remains vacant and in near-pristine condition.
According to the Texas Organization of Rural and Community Hospitals, 26 rural hospitals in 22 communities have closed in the Lone Star State since 2010, nearly double the number of closures of any state.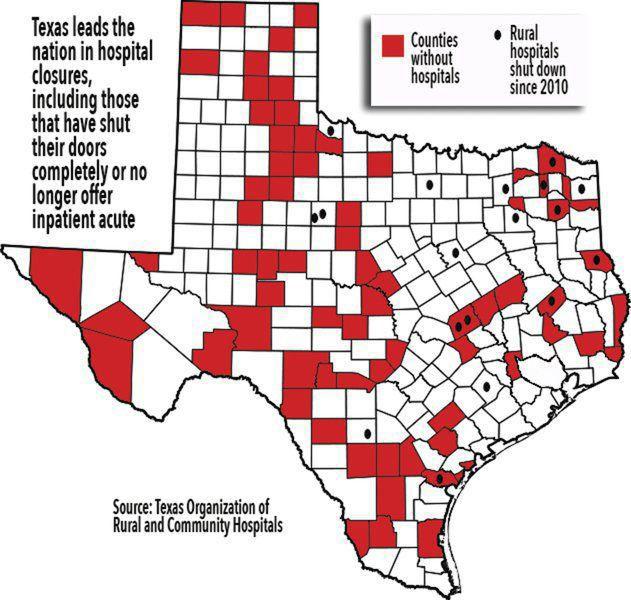 "We call it death by a 1,000 paper cuts," said John Henderson, CEO and president of TORCH. "When a hospital closes it isn't just one single cause, but the culmination of multiple disadvantages."
The causes for hospital closures have been numerous. However, according to Henderson, a simple vote to accept the Medicaid expansion through the Affordable Care Act would relieve much of the financial pressure that has hamstrung small hospitals. 
Doing so would extend health care coverage to 1.4 million uninsured Texans and provide much-needed revenue for hospitals, which shoulder the burden of treating the uninsured. Emergency rooms have to see patients regardless of their ability to pay, sometimes pushing struggling hospitals into financial turmoil.
"Texas leads the country in the percentage of uninsured residents," Henderson said. "We support Medicaid expansion, but do it carefully. However, our state leaders just aren't ready to go there yet."
There are documented deaths resulting from rural hospital closures in Texas where patients in need of immediate emergency care didn't find it soon enough as the local hospital had closed.
According to hospital district secretary Marjory Pulvino, multiple residents have told her of instances where emergency service in Trinity would have been a life-saver. She talked about a woman who regularly attends the hospital district's meetings, whose husband suffered a stroke. He now lives in a nursing home, unable to care for himself.
"If there had been a hospital here, he would have been able to receive emergency care within minutes, not hours," Pulvino said.
Earlier this year, the National Bureau of Economic Research found that rural hospital closures caused mortality rates in surrounding areas to rise nearly 6%. Trinity patients now have to ride an ambulance at least 30 minutes to the nearest hospital in either Crockett or Huntsville.
"If you have a stroke or a heart attack a half hour could be the difference between life and death," added Pulvino, who is also a registered nurse.
Impact on a community
The impact is especially critical for Trinity County's more than 14,000 residents, nearly 26% of which are 65 or older.
According to research from Texas A&M Health Science Center, the closing of a rural hospital often signals the beginning of progressive decline and deterioration of small rural towns and counties. Hospitals often serve as financial and professional anchors as well as a source of pride for its small rural communities.
There are no nurses, doctors, pharmacists or ERs for local farmers, ranchers, growers and assorted men, women and children who live and work in America's vast rural regions. Rural communities and residents are often left with no options for routine primary care, maternity care or emergency care. Even basic medical supplies are often hard to find.
In Texas, the average rural hospital employs 150-175 people with an annual budget in the neighborhood of $22-25 million. For rural Texas, the local hospital is often the second largest employer in town, slightly behind the local school system.
Medicaid expansion
When the Affordable Care Act was passed in 2010, part of the law required states to expand Medicaid to adults with incomes up to 138 percent of the federal poverty level. The federal government said it would cover the full cost of the expansion for the first three years, then 90% thereafter.
However, it came with a caveat.
If states didn't expand Medicaid to cover all newly eligible individuals, they would lose all federal funding for Medicaid. Predictably, a handful of states — including Texas — subsequently filed a lawsuit against the federal government. The U.S. Supreme Court eventually upheld the rest of the ACA, but found that the threat of pulling Medicaid funding was unconstitutional. States were given the ability to opt in or out of the expansion.
Research from Texas A&M shows states that opted in have seen increased coverage, more access to care, state budget savings and economic growth. Service costs that poor patients can't pay and that hospitals are on the hook for dropped 47% in the years following ACA implementation, compared to just 11% in states that didn't.
According to Henderson, caring for uninsured patients costed hospitals over $6 billion a year. They are reimbursed a fraction of that amount.
In Trinity County, the uninsured rate for people under the age of 65 in 2018 was 20.4%, higher than the state average of 19.4% that year.
Could things get worse?
According to Henderson, money used to help shoulder the cost of uncompensated care is set to expire in 2021, leaving hospitals with one less financial tool to stay in business. Texas' Medicaid 1115 waiver, a $25 billion deal between the state and the federal government continues to face opposition from representatives on both sides of the aisle.
"You can't just take $25 billion out of the system and expect everything to be OK," Henderson added. "If the 1115 waiver is not renewed it will only accelerate rural hospital closures in Texas, because small hospital's can't survive solely off Medicaid and Medicare funding … you need that supplemental funding."
The future of healthcare in Trinity
Health-Point, a federally qualified health center, operates a clinic in a small portion of the former Trinity hospital. However, community leaders insist that other services are badly needed — most notably an emergency center.
The Trinity Memorial Hospital District was on the verge of signing an agreement with CHI St. Lukes, but vocal community members felt that the added financial taxpayer burden of $1.5 million was too much to bear.
"The community said 'absolutely no' that they would not support the needed tax raise," Bluis said. "We triggered a huge uprising, including a small group that wanted to shut down the hospital district."
The plan with CHI St. Luke's was abandoned, but the desire to expand medical care in Trinity wasn't.
"It terrifies me to think of Trinity never having emergency care again," Pulvino said. "With industry coming north from Houston, I think we will have more people wanting to move to our community.
"However, health care is going to be the key to our future as a community."
Joseph Brown writes for The Huntsville Item, a CNHI newspaper.