Teachers and other employees of the Gainesville Independent School District can expect to see an increase in pay this year.
On Monday, Aug. 19, the GISD board of trustees unanimously approved the district's compensation plan for the 2019-2020 school year.
Human Resource Director Paula Moore said the compensation plan gives teachers, nurses, librarians and counselors anywhere from a 6.2% to 10.2% increase in pay "depending upon the actual pay step or salary schedule they're on."
Teachers between zero and five years are to receive a $3,000 raise and teachers five years and up are to get a $5,000 increase in pay, according to Moore.
"That's quite a significant step from the minimum salary schedule that's proposed by TEA [Texas Education Agency] so it's a pretty great thing we are able to do for our staff," Moore said.
The district employs 430 people, according to district spokeswoman Leslie Crutsinger. Of those employees, 232 are teachers with 135 to receive the $5,000 raise, she said.
Paraprofessionals and auxiliary staff are to receive a median 4% raise, according to Moore. Administrative staff is to get "about a 6% increase" depending on where they sit on their pay scale, she said.
Superintendent DesMontes Stewart said during a budget workshop last month that because of House Bill 3, the district is receiving an additional $3.5 million in state funding.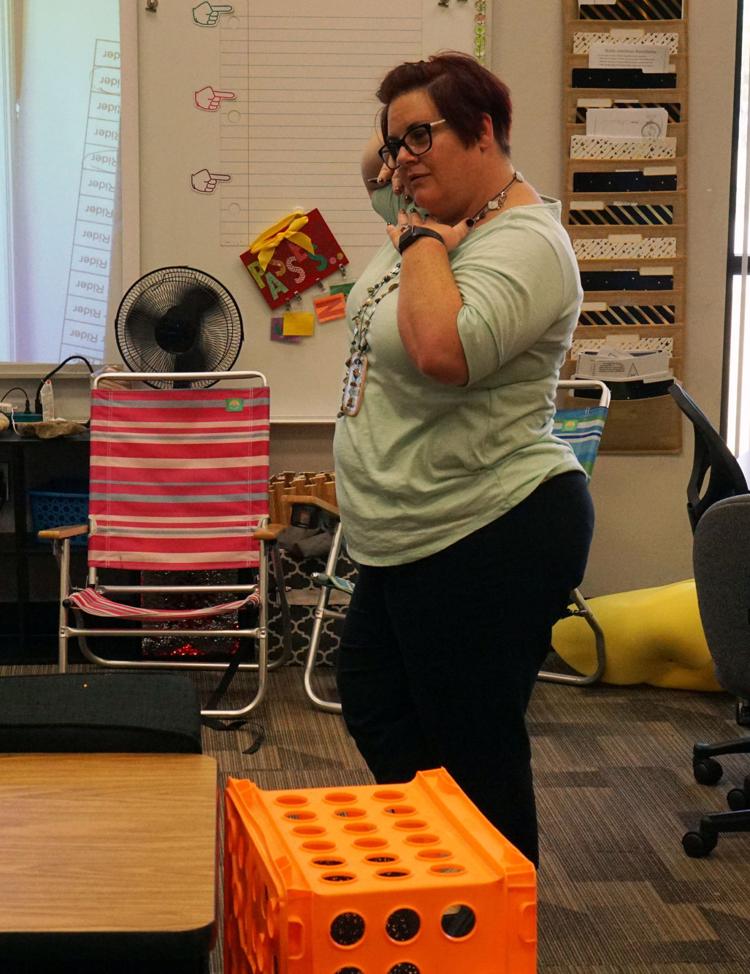 According to the Texas Education Agency's website, HB 3 is a school finance bill passed by the 86th Texas Legislature and signed into law by Gov. Greg Abbott. The bill provides more money for Texas classrooms, increases teacher compensation, reduces recapture and cuts local property taxes, the website states.
The legislation dictates that the school district spend 30% of that money on salaries, Moore previously said. Three-quarters of the 30% must be used on teachers, nurses, librarians and counselors. The rest of the 30% can be used on other staff.
The legislation also says the district has to pay teachers with at least five years of experience more than teachers with less than that, according to Moore.
According to information provided to board members, GISD has been struggling in recent years with teacher recruitment. School districts within 30 miles of GISD offer teachers as much as $10,000 more in pay.
"This, coupled with an identified shortage of teachers nationwide, makes recruitment of highly qualified teachers very challenging," the information says.
Information given to board members shows the district believes the change in the salary schedules will help with recruitment efforts.
Starting pay for teachers is now $46,035, Crutsinger said.
The minimum GISD compensation increase of 30% set forth by HB 3 totaled $1,050,489, according to the district's Facebook page. However, the total compensation amount approved by the board was $1,289,971.
The cost of the additional compensation will be funded through an increase in the base per-student funding from the state, an informational sheet given to school board members says.
Budget
School board members unanimously agreed to adopt the proposed 2019-2020 general fund budget of $32,042,922, the child nutrition fund of $2,394,301 and the debt service fund of $2,281,971.
The school board also agreed to amend the district's 2018-2019 budget. It is increasing revenues by $295,000 and increasing expenditures by $295,000, according to information provided to board members.
The 2018-2019 general fund budget of $27.5 million was approved about this time last summer, as well as the $2.3 million food service fund and the $2.2 million debt service fund, according to archived Register reports.
The district's fiscal year begins Sept. 1.
Tax rate
Finance Director Alyce Greer said HB 3 mandated a maintenance and operations tax rate compression.
She said the requirement brought the M&O tax rate down from $1.17 to $1.07. The district also decided to lower its interest and sinking tax rate by two cents, bringing it to 8 cents, for a total tax rate of $1.15 per $100 of property valuation.
The vote to adopt the new tax rate was unanimous.
The maintenance and operations tax rate supports day-to-day operating expenses. The interest and sinking tax funds the district's debt obligations.
After this month's payments, the district's outstanding bond debt will be $26,020,000, Greer previously told the Register.
Last year, district officials voted on an overall tax rate of $1.27 per $100 of assessed property value, according to previous reports in the Register.
No one spoke for or against the district's proposed budget or tax rate during a scheduled public hearing before the votes.