More than 100 people packed into the Era High School gym Monday, Aug. 19, in hopes of convincing members of the Era Independent School District Board of Trustees to vote their way on a Chapter 313 application request for Wildcat Creek Wind Farm LLC.
Board members were to consider seeking a 313 agreement with Texas Comptroller Glenn Hegar's Office for the proposed wind farm. However, after taking a break to discuss the matter in closed session, board members unanimously rejected applying for the agreement via a 6-0 vote. Board member Todd Reiter abstained.
A 313 tax abatement is a 10-year limitation on the taxable property value for school district maintenance and operations tax purposes, according to previous Register reports.
Before the vote, board members heard presentations from EDP Renewables, the Houston-based company behind the project; Cooke County Coalition For Property Rights, an opposition group consisting of 47 individuals and families who own more than 30,000 acres; and various area residents who spoke either for or against the project.
David Sampson, who resides within Era ISD with his wife, Karen, spoke on behalf of the Cooke County Coalition For Property Rights.
He said the legislative intent of the tax code board members were looking at was to encourage large-scale capital investments and create new, high-paying jobs.
"Wildcat proposes to create four permanent jobs associated with this project, according to their Muenster Chapter 313 application," Sampson said. "If other recent wind projects are indicative, they are likely to ask for even a waiver of those."
According to a copy of the Cooke County Coalition For Property Rights presentation, "EDP Renewables has said their intent is to construct 53 wind turbines that will each be at least 500' tall."
The wind turbines in Muenster are 250' tall, the presentation states.
The Sampsons are also listed as plaintiffs on a recently filed lawsuit against the wind farm, Cooke County, the Cooke County Commissioners' Court and Precinct 3 Commissioner John Klement.
The suit alleges that a vote on April 8 by members of the commissioners' court to create a tax abatement reinvestment zone was illegal.
According to a presentation by EDP renewables, Wildcat Creek is supported by more than 50 landowners, with roughly 12,000 acres leased to date, and will provide "significant benefits to Era ISD and southwestern Cooke County."
EDP Renewables is a global renewable energy company that entered the U.S. market in 2007, according to the company's website.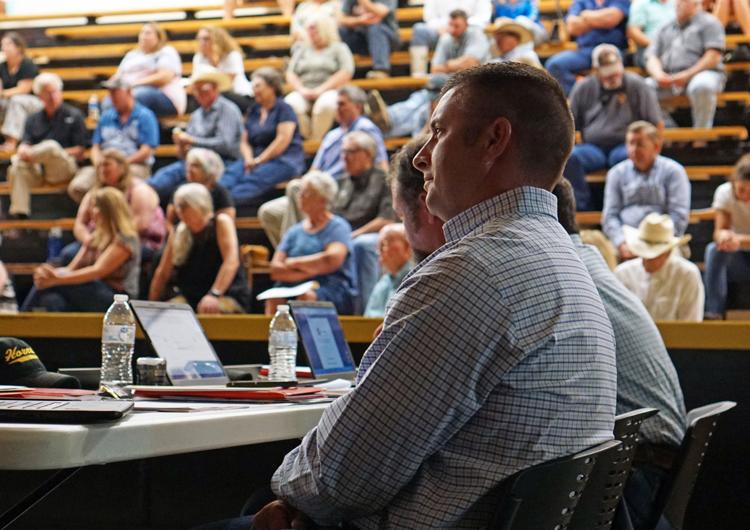 Rorik Peterson, an EDP representative, told board members the company started to develop the 180-megawatt facility in 2016 when they began looking for property in North Texas.
"We received mixed feedback. Some enthusiasm, some just interested in learning more," Peterson said of talking to landowners about developing a wind farm.
Peterson also mentioned the company works with county commissioners to upgrade roads to handle the transfer of their heavy equipment.
The company's proposal is to have 52 wind turbines across 15,000 acres and have them set back 1,500 feet from residences to "promote health and safety," according to an EDP handout available to anyone who attended Monday's meeting.
The handout states the estimated $250 million project could bring in $14.5 million in tax revenues to the school district over a 30-year project life. The company also expects to make $72 million in payments to landowners throughout the life of the project.
Rex Corey, who was in the audience, said he's against a property tax abatement for the proposed wind farm, while adding that the federal government already allows for a 30% tax credit.
"I just hope and pray the board is not tempted by a possible short-term benefit to subsidize a project with such a long-term negative impact on the community," Corey said.
Corey is also listed as a plaintiff in the lawsuit against the wind farm, county and county officials.
Susan Schumacher spoke in favor of the wind farm.
She said as a landowner who signed on to lease property to EDP, the agreement with the company wasn't taken lightly even though there has been a good working relationship with company representatives.
An attorney was sought to review the contract, she indicated.
"Bottom line, the contract was satisfactory," Schumacher said. "… We didn't just look at the financial aspects to the individual landowner, such as ourselves; we also looked as to the condition of the land we were left in."