Members of the Cooke County community were able to get a taste of what 14 of the 15 Republican candidates for the 13th Congressional District are campaigning on during a candidate forum Thursday, Jan. 9.
The forum, hosted by the Cooke County Republican Women, drew an estimated 150 people to the Christian Life Center at First Christian Church, 401 N. Dixon St. The candidates were given two minutes for opening statements, 30 seconds to answer each of the three questions asked and two minutes for closing remarks.
Chris Ekstrom, Matt McArthur, Catherine "I Swear" Carr, Vance Snider II, Monique Worthy, Richard Herman, Asusena Resendiz, Ronny Jackson, Mark Neese, Josh Winegarner, Lee Harvey, Jason Foglesong, Elaine Hays and Diane Knowlton were present. Jamie Culley, who was invited and confirmed attendance with organizers, didn't show. On Friday, Jan. 10, Culley told the CCRW that she didn't attend because of complications related to a total left hip replacement surgery.
All are vying for the U.S. House District 13 seat held by U.S. Rep Mac Thornberry, R-Clarendon. Thornberry issued a statement Sept. 30, 2019, announcing his retirement. Thornberry was first elected to his position in 1994. His district spans the Texas Panhandle and rural parts of North Texas as far east as the Cooke-Grayson county line.
The following is information each candidate told about themselves Thursday evening:
EKSTROM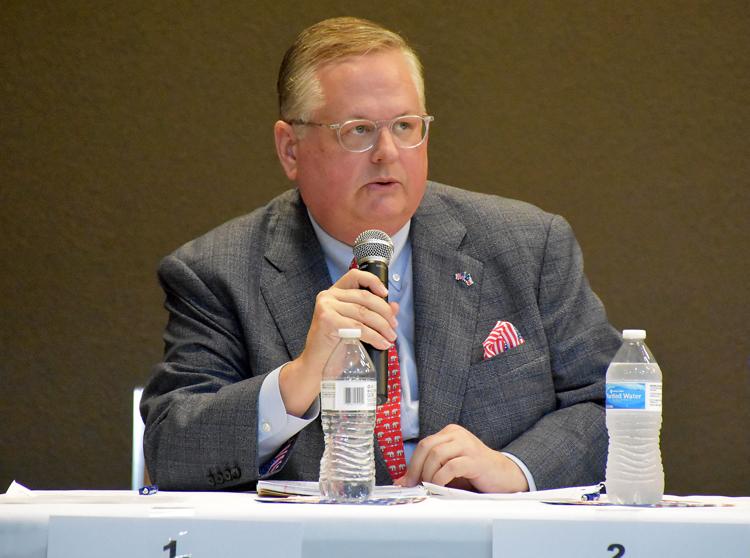 Ekstrom, whose occupation is listed as president of Ekstom properties on information handed out at the meeting, said he was impressed with the turnout Thursday.
When commenting on the impeachment proceedings by "unhinged socialist Democrats," he said his loyalty lies with President Donald Trump.
"I will fight every day to advance the Trump-Republican agenda," Ekstrom said. "And I will do so as a courageous conservative for God and country."
MCARTHUR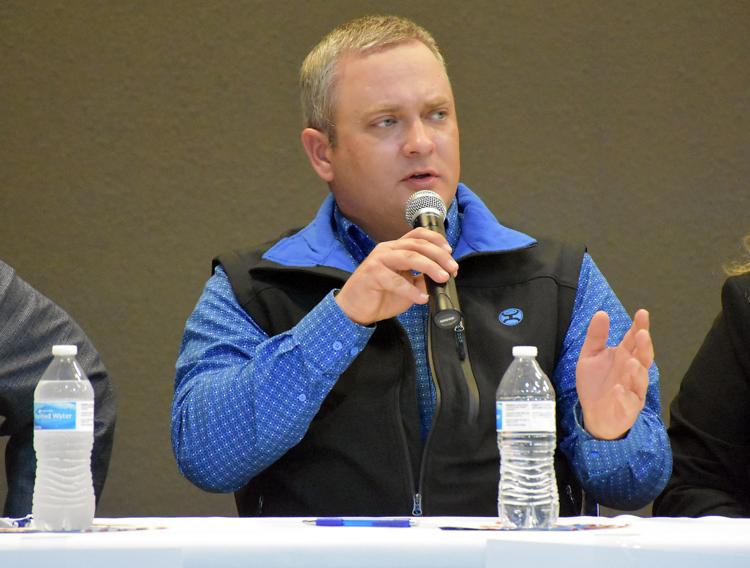 McArthur, a construction manager, said he came to the forum from Spur, Texas, in Dickens County. He said he intends to be a "very conservative" voice in Congress that "actually gets some things done."
McArthur said wants to focus on infrastructure.
"These counties in Texas are growing at a rapid pace. We're not getting the road and bridge money back that we should from the federal government," he said. "We're still paying out way more than we get back in."
He also mentioned a desire to make changes to the tax code — including making child support tax-deductible.
CARR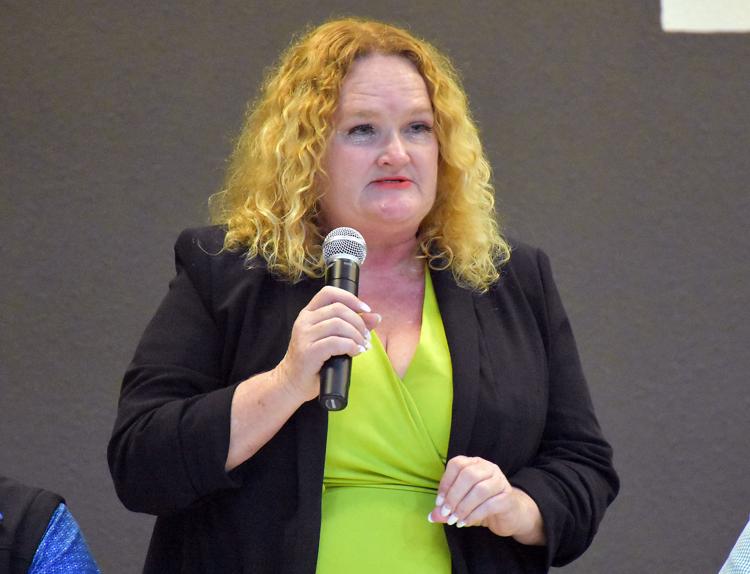 Carr, an artist with an Austin address, said the reason she ran is because she wants to put Americans first "with no exception."
She said she is against proposed Virginia bills instituting more gun control.
"These laws would prosecute parents, judges, police officers, citizens of all kinds. And we must stop this and support the Constitution and the Second Amendment," Carr said. "It's extremely important and it must be fought by any means necessary."
She also said she is pro-life and thinks "we should rethink Roe vs.Wade."
SNIDER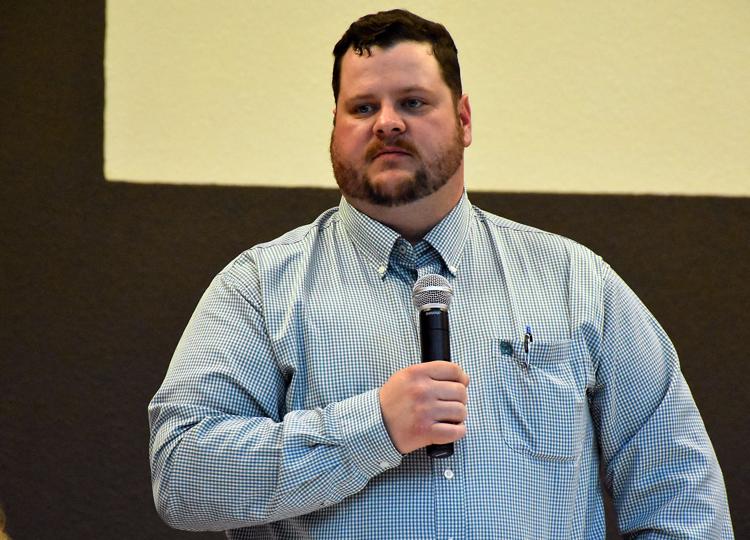 Snider, a railroad conductor with BNSF Railway, said he has a military background including serving two tours overseas.
"My hands are rough, my boots are dirty and I ain't scared to go out there and do what needs to be done for the people," Snider said.
He said more than 80% of the 13th Congressional District is working class.
"I believe we need to be represented well," Snider, a resident of Amarillo, said.
He said he wants to eliminate overtime taxes and Social Security taxes for working-class Americans.
WORTHY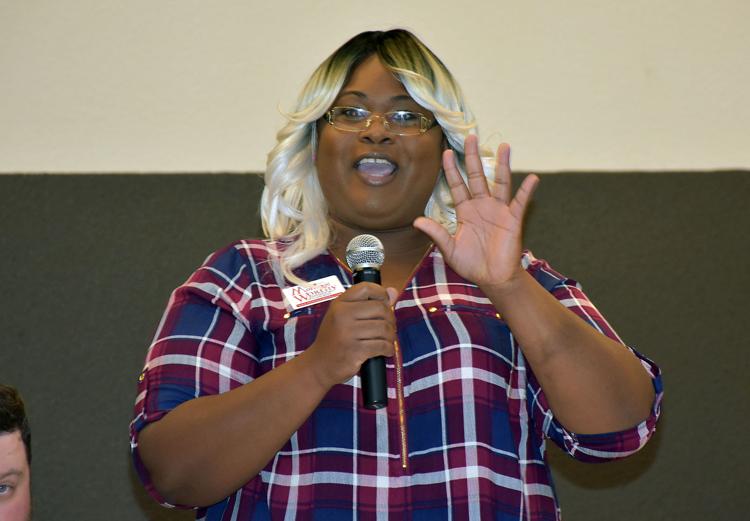 Worthy, who is listed as unemployed, said she is a Wichita Falls resident and threw her hat in the ring after she was fired from Tyson Foods.
She said she doesn't have a military background or a college education and that's what sets her apart from other candidates.
"Try something different," Worthy said. "As long as it's conservative just try something different … what we don't have is somebody from the everyday communities."
HERMAN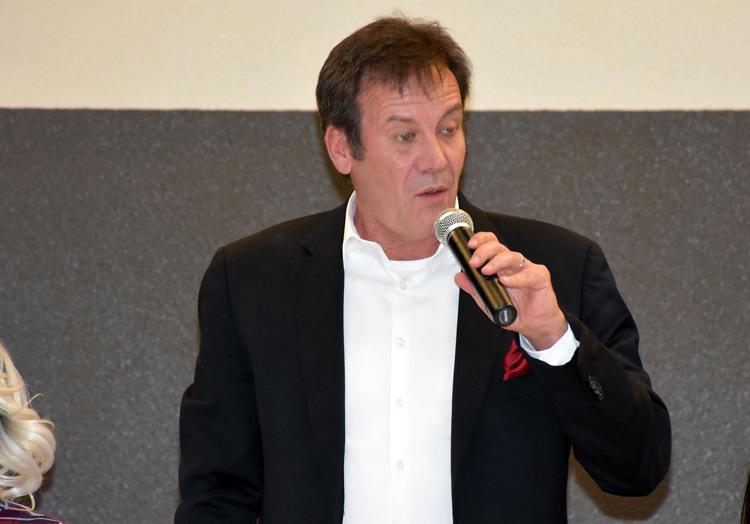 Herman, a U.S. Army retiree, said he believes in the Second Amendment and the right to bear arms. He said he's also pro-life and will defend the rights of the unborn.
"I believe Obamacare and all the stuff they've done up there is broken and our health care needs reformed," Herman said. He also believes veterans needs to be better taken care of.
RESENDIZ
Resendiz, a business development executive, said she represents the Republican Party.
"I represent our values," she said. "I represent our conservatism."
She said it's a "little tricky" because she is a Latina.
"What I can bring is the importance of being a bilingual, bicultural, first-generation-born immigrant here in the state," Resendiz said.
She said she was appointed by Gov. Greg Abbott to the Texas Department of Housing and Community Affairs. TDHCA is responsible for promoting and preserving home ownership, financing the development of affordable rental housing and supporting community and energy assistance programs, according to the Office of the Texas Governor's website.
JACKSON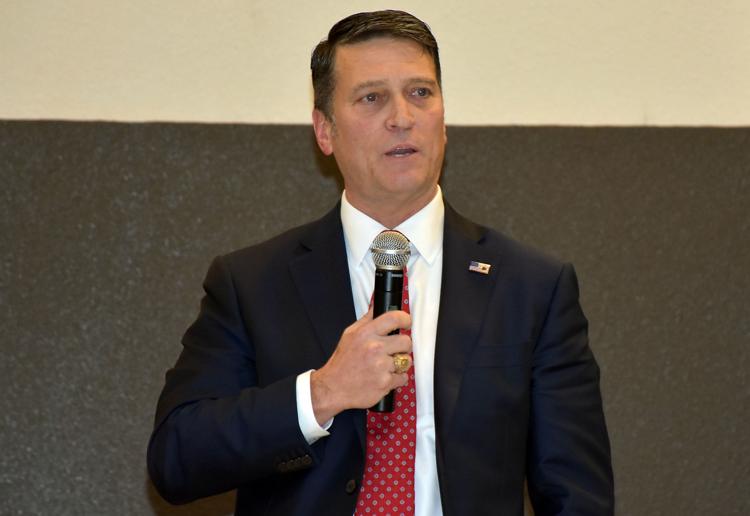 Jackson, a retired U.S. Navy admiral, said he was born and raised in Texas and had been serving on active duty in the U.S. Navy for the past 25 years.
"I'm excited about coming back to Texas," Jackson said of being retired since Dec. 1, 2019.
Jackson said he saw running as a "unique opportunity."
He said he has "blue-collar, small-town values."
"I'm very excited about potentially representing the district," Jackson said.
NEESE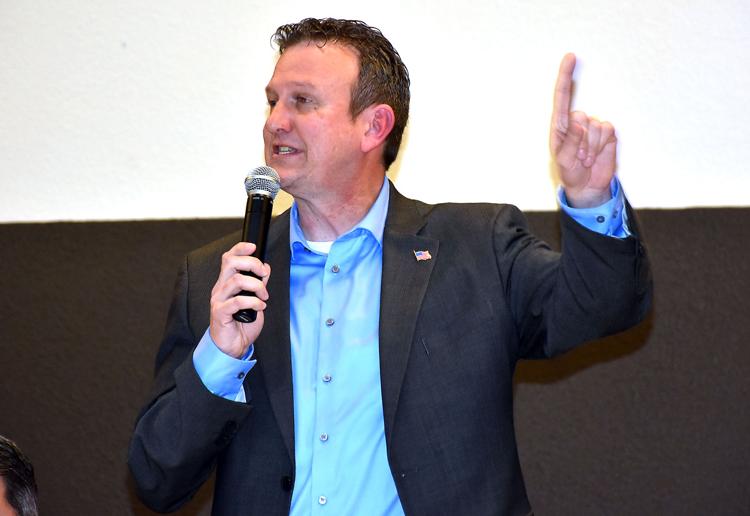 Neese, an educator, said he lives in Sunset, Texas. He said he learned how valuable the American flag is from his father.
"That flag is valuable," Neese said. "It's not the cloth, it's not how it sits, it's the fact that it represents the best of who we are and it really annoys me to see someone disrespect it."
Neese said he will stand up for the flag and make sure the country gets represented.
"How can I serve you?" he asked.
WINEGARNER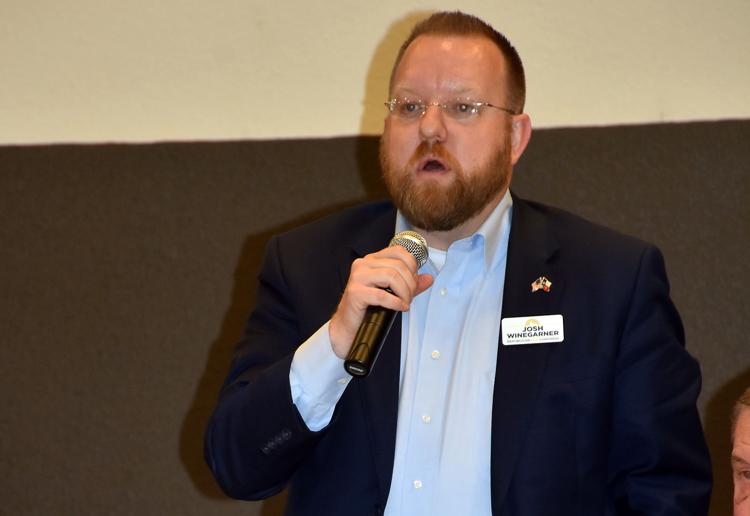 Winegarner said he works for the Texas Cattle Feeders Association. He said he and his wife, Jennifer, have two children. His wife serves on the Canyon Independent School District Board of Trustees.
"We're very involved in our community and that's really why I wanted to get in this race," Winegarner said. "I have a passion for this district."
He said he has the experience to make sure constituents are adequately represented in Congress.
Winegarner said he spent six years working in Washington, D.C. for Republican senators John Cornyn and Phil Gramm.
"I worked on agriculture policy, trade policy and small business issues," he said. He said he wants to be "your voice and your vote on legislation."
HARVEY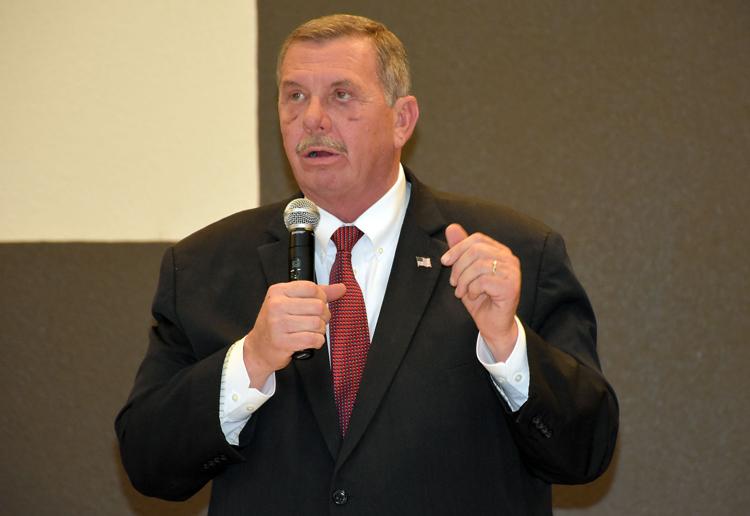 Harvey said he is a Wichita County commissioner and a business owner. He said he has been married to his wife for 39 years and they have three children and four grandchildren.
He said he is for the Second Amendment and is pro-life. Harvey said he attends First Baptist Church in Burkburnett.
He thinks "we do need to secure our borders." However, in doing so, he thinks the country should revamp the "green card system" to have immigrant workers to help out in farm fields.
FOGLESONG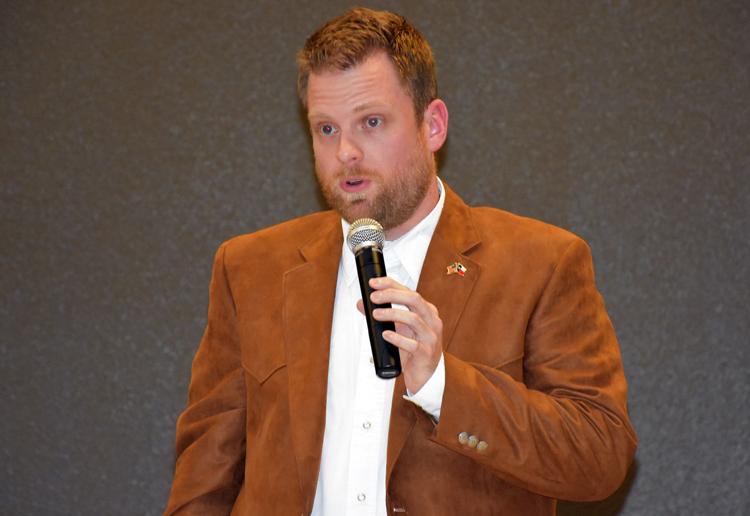 Foglesong is a high school government teacher in Amarillo. He said he has lived in the area for 10 years. Foglesong said moving
to Texas has been a blessing for him.
He said he said he is pro-life, pro-gun and he does want border security and to build a wall. "It's not because I don't like people south of the border, it's because I want to stop voter fraud, sex trafficking, drugs and violence from coming across the border and threatening Americans."
He thinks use of E-Verify should be mandatory across all 50 states.
HAYS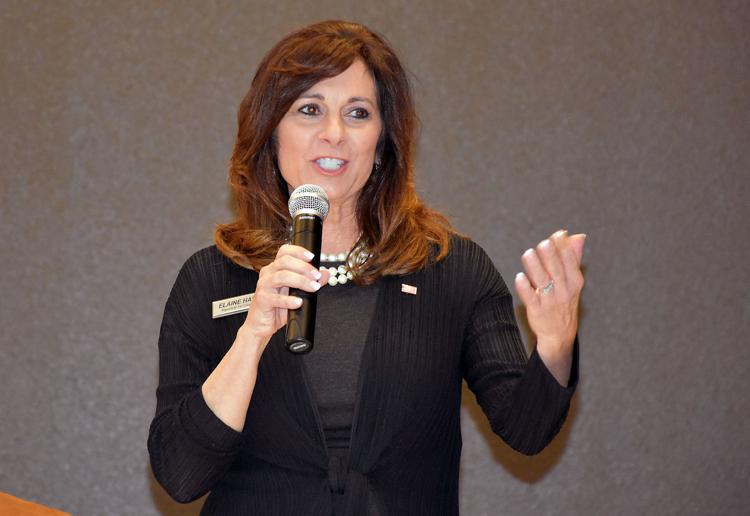 Hays said she is a certified financial planner from Amarillo. She said she is currently serving her second term as a city councilwoman. Hays said she grew up in Bridgeport and studied business at Texas Christian University.
She said she started her own financial planning practice business 25 years ago and it's been her "focus" to help others live within their means.
"We don't have a revenue problem in our federal government, we have a spending problem," Hays said.
KNOWLTON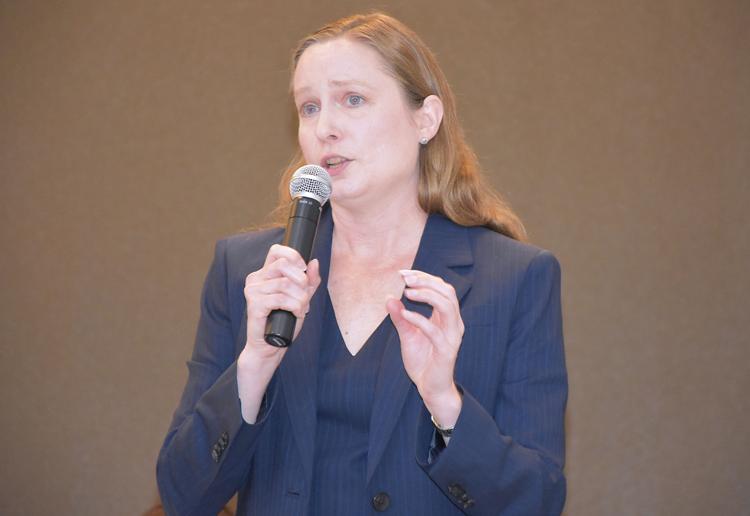 Knowlton is an attorney and lives in Henrietta. She said she has about 25 years experience in business and business law.
She said she started out as a certified public accountant doing financial audits and cost accounting for government contractors.
Knowlton said she was also a consultant to the U.S. Customs and Border Protection. She helped the agency become more efficient with its administrative procedures.
She said she will work to protect constitutional rights and keep up with the goals and accomplishments of the Trump administration.
"We still need to reduce government spending," Knowlton said of another one of her desires.
PLAN AHEAD
The next candidate forum will feature local contested races to include the sheriff, district judge, Precinct 3 county commissioner, Precinct 1 county commissioner and Precinct 1 constable positions. A meet and greet begins at 6:30 p.m. and the forum starts at 7 p.m. Thursday, Feb. 6, in the CLC at First Christian Church. The primary elections are March 3.