Twelve Medal of Honor recipients are expected to make their way into town today via a motorcade that's estimated to stretch nine miles long.
The motorcade, which could have more than 550 vehicles participating, is scheduled to leave Dallas/Fort Worth International Airport around 4 p.m. and arrive in Gainesville no later than 5:30 p.m., according to event organizers.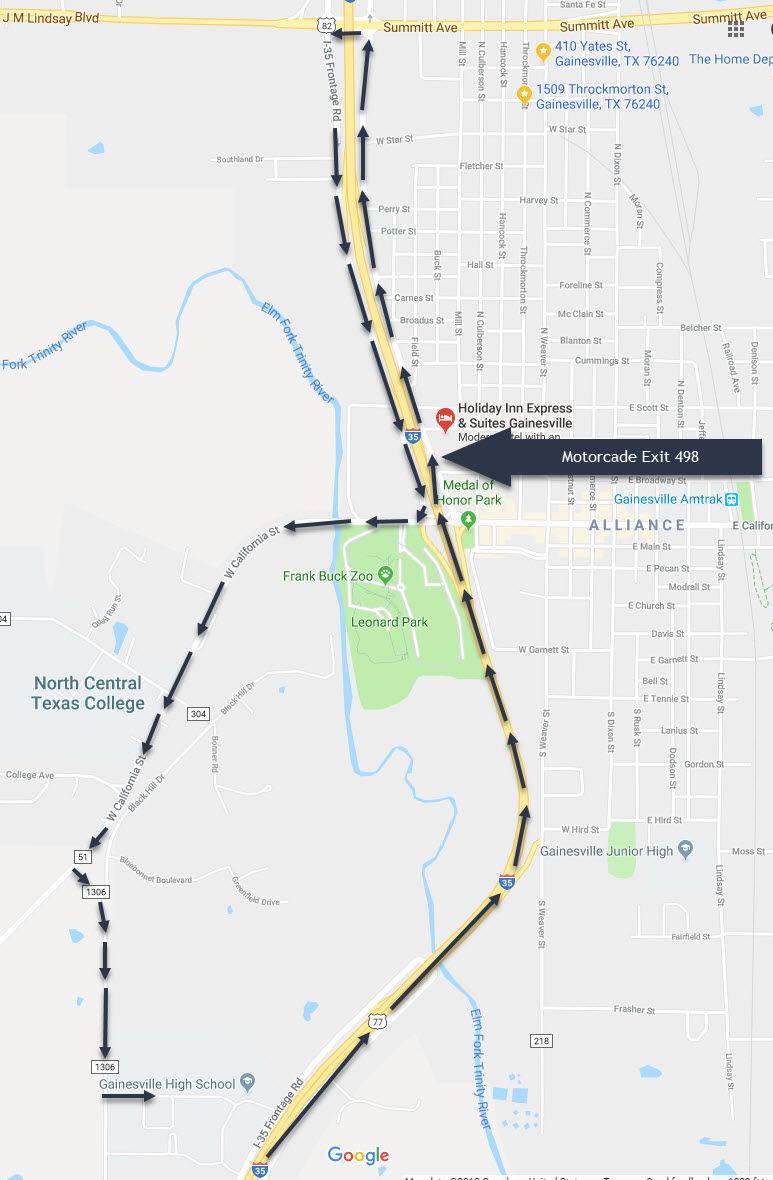 Gary Beikirch, Mike Fitzmaurice, Robert Ingram, Charles Kettles, Jim McCloughan, Hiroshi Miyamura, Robert Modrzejewski, Melvin Morris, Robert Patterson, Ron Rosser, Kenny Stumpf and James Taylor are the 12 recipients who will be in the motorcade, according to Tommy Moore, president of the Medal of Honor Host City Program Board of Directors.
The motorcade will travel north on Interstate 35 through Cooke County and take Exit 498 in Gainesville for U.S. Highway 82. The motorcade will continue northbound on the service road to U.S. Highway 82, travel southbound on the Frontage Road, turn onto W. California Street and onto Farm-to-Market Road 1306 before ending at Gainesville High School.
Anyone traveling during the time of the motorcade needs to pull over to the right if approached from behind and be cautious of temporary road closures.
"Once the motorcade enters Gainesville, the exit ramps and side roads will be closed until the motorcade has cleared the area," said Gainesville Police Chief Kevin Phillips.
Phillips asked that people not park directly on the route in order to keep the roadway clear. He also recommended everyone use caution when standing by the roadway, including keeping an eye out for children who may be present.
Barry Minoff, chief deputy with the Denton County Precinct 4 Constable's Office, assists with the recipients' arrival and said this is the largest motorcade in the event's history.
Area residents are encouraged to wear red, white and blue and wave an American Flag as they pass by.
"People of all ages should come out and see this amazing sight," Minoff said. These guys are true heroes, in my opinion."
In an effort to reach a younger audience, there will be Medal of Honor filters available for use on Snapchat, a social media platform, during the recipients' arrival, Moore said.
Additional filters will be available on the Snapchat app for public events throughout the week, according to event organizers.
For those who cannot make it out to watch the motorcade in person, the event is scheduled to be live streamed on the Medal of Honor Host City Program's Facebook page.
While 12 Medal of Honor recipients will arrive via the motorcade, Bennie Adkins, Paul Bucha, Joe Marm, Doc Ballard, Gary Rose, Mike Thornton and Gary Wetzel are also scheduled to take part in this week's Medal of Honor Host City events.
Moore said all 19 recipients will be here in time for Thursday's Patriot Dinner at Gainesville High School. The dinner is a ticketed only event and is sold out.
Two recipients previously expected to attend — Hershel "Woody" Williams and John Baca — are unable to make it this year, officials said.
This year ties with 2014 as the most Medal of Honor recipients to arrive in Gainesville since the program's inception, according to event organizers.
The Medal of Honor Host City Program was established in 2001 to provide residents with a more interactive connection with America's history, the military and the veteran community, according to the organization's website. Gainesville is the only Medal of Honor Host City in the nation.