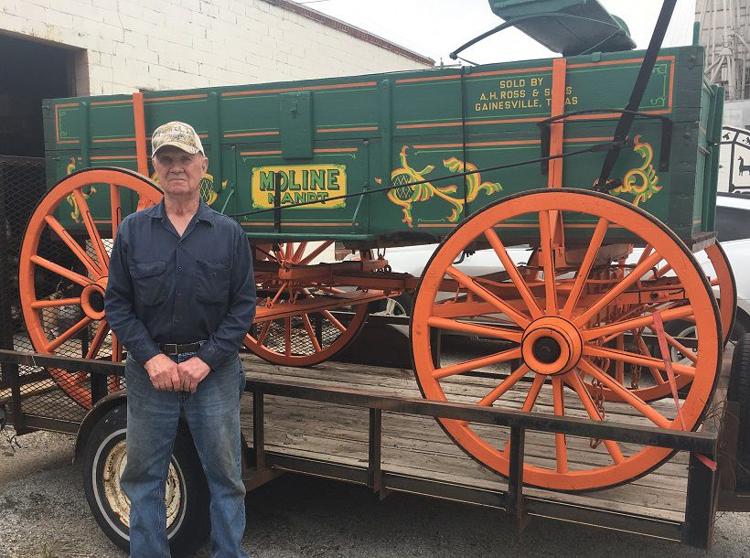 Bob Walterscheid of Muenster has preserved a piece of family history that is nearing 100 years old.
Walterscheid obtained a Moline Mandt grain wagon from his uncles John and Joe Kleiss in 1996. He has since restored and preserved the brothers' 1920s wagon, purchased from Gainesville implement dealers A.H. Ross and Sons.
Immediately upon acquiring the wagon, Walterscheid started the work of restoring it with the help of his grandson, Keith Felderhoff.
"We only had to replace two boards and the brake pads to get the wagon ready," Walterscheid explained. "My bachelor uncles always kept their equipment under cover and took good care of them."
The getting ready part took another nine months of taking the boards down to bare wood before restoring the wagon's colors and signs. The painting and color were documented throughout the process. Even the metal was cleaned with wire wheel brushes and elbow grease.
Moline Mandt, the wagon manufacturer, got its name from the TJ Mandt Vehicle Co. wagon manufacturer after its absorption by the Moline Plow Co. in 1902. Mandt operated a wagon works in Stoughton, Wisconsin, until the facility shut down in 1921. Those dates indicate that Walterscheid's wagon at is least 98 years old, if it was the 1921 model. He is not sure of its actual manufacturing date.
When asked what he learned from the process, Walterscheid answered, "just the joy of doing it." His good work and joy are still bright over 20 years later. The wood and metal look like they just came from the Ross Implement yard in Gainesville.
Walterscheid's joy of restoring equipment and working with his hands is on display at his business, Bob's Auto Service on North Main Street in Muenster. He's had the business since 1972, and today he's working on restoring a Ford N tractor along with other mechanical projects. Pictures of vehicle restorations and other projects line his office wall.
He explained his office by saying, "A lady once opened our door, looked in, and said, 'Mister, you have a museum here.'" 
Besides restoring antique vehicles, Walterscheid also makes jewelry from raw materials to the finished product. A vast collection of model trains, tractors and rocks also line his office walls.
He is already planning his next project with the approval of his wife, Linda.