Medal of Honor recipient Charles "Chuck" Chris Hagemeister may be gone, but he will always be remembered in Gainesville.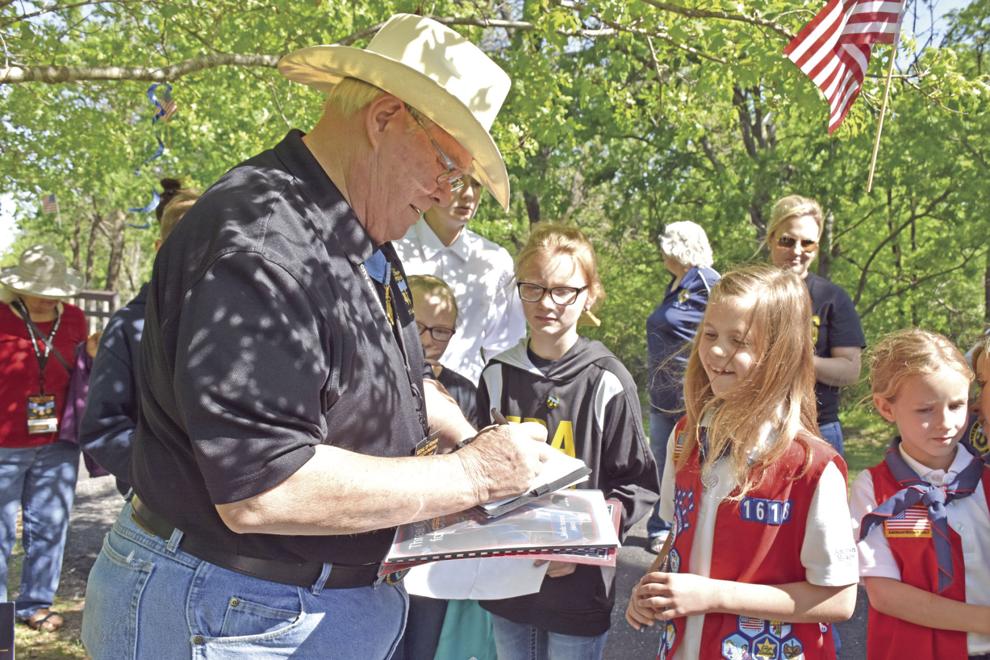 The U.S. Army veteran died Wednesday, May 19, at the age of 74, according to the National Medal of Honor Museum Foundation.
Medal of Honor Host City Program Board President Tommy Moore said Hagemeister was a "great friend" to the MOHHC.
"We could call him anytime and it was like talking to a family member," Moore said Friday morning, May 21. "He loved Gainesville and hated when he missed coming here."
Hagemeister told the Register in a 2017 interview that he was one of the first recipients to visit Gainesville in 2002 after the MOHHC program started. His last visit was in 2017, Moore said, while adding that he probably visited six times.
In the same 2017 interview, Hagemeister said coming to Gainesville, meeting the people and seeing their excitement was refreshing because a lot of other places around the country aren't as patriotic.
"Coming here once a year is a big thing because it kinda recharges your battery," Hagemeister said.
Hagemeister, who was drafted into service in 1966, earned the nation's highest military decoration during the Vietnam War for his actions on March 20, 1967. It was then that his platoon suddenly came under heavy attack from three sides by an enemy force occupying well concealed, fortified positions supported by machine guns and mortars, according to information from the National Medal of Honor Museum Foundation.
"Seeing two of his comrades seriously wounded in the initial action, Sp5c. Hagemeister unhesitatingly, and with total disregard for his safety, raced through the deadly hail of enemy fire to provide them medical aid. Upon learning that the platoon leader and several other soldiers also had been wounded, Sp5c. Hagemeister continued to brave the withering enemy fire and crawled forward to render lifesaving treatment and to offer words of encouragement," the information states.
"Attempting to evacuate the seriously wounded soldiers, Sp5c. Hagemeister was taken under fire at close range by an enemy sniper. Realizing that the lives of his fellow soldiers depended on his actions, Sp5c. Hagemeister seized a rifle from a fallen comrade, killed the sniper, three other enemy soldiers who were attempting to encircle his position and silenced an enemy machine gun that covered the area with deadly fire. Unable to remove the wounded to a less exposed location and aware of the enemy's efforts to isolate his unit, he dashed through the fusillade of fire to secure help from a nearby platoon. Returning with help, he placed men in positions to cover his advance as he moved to evacuate the wounded forward of his location. These efforts successfully completed, he then moved to the other flank and evacuated additional wounded men despite the fact that his every move drew fire from the enemy."
Hagemeister was presented with the nation's award for valor May 14, 1968, in Washington, D.C., by then-President Lyndon B. Johnson.
He continued serving his country in the U.S. Army until retiring as a Lieutenant Colonel in 1990.
Moore said he and Hagemeister talked "not long ago" and he had committed to coming to the program's 20th anniversary celebration in September. Gainesville is the nation's only Medal of Honor Host City.
"He will definitely be missed amongst his MOHHC family," Moore said. "He was a gentle soul with a big heart. We definitely grieve his loss with his wife Barbara and their family."
There are 66 MOH recipients living today.