At a recently held board meeting, members of the Saint Jo Independent School District Board of Trustees honored senior Kaili Gaston.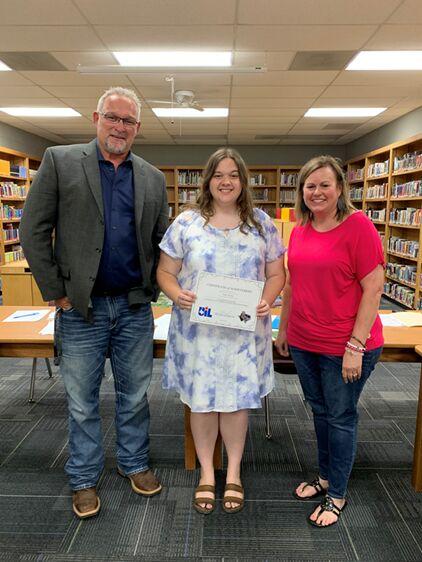 Gaston earned her associate's degree from North Central Texas College, as well as her high school diploma from Saint Jo ISD. Gaston is the Valedictorian of the Saint Jo ISD 2021 graduating class, according to a news release from the district.
The dual credit partnership between Saint Jo ISD and NCTC began 13 years ago with a limited number of classes being offered and has grown exponentially to what it is today. Gaston has accomplished what Saint Jo ISD and NCTC outlined as a vision for the future of dual credit by earning an associate's degree while attending high school. Gaston plans to attend Texas A&M University and pursue a degree in Biomedical Science, according to school officials.
"Our school district cannot be more thankful for the partnership with NCTC, as well as the tremendous financial support of our Saint Jo ISD Education Foundation," Saint Jo ISD Superintendent Curtis Eldridge said in the release.
The Saint Jo ISD Education Foundation has assisted in the dual credit funding of core courses required of a high school diploma. The tuition assistance provided by the foundation is a result of donations from many local, regional, and state contributors, according to the release.
Gaston joins a "prestigious list" of graduates that have attained a Saint Jo ISD diploma and a NCTC associate's degree concurrently, school officials said.