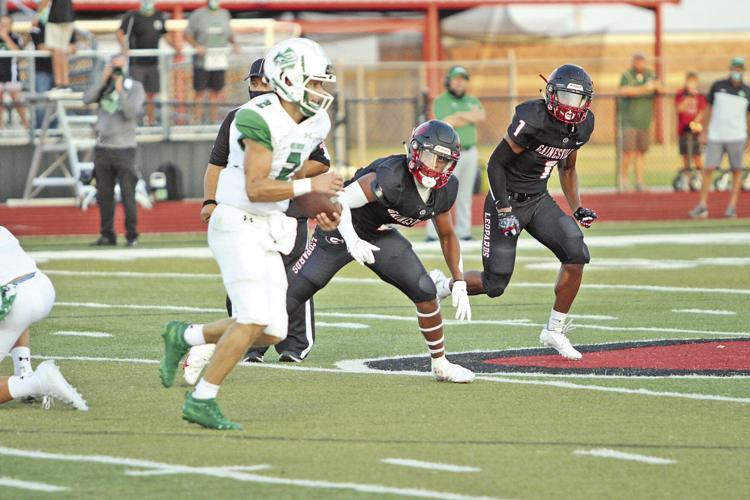 A new synthetic turf field is in Leopard Stadium's future.
Members of the Gainesville Independent School District Board of Trustees unanimously approved a proposal by Austin-based Hellas Construction Inc. to replace the stadium's synthetic turf for $587,360 during its regular board meeting on Nov. 16.
Place 4 board member Nathan Dempsey was absent.
Superintendent DesMontes Stewart said every year the field is tested to measure the level of safety on the turf. The turf at Leopard Stadium has reached its end life, he said.
"We've had that turf field for now at 10 years," Stewart said. " … We have many pockets on that field that are approaching the point of failure and we actually had one part that did fail."
According to a copy of the G-Max test report, Hellas Construction requested an independent analysis of the synthetic turf at Leopard Stadium.
G-Max measures the shock attenuation of sports surfaces. The higher the G-max value, the less absorption of force by the playing surface and the greater the magnitude of impact to a player, according to a report by Athletic Business. The Synthetic Turf Council guidelines specify that no test location exceed a G-Max value of 165.
Gainesville's turf averaged 177.80 of the 10 locations tested on the field in August, the report by Tait-Pitkin Sports Engineers PLLC indicates. It also shows a high of 210 and a low of 163.
Another impact testing standard is one established by ASTM International, reports show. For synthetic surfaces, ASTM requires that the reported G-Max value for every test point be less than 200. If the requirement isn't met, the field is considered unsafe.
Stewart said the life expectancy of a turf field is anywhere from seven to 10 years.
Gainesville ISD spokeswoman Leslie Crutsinger said the district's athletics will not be impacted by the turf replacement. She said as far as she knows, the field's turf will not be replaced until after soccer season, which is in late spring 2021.