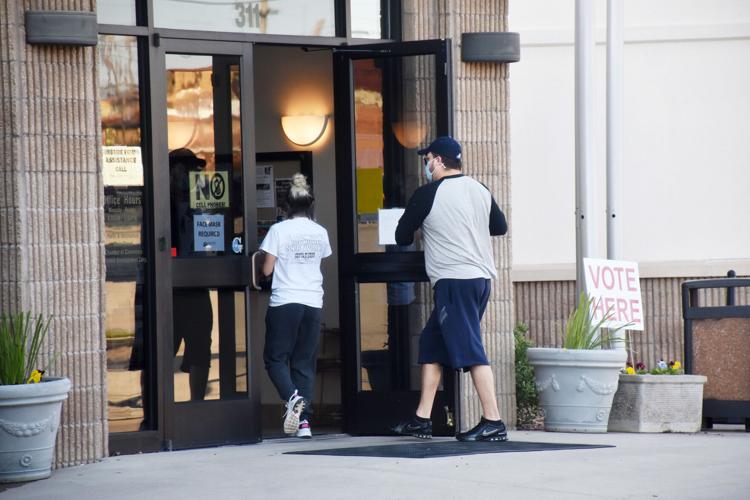 Voters headed to the polls in record numbers this election cycle.
Cooke County Clerk Pam Harrison said the county saw an all-time high voter turnout for the Nov. 3 General Election with 70% of the county's 27,254 registered voters coming out to cast a ballot. However, ballots cast on Election Day itself were lower than usual, she said.
Of the 19,097 ballots cast during the 2020 presidential election cycle, only 5,361 were cast on Tuesday, said Harrison. During the 2016 presidential election, 7,312 ballots were cast on Election Day.
Harrison said this year's lower Election Day count "was expected" because of how many people showed to vote during the 16-day early voting period.
While early voting is typically 10 days, this year it was extended an additional six days by Gov. Greg Abbott to help maintain crowds and slow the spread of the coronavirus.
Going back in the record books, Harrison said Tuesday's voter turnout was comparable to a gubernatorial election.
In 2014, 5,674 ballots were cast on Election Day. During that time, the county had 23,983 registered voters, Harrison said.
As far as Election Day hiccups go, Harrison said there were a couple of instances where the county's poll book scanners wouldn't scan drivers' licenses and there was one precinct scanner that wouldn't work.
"A lot of times it's just rebooting it and then it works fine," Harrison said. " … Other than that, it was actually a very smooth day. All my judges did a great job."
Harrison said Wednesday afternoon, Nov. 4, that she had about 150 mail-in, provisional and military ballots to count.
All votes are unofficial until canvassed. Canvassing is set for 10 a.m. Monday, Nov. 16, at the Cooke County Courthouse, 101 S. Dixon St.