Real Life Church and Boys and Girls Club of Cooke County recently formed a fruitful friendship. RLC had been hosting their sports clinics at their own church, but they ran out of room for the copious amount of kids that were attending.
Finally, the church partnered with the Boys and Girls Club to utilize its space so the the hundreds of kids could stretch their collective legs.
A multitude of sports were available on Wednesday, including kickball, soccer, baseball, basketball, football, volleyball and cheerleading.
Chief operation officer of the Boys and Girls Clubs of Cooke County Marvin Royal credited the relationship with RLC for the strong participation of kids.
"They don't promote their church," Royal said. "They're all about trying to help the community. We want this to be a community deal, not a promotion of RLC. We don't have to sell it. RLC has been a really big help to us. We don't want to partner with just anybody. We want to do it for the right reasons and make sure it's about the community and the kids."
RLC and the Boys and Girls Club have linked up before as RLC sponsored "Tools for School" in which they donated over 600 backpacks for school children.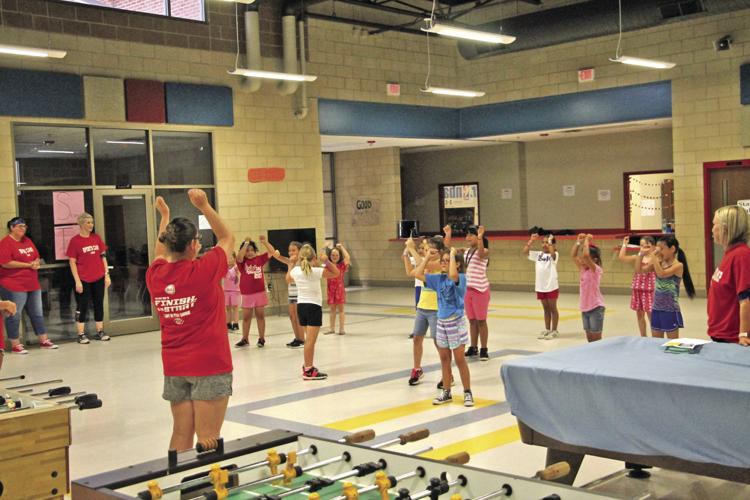 Royal said the main draw to the clinic is that it is free.
"It's very nice because you attract more kids," Royal said. "They can come here and get training on volleyball. You've got kids that just want to do soccer. Not only that, but it's free. I think with this being at this location in the community and it being free, kids can walk here and parents can drop their kids off here. The parents don't have to have any concerns."
One positive side effect that Royal sees for this clinic is the exposure for new kids the Boys and Girls Club.
"I've seen kids that don't attend the boys and girls club and since they have an opportunity to experience this environment, they have a chance to sign up for our club and that could change their life for the better," Royal said. "You can see the smiles on these kids' faces and it's rewarding. It's worth all the time you put in to see these kids happy."
Royal said he's seen kids experience sports for the first time and how the word can spread amongst them.
"We have a lot of kids here that have never played basketball or soccer or anything like that," Royal said. "It can go as far as little board games. They get exposed to that excitement and they're ready to latch on and they tell their other friends."
Royal said another big positive for the clinic is the location of the Boys and Girls Club being downtown, allowing more kids to attend and potentially walk instead of depending on their parents to drop them off.
Royal touted the safety of the Boys and Girls Club as well and said that it provides more than just a place to play sports.
"Keeping these kids busy is keeping them active and keeping them out of trouble," Royal said. "This is the place and the club that beats the streets. We have educational programs. It's more structured than kids are used to. When they go back to school, they're ready. They're not falling out of structure, so the more active we keep them, in the long run, it helps improve their education."
Patrick Hayslip can be reached at sports@gainesvilleregister.com or on Twitter at @PatrickHayslip