In their second 7-on-7 football tournament of the summer, the Gainesville Leopards had a similar outcome as the first go-around — a little good and a little bad.
The Leopards went 1-1 in their first tournament and on Saturday in Wichita Falls, Gainesville went 1-2 with a win over Burkburnett and losses to Levelland and Boyd.
Gainesville opened play with the 19-13 win over Burkburnett and it came down to the wire before Leopards sophomore Tre Laweson caught a 30-yard pass for a touchdown with 45 seconds left.
Offensive coordinator Blake Crutsinger noted how well GHS has been playing on defense in its first two tournaments.
"It was kind of a defensive battle," Crutsinger said of the match with Burkburnett. "Our defense played really good. We moved the ball inside the red zone, but we fizzled. We dropped balls, but we moved the ball pretty easily.
"Draylon Franklin was looking good out there at safety. The defense is athletic. Part of 7-on-7 is you play a lot of man defense. We have some really athletic kids that matched up well. I've been very pleased with how our defense has looked."
Up next was Levelland, which flattened Gainesville, 35-6.
"They throw the football," Crutsinger said of Levelland. "That's what they do. They had a guy that threw for 5,000 yards a couple of years ago. They've made deep playoff runs. For some schools, 7 on 7 is a little more relatable.
"Us, we run the ball and use play-action. They also had twice as many kids and that was a big advantage."
Against Boyd, their final tournament opponent, the Leopards came closer, but fell, 33-18.
"We responded in the third game better than we did in the second," Crutsinger said. "I was proud of the kids for battling back. I was proud of how they responded because nothing went well in the second game.
"There were some teaching moments, so there were some positives to take away from it."
Crutsinger thought the Leopards needed to toughen up mentally and said the summer is a time for conditioning.
"We try to get as strong as we can during the spring and offseason," Crutsinger said. "We need to work on running our routes, if [receivers] are getting the ball or not. They've got to run the route to open up windows for other receivers. We got some really good looks when they went hard, but it's going to be hard to create separation if you don't fun your routes fully."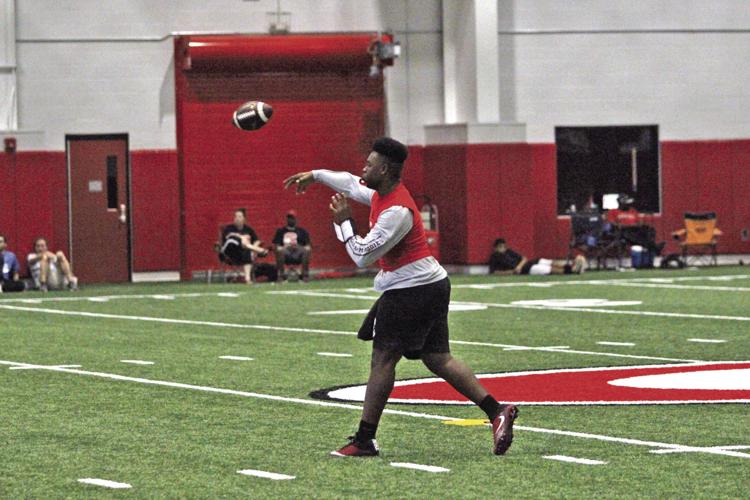 Crutsinger said he felt Franklin played well at quarterback and that he needed to improve his anticipation of routes and throwing the ball quicker.
While the 7-on-7 tournaments provide off-season opportunities to get better and work on the Xs and Os of the game, Crutsinger said the team shouldn't take the scores too seriously.
"We didn't have all of our guys there," Crutsinger said. "It's good for the kids to go out there, get used to concepts and throw and pass. Real football starts Aug. 6. I like this for getting the kids thinking about football, but it's hard to put a lot of stock in 7 on 7."
Still, any chance to play football out of season is always welcomed by players and coaches.
"It's fun for those skill kids and it's fun for us as coaches," Crutsinger said. "Class 5A and 6A get to have spring ball, but this is the closest to it for us. You notice who is learning and who is putting in the time and effort and energy, and who's not. It's good to see the kids we can count to show up and do what they're supposed to."
Patrick Hayslip can be reached at sports@gainesvilleregister.com or on Twitter at @PatrickHayslip