For the first time in a while, Muenster boys head basketball coach Lynn Cook isn't sure what type of team he has on his hands.
With the majority of the Hornets' team securing a state championship in football just under a month ago, the basketball team was forced to cut off the beginning of their schedule.
So despite winning the state title in basketball a season ago and making the state title game two seasons ago, the pieces are still coming together.
When asked how good this team can be, Lynn said that has yet to be determined.
"It's a question that will have to be answered later," Lynn said. "I told the kids on the very first day that this is the first time in a long time that I don't know what I have going into the season. This year's team starting late and having so many new parts, we're going to have to wait and see. This year's team has a lot of upside. This team has a chance to be special and the ingredients are there."
The Hornets have two returning starters this season with seniors John Weger and Clay Stevens anchoring the team with Weger at shooting guard and McGrew at point guard.
Stevens is one of two players at Muenster with state titles in football, baseball and basketball in one calendar year — something that has never been done before in the state of Texas.
Danny Luttmer, defensive MVP of the state title game in football, is the other.
So with the Hornets coming over in football, it's been a taxing transition for the entire team.
"It's definitely a little challenging," Stevens said. "There's definitely a transition period. I'm a little rusty. You have to get your shot back, but once you're in the gym for about a week or two, you start getting your skills back. We struggled there for a little bit."
For Weger, a three-year starter and member of the all-state tournament team, who wasn't on the football team, finding his rhythm early in the season has also been tough, although in Tuesday's 65-23 win over Alvord, Weger paced the team with 28 points on 10 of 17 shooting while also going 4 of 7 from 3-point land.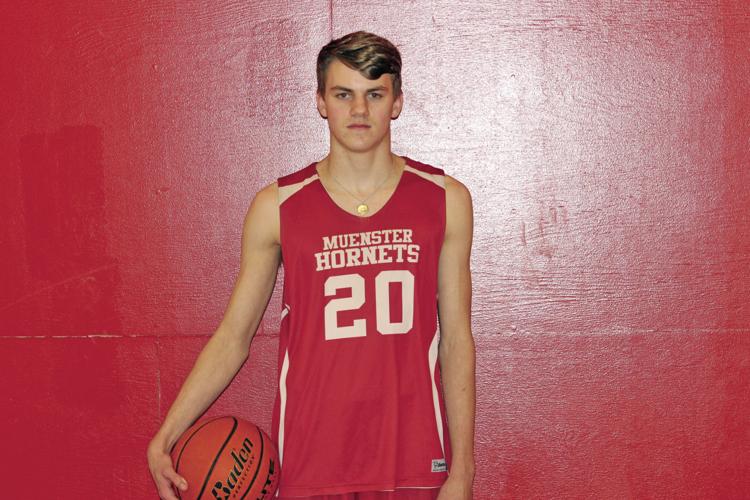 "Last year, most of the team wasn't on football, but this year, we didn't get to play any fall league or anything," Weger said. "It was tough. There were some games we really wanted to play, but I was still happy for the football guys. I think we can be pretty good. We haven't been together that long, so we're still working on stuff, but if we come together, we can be pretty good."
When the final football game was played on Dec. 21, the Hornets had to shut down the gym for five days to give the kids a rest per UIL rules.
That also meant canceling many of their pre-district games, including a rivalry game against Lindsay.
"It's definitely a new process here," Cook said. "The last four years, the majority if not all the starters were straight basketball kids. It was different this year with the majority of the varsity players playing football. We just did practiced what we could. We returned two starters from last year's team and everyone else is either new to the team or new in a starting role."
While the Hornets try to push the tempo on offense and score in transition, the addition of the post attack with Kody Walterscheid has been a welcomed evolution of the team.
"We are a slightly different team," Cook said. "We have more of an inside game this year with Kody Walterschied, who's feet are a lot better this year. His touch is a lot better. He's improved leaps and bounds from last year. Because of that, we can get the ball inside more than last year."
With the team being behind schedule, this is still plenty to work on according to Cook.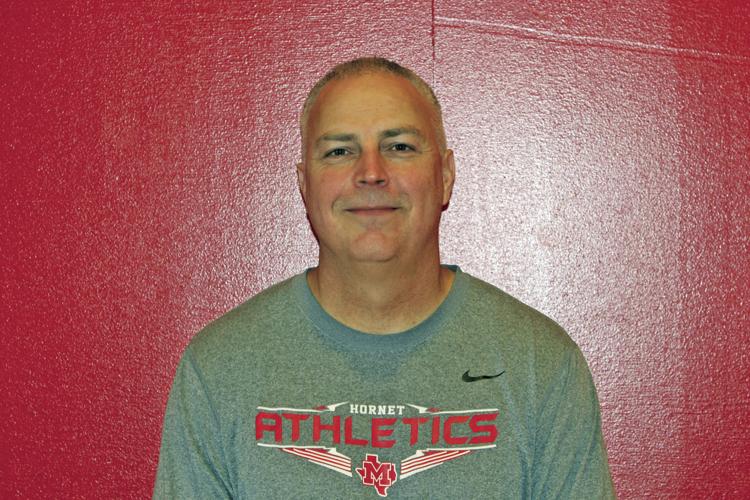 "Our skills are going to have to get better and that's going to have to come with time," Cook said. "Our shooting percentages are going to have to get better. The more we're in the gym, the more that goes up. I have absolutely no problem with where our defense is right now. We're probably ahead defensively, which makes sense. Defense is physicality and being in the right place."
The win against Alvord was a step in the right direction and the Hornets have their toughest district game of the season on Friday against Poolville.
"I was really pleased with our defensive effort Tuesday," Cook said. "Alvord scored 10 in the first quarter, but it was in single digits the rest of the game. We only turned the ball over 10 times and the goal for us is 12 or fewer turnovers. Offensively, we left a lot of points in the gym. The effort and commitment was there from the kids."
Regardless of the sport, Stevens says the goal remains the same. Win a state championship.
"Our goal is always to do something special here at Muenster," Stevens said. "I feel like we have the talent to do so. It's just a matter of us coming in everyday and putting in the work to achieve that. We know what it takes now. If we put the work in everyday, we could find ourselves back in that spot. The region is wide open, but top to bottom, everybody is pretty equal."
Patrick Hayslip can be reached at sports@gainesvilleregister.com or on Twitter at @PatrickHayslip
Muenster 65, Alvord 23
Alvord 10 3 6 4 – 50
Muenster 19 15 22 9 –65
Muenster – John Weger 28, Kody Walterscheid 16, Parker McGrew 8, Major Eldridge 7, Danny Luttmer 6.
Boys scores
Lindsay 77, Bells 47
Bells 18 10 7 12 –47
Lindsay 12 16 26 23 – 77
Girls scores
Era 70, Perrin-Whitt 8
Perrin-Whitt 0 3 4 1 – 8
Era 19 19 21 11 – 70
Era – Briana Knabe 25, Karlee Tucker 17, Sandra Christian 13, Alyssa Molina 8, Maddie Chisum 4, MarLynn Hickson 3.