The Callisburg golf programs are hitting their stride with eyes for the state tournament. The Wildcats pulled out the regional championship by a single stroke at Oak Hurst Golf Course in Bullard.
Callisburg finished with a total of 667 strokes ahead of New Diana, which finished with 668 strokes.
The Wildcats had a two-shot lead after the first day and held off New Diana the second day.
Head coach Randy Romines said they knew it would be tight on the second and final day.
"We knew New Dianna was going to be the ones to beat and on the second day, our two sophomores JJ [Walsh] and Kaige [Daughrity] shot 37 and 38 on the front nine. The other three guys didn't have the best front nine and then Zack [Moerschell] shot a 34 on the back nine. Kaden [Bullock] had an eight and I got on him a little bit and he finished one over from that point."
Moerschell finished in third place with rounds of 82 and 76 for a total of 158. Walsh took fifth overall with his rounds of 79 and 81 for a total of 160.
Romines said they were key to the Wildcats' success.
"Zack did the work and won us the tournament the last nine holes," Romines said. "If he plays up to his capability for two days, we'll win the state championship. JJ is going to be an outstanding player the next few years. He keeps getting better every tournament."
As for the team, Romines said it did exactly what it was supposed to do.
"We shot 328 and that was exactly our goal coming in," Romines said. "We look at the potential of the kids and after the first day we had a good day after how the course was laid out."
The regional win was a historic one for Callisburg.
"It was extremely nerve-racking because it was the first time the Callisburg boys won the regional tournament since 2007," Romines said. "I didn't know until after the match. It was suspension everywhere. Finally they totaled them up and there was a big old clap. We'll be better next year than we are this year and they're starting something good. We just have to play well at state."
Playing in such a close tournament should bode well for the Wildcats, Romines said. In the meantime, they will be working on their approach shots with their irons with some relatively easy greens to hit at the state tournament.
The state tournament will be held at ShadowGlen Golf Club in Manor on May 17 and May 18.
"This tournament helped because we knew every shot meant something," Romines said. "The guys that were in the other regions didn't have much competition. We got a one tournament lead on the other teams with the intense pressure."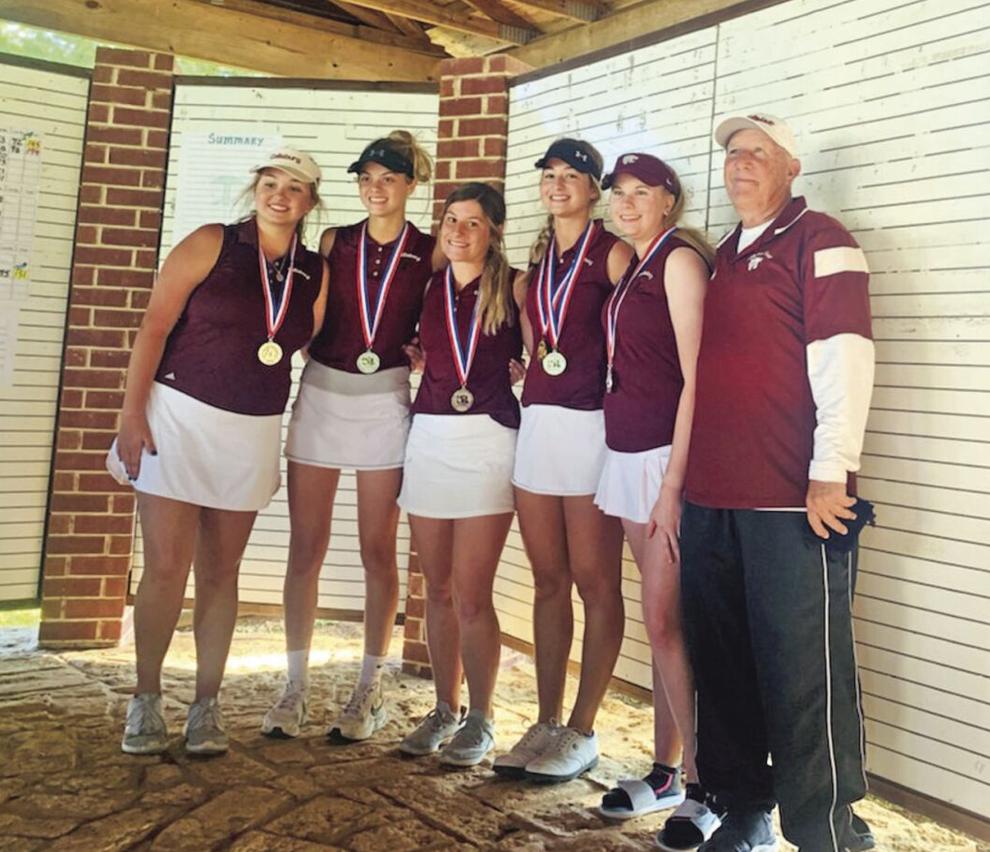 On the girls' side, the Lady Cats finished in second place with a total of 822 strokes. Howell took first place with a total of 808.
Romines and the Lady Cats had high hopes for their performance at the regional tournament, but he said they didn't meet those expectations.
"We played very poorly at the regional tournament and we got beat by Howell, which we had beat by 30 twice this year," Romines said. "Howell played extremely well. You can't make excuses, but the girls had the stomach bug and were throwing up. It was the worst team score in the past five years. We were toughing it out to be out there and it kind of snowballed. It's just one of those things that happens."
Romines said the greens weren't in the best shape and that led to a few three-putts that the Lady Cats weren't used to making.
Sasha Barletta was the Lady Cats' top scorer as she finished third overall with rounds of 95 and 88 for a total of 183.
"She came back the second day after feeling bad the first day and shot herself into a medal," Romines said. "She competed extremely well and I was really proud of how she came back and did what she's supposed to do. She didn't have any three putts. She put the ball in the hole like she always does."
Romines is still optimistic about the Lady Cats' chances at the state tournament, which will be held at ShadowGlen Golf Club in Manor on May 10 and May 11.
"We've got two seniors that have been there and done this before," Romines said. "They've got medals around their neck and the younger kids will learn from their mistakes. Everything will be fine. We've got a couple weeks to practice and we'll put that behind us. We'll be working lots of sand shots and on the putting greens."
Overall, Romines said both boys and girls teams should medal at state with possibilities for even more.
"If the boys play well, they'll win a state championship," Romines said. "For the girls, Wall is coming down with their scores. We've kind of plateaued. We want to get on the medal stand. We're not going to be disappointed. Our target goal will be 360 each day and if we do that, good things are going to happen for them."
Reach Patrick Hayslip at sports@gainesvilleregister.com