Last season couldn't have gone any better for the Callisburg Lady Cats volleyball team. The grueling year was eventually capped off with a Class 3A state championship.
As much as the expectations will continue to stay high, head coach Angie Allen said not only did the team lose several key players, but the team isn't looking in their rearview mirror.
It's a new season with new challenges and it officially began Thursday, Aug. 1 in the first practice of the season.
"As a coach, if you don't have that goal, then you're probably in the wrong business, but you're also very realistic about your team and what they can do," Allen said. "We really had a historical season and it was the first ever state championship at Callisburg in the school's history. So when you have a season like that and you're losing the talent we had with that senior group, it's going to be a new team."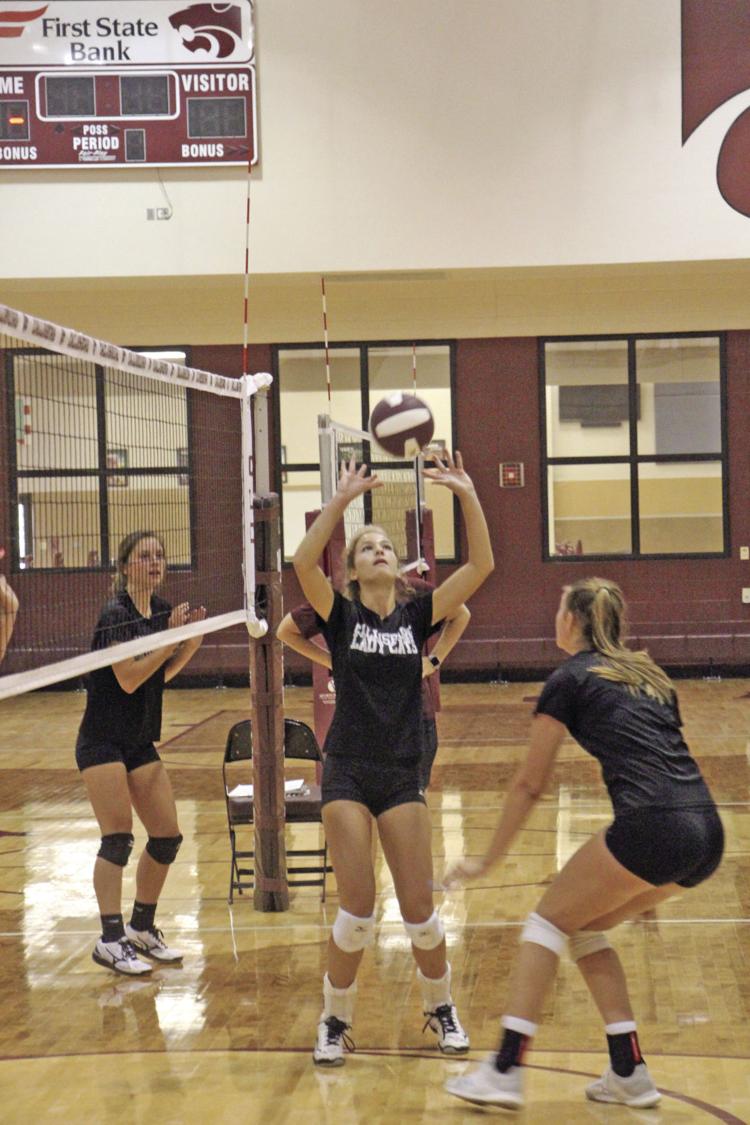 The Lady Cats are returning just one player that got playing time from last season in middle blocker Emma Sledge. Besides her, the Lady Cats are very young both in age and experience.
Allen said she is prepared for an overhaul with the team.
"It was a great accomplishment and great season, but every year you start over," Allen said. "You start from scratch and every team in the state is in the same boat as far as starting over But it's a new season and anything can happen. Of course, we talked about it for a minute how that was a great accomplishment and how we got to that point. We're basically going to be pushing harder and knowing that we have to gain some ground because we've got a new team. So we got to develop that team chemistry and make sure we're doing the right things and headed back in the right direction."
Callisburg, which went 47-4 on the way to beating Boyd in the state championship, has three seniors on the team, but Allen said they do not have a lot of varsity experience.
Allen said the team has yet to officially iron out its expectations for the season.
"I'm not quite sure how they're feeling, but we're going to be having some senior meetings and captains meeting so we can get on the same page," Allen said. "They've been around me long enough to know that we have a very high expectation for this program and it doesn't matter who's on the court. It's the same expectation. So you do things a little differently because you're you have different strengths from year to year."
The Lady Cats will have their first scrimmage of the season Monday with their first game coming next weekend at the Nike Invitational in Carrollton.
Allen said she knows the team has a lot to work on by the first game, but she knows everything will come with time.
"Honestly, we're trying to figure out what our best combination of kids is and see who's really stepping up to try to initially start figuring out our lineup," Allen said. "Last year, it was relatively easy to figure out a lineup. This year, it's totally different. Everybody is starting on a clean slate and has ability to earn a spot. So this time is going to be huge for us for trying different things and seeing what's looking the best."
Patrick Hayslip can be reached at sports@gainesvilleregister.com or on Twitter at @PatrickHayslip