The Muenster Hornets knew they were in for a fight Friday, Sept. 6, at Hornet Stadium against the Lindsay Knights.
Muenster head coach Brady Carney said the days of blowing out Lindsay have passed and it showed when the Hornets held off Lindsay's comeback for a 24-22 victory.
"There was a huge crowd and emotions were running high and everybody just knew what it was going to be," Carney said. "The last few years, we've been a really good football team, and we still are good football team, but to me, Lindsay has closed the gap a little bit. They're becoming a really good football team and everybody knew that."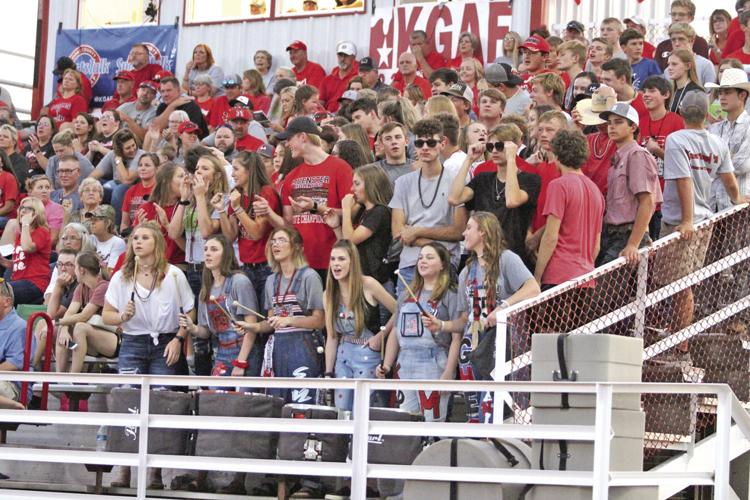 Friday's tilt was an emotional game and very sloppy at times with a bevy of turnovers by both teams.
Carney said he thought the pressure of the game got to both the inexperienced quarterbacks.
"Lane [Trubenbach] was throwing to Danny Luttmer and there were four or five guys with them and we had a senior running wide open 10 yards behind them," Carney said. "Lane has never started until this season and their kid is a sophomore. We tell them not to do too much. If it's covered up, then let's live to play another down. Let's throw the ball away. Let's run something and not just throw it up for grabs. And he's got to be better."
The Hornets had just a three-point lead at 18-15 headed to halftime, but it was a clutch drive on offense to start the second half that gave them the cushion to pull away with the win.
Trent Anderle's six-yard touchdown put Muenster up 24-15 with 8:31 left in the third and Carney said it was crucial to the Hornets' victory.
Still, as happy as he was about the start, the Hornets' propensity for turnovers in the third frame was still an area of concern for Carney.
"I thought we went out and came out of halftime a few adjustments here and there and ran the ball," Carney said. "We were hoping we could put the game out of reach. Then they have a turnover, we get the ball back and we drive to their 20-yard line and then turned it over. We have the opportunity to probably go up three scores and they'll probably lay down and the game is probably over. Instead, we gave them the opportunity to get back in the game."
Carney said knowing the time and score of the game is just as important as having good plays.
"That's not the time or the place where you're carrying the ball with one hand and fumble," Carney said. "Let's get our three, four yards and let's play another down because we're moving up front. We're dominating up front at that point. Yeah, let's just finish the drive with a touchdown and go up three scores."
Instead, the Knights were able to score late in the fourth quarter and force the Hornets to pick up a couple first downs in the final minutes of the game.
Carney said he was proud of how the team closed out the game, but the Hornets need to clean up several areas before they host Pottsboro on Friday, Sept. 13.
Patrick Hayslip can be reached at sports@gainesvilleregister.com or on Twitter at @PatrickHayslip