The Era Hornets have officially started their season and after making the playoffs the past two seasons, their work habits and expectations continue to ramp up.
Era head coach Aaron Fortenberry said the weight room has been a special emphasis for the first part of workouts.
"We've got a great attitude right now and the kids are working hard," Fortenberry said. "And we're just going to kind of keep rolling off that attitude. There was no moaning and groaning during conditioning. A lot of them encouraged each other and that's just part of having a big group of upperclassmen. There's a lot of leadership there."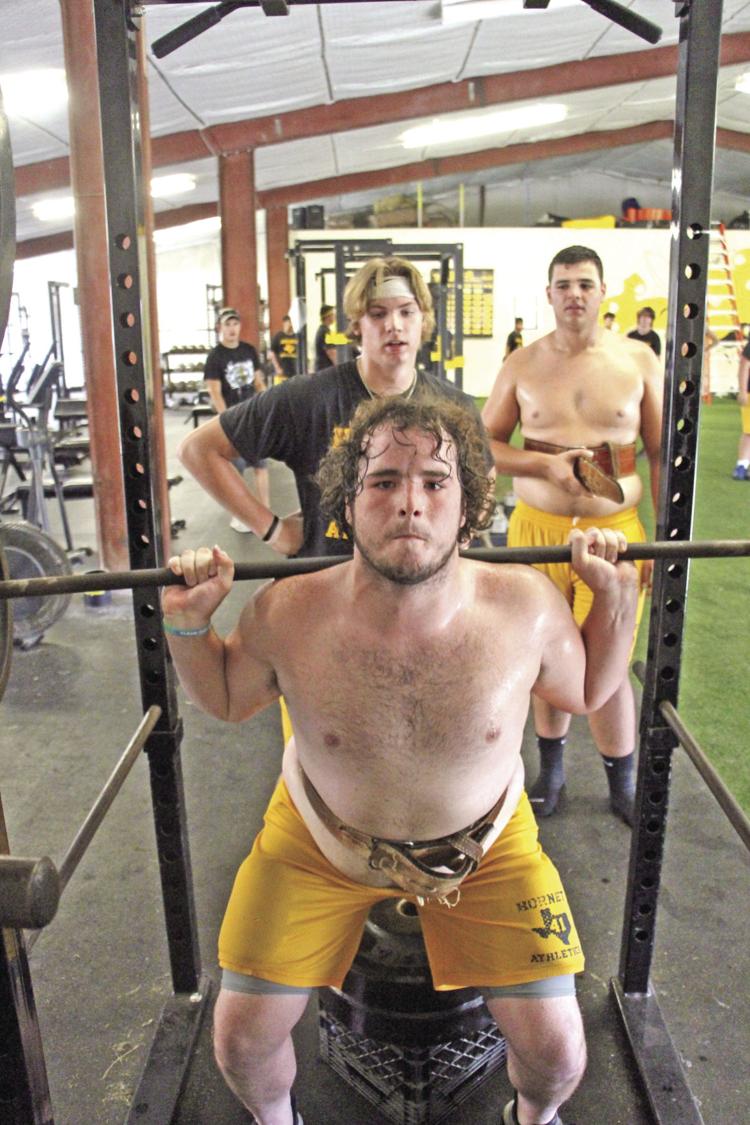 One of those upperclassmen, junior running back Sam Flack, said after making the playoffs the past two seasons, the team's expectations are high this year.
"Practice takes a lot of us getting together and pushing each other and this senior class is really doing good because a lot of the freshmen today were pushing themselves real hard and I was very proud of them," Flack said. "So with us, it's a lot like the weight room stuff. We go hard in the weight room and then come out here do some plays and a bunch of cardio but we're expecting and wanting to go at least two rounds and possibly three. Even then, we won't be satisfied."
Senior quarterback Joshua Hickson is taking over for the graduated Rodney Bowden and he said these first few weeks of practice are very important to him and the team.
"It's pretty big," Hickson said. "I've been practicing hard. I've been backup quarterback since my freshman year so I've just been ready to step into the spotlight. I just need to get my arm ready to throw in game. I've gotta get my steps down and just be ready to play."
Fortenberry said the previous work the team got in during the summer has eased the transition to fall practice.
"We were basically teaching and going through with our basics right now," Fortenberry said "We're doing most of our coaching with the young guys and the older guys are helping us do that. I could run probably three quarters of our playbook right now and the kids know it."
Despite feeling as if the Hornets have a head start on the playbook, Fortenberry said there is still plenty of evaluating left to do.
"I tell them every day that we're evaluating just because the starting wide receiver today doesn't mean the first game rolls around that he's going to be the starting receiver," Fortenberry said. "So I tell those kids to not get it in your mind that that's what you're at. You're always striving to be that person that will create a competition and that makes everybody better."
The Hornets will be able to practice in pads Wednesday and begin hitting in pads Friday, so Fortenberry said this week before the hitting begins is still very valuable.
"I think it's huge because I think this part of practice, you can get all the thinking out of the way and you can be slow and correct," Fortenberry said. "That way when you get everything on, they can fly around and be fast."
The hope for this week is for the team to focus on the minute aspects of the game.
"The big thing is being focused and taking care of little things and that's kind of been our motto so far," Fortenberry said. "It's the little things that win games. It's not just knowing plays. The next step in our program progression is just getting everybody in all the time to do the little things so you don't have to worry about the other stuff."
Patrick Hayslip can be reached at sports@gainesvilleregister.com or on Twitter at @PatrickHayslip