In their third district game of the season, the Gainesville Leopards found themselves in a tight battle at home against Sanger on Friday, Jan. 18.
Gainesville trailed by just one point at 41-40 early in the fourth quarter, but the Indians closed out the game with a 9-0 run to seize control of the game for a 55-47 victory.
Senior forward Draylon Franklin led the team in scoring with 13 points, while senior guard Tevin Manuel added 12 points.
The Leopards' usual leading-scorer Tre Lawson was limited to just seven points, which head coach Jeff Wolf said was due to Sanger's particular defensive scheme.
"They were running basically a box-and-one or diamond-and-one," Wolf said. "Basically any time Tre got the ball, they were triple-teaming him. That's something that it's a little different. I thought we adjusted to it and we were getting good looks. It's just that some shots weren't falling."
The loss sends Gainesville to 0-3 in district play and Wolf said he knew it would be a difficult game to win.
"We knew going in the game that both teams are pretty close to each other so I wasn't shocked that the game was close by any means," Wolf said. "We still fought to the end , but things didn't go our way."
Sanger led 15-10 after the first quarter and led 20-12 early in the second quarter, but Gainesville cut the lead to two points at 26-24 with a 12-6 run.
No team led by more than three points in the third frame and it was Sanger that led 37-35 headed to the fourth quarter.
"I didn't think our shot selection was terrible," Wolf said. "I just thought we just missed some easy shots and when you start missing a few shots, it starts to slow you down. And it works the other way around. When you start making shots, it gives you momentum as well."
The Leopards went to their trapping defense and back-to-back layups from Franklin and sophomore guard Robyn Hardin trimmed the score to 41-40, but the Indians polished off the win and forced the Leopards to try play the foul game to get back into the game.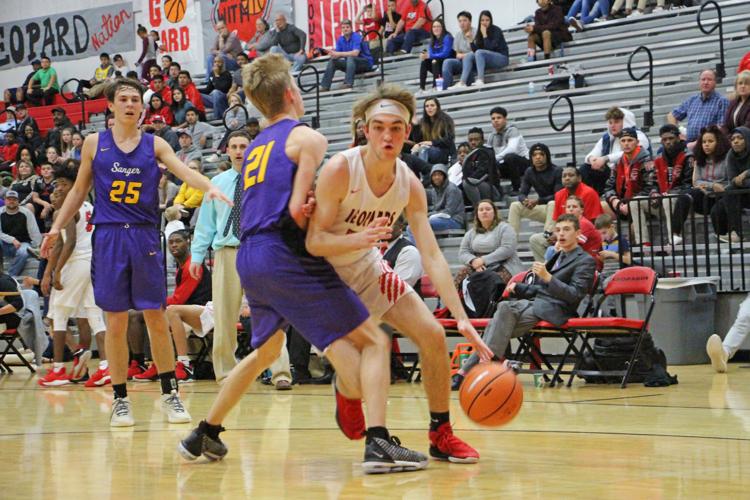 Ultimately, the Indians hit enough free throws and held the Leopards' offense in check.
"I wanted to create some turnovers," Wolf said. "I wanted to use our some of our athletic ability and speed and play to our advantages, but again we missed too many shots in the back end. It's easy to look at it like [we ran out of time] but with how close it was, no one was up big."
Gainesville will continue district play on Tuesday, Jan. 22 as the Leopards host Melissa at 7:30 p.m.
As far as how the Leopards will rebound from the loss, Wolf said they will continue to keep fighting.
"I'm a fighter and I'm trying to inspire them to continue to fight," Wolf said.
Patrick Hayslip can be reached at sports@gainesvilleregister.com or on Twitter at @PatrickHayslip