Although it was a one-score game at halftime, the Lindsay Knights bowed up when they needed to for a 40-18 victory over Valley View at John Kassen Stadium on Friday, Sept. 18.
Despite putting together a solid second half for their fourth win of the season, not all wins are created equally as the Knights came away feeling as if they let too many opportunities slip from their fingers.
The coaching staff was not pleased after the game and Lindsay offensive coordinator Zach Birdwell said the offense was lucky that the Knights' defense came to play.
"We didn't execute," Birdwell said. "We had a lot of penalties that set us back. We didn't score in the red zone and we pride ourselves on that. This is our first game not to score on the first drive because that kind of sets the tone. We got bailed out because we have a really good defense."
While they haven't suffered a loss this season, Birdwell said if the Knights play like they did Friday against Valley View in the playoffs that they won't be very successful.
"Our goal this season is not to beat Valley View," Birdwell said. "It's not to win sloppy games. Our goal is to make a run, play in December and then anything can happen. I felt like we took a step back tonight. It doesn't matter who we play, we want to get better."
Valley View had a slow start to the game. The Eagles drove down to the Knights' 36-yard line and converted a key 4th-and-2 to the 33-yard line.
However, on the next play, the Knights' defense came up with an interception of Valley View quarterback Zach Isbell by sophomore Hayden Ellender.
After a 3-and-out by the Knights, Valley View threatened to score again as the Eagles drove down to the Lindsay 14-yard line.
But the Eagles' 31-yard field goal was blocked to keep the score at 0-0.
Lindsay's offense finally found some traction on its next drive as they needed just seven plays to find the end zone.
A 6-yard touchdown run up the middle from Lindsay running back Jace Eddington gave the Knights a 6-0 lead after the missed extra point with 2:52 left in the first quarter.
Birdwell said Eddington was one of the lone bright spots for the Knights.
"Jace is one of the most important kids on our offense," Birdwell said. "With what we do offensively, we knew Jace can take advantage when teams give us the box. He stepped up tonight. He had some big runs and had a big catch. He's the most unselfish kid that's going to do whatever we asked of him."
The Eagles' offense sputtered on its next drive and was forced to put to the Lindsay 42-yard line.
From there, the Knights were in business after a pass interference was called in the end zone, placing the ball at the Valley View 2-yard line.
Unfortunately, the Knights fumbled on the next play, leading to a touchback.
"The biggest thing tonight was we couldn't win 1-on-1s tonight," Birdwell said. "We couldn't win 1-on-1s at any position. We couldn't win 1-on-1 blocks or on our pass routes and that's what we pride ourselves on. Tonight, sometimes we did and sometimes we didn't, but we've got to where we do it every single time."
Thankfully for Lindsay, its defense came to play as the Knights forced a Valley View fumble that was returned for a touchdown by Jaxon Williams.
An unsuccessful 2-point conversion gave the Knights a 12-0 lead with 9:16 left in the first half.
Each team's offense hit a dry spell for two drives each before the Eagles finally landed a counter punch.
Valley View went into its hurry-up offense with five consecutive rushes before Colby Lewis finally broke off a 56-yard touchdown run to cut the Knights' lead in half at 12-6 with six seconds left in the first half.
Lindsay responded to begin the second half as the Knights marched down the field on a six-play drive that culminated in a 17-yard touchdown pass from Kolt Schuckers to Derek Parsons in the back-left corner of the end zone.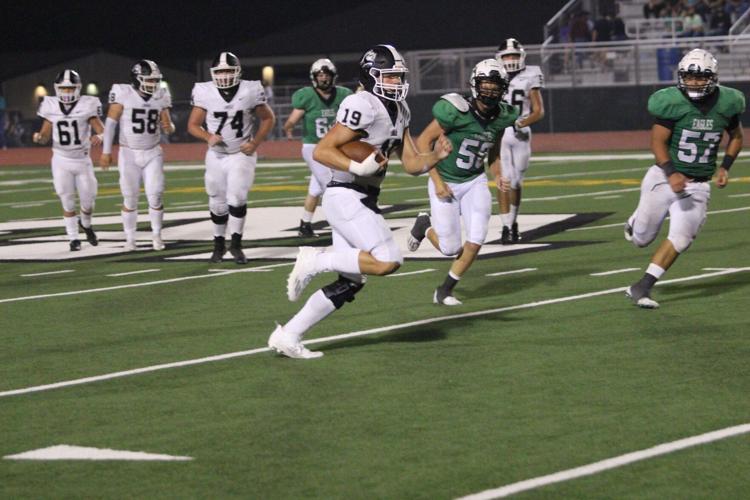 Another failed 2-point conversion led to an 18-6 lead for Lindsay with 9:28 left in the third quarter.
The Knights' defense delivered again by blocking an Eagles' punt on their next drive.
Lindsay needed just four plays to extend its lead as Schuckers found Andrew Schully for a 10-yard touchdown with 6:48 remaining in the third quarter. The Knights were successful on their 2-point conversion this time on a Braxton Craigie catch to take a 26-6 lead.
Later in the quarter, Schully recovered a Valley View fumble and returned it for a touchdown to give the Knights a 34-6 lead after a successful 2-point conversion from Eddington.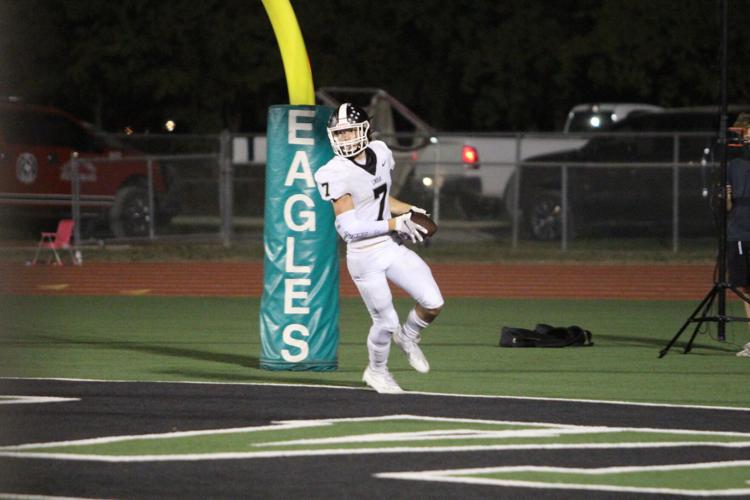 Valley View rediscovered its scoring touch on the next drive as Logan Lewis found Bryan Duranona for a 45-yard touchdown to cut the lead to 34-12 with 50 seconds left in the third quarter.
Lindsay responded with a 45-yard touchdown from Eddington to take a 40-12 just nine seconds in the fourth quarter.
Eddington said he felt it was definitely his best game of the season but also recognized his team has much more work to do.
"Our line did really good and I feel like we did our job tonight," Eddington said. "I'm definitely all over the field. I can run and I can catch. I can do it all. We should have come out harder in the first half, but we finally kicked it in in the second half. We need to do that throughout the whole game. We'll practice harder next week, figure out what we're doing wrong and get it fixed."
The Eagles had the last score of the game as Lewis found his older brother Colby Lewis for an 18-yard touchdown catch with 10:10 left in the game to make it 40-18 after a failed 2-point conversion.
The Knights will begin district play next week against Collinsville while the Eagles will take on Muenster.