The Muenster Lady Hornets basketball team isn't wasting any time this summer.
Despite not getting to play its usual slate of summer games, the Lady Hornets have been using every opportunity to get better.
Motivation isn't lacking either. The Lady Hornets were minutes away from a state championship last season and are driven to get back in the driver's seat for another run at a title.
Muenster head coach Chris Hightower said the main focus for his team has been on the offensive skills side of the game.
"There has been a lot of shooting and a lot of ball-handling and individual type skills," Hightower said. "We're working on things they can do at home on their own. Honestly, it might turn out to be one of the best things ever. You want to work on team things and team offense, but I think it's good that the kids are forced to work on their biggest weakness which is handling the basketball. It's really put a focus on things they wouldn't have focused on."
Hightower admitted those drills have become a bit monotonous, but thanks to the loosening of the University Interscholastic League rules that allowed teams to begin one-on-one training, practices have started to get more intense.
As a defensive-minded coach, Hightower said he is personally happy that aspect of practice has been opened up.
"We got a little creative with some defensive things where we could go one-on-zero, but of course the girls were ecstatic that they could start one-on-one stuff," Hightower said. "We've been able to open up our practice playbook so to speak and it really opens things up for us defensively like blocking out or rebounding. We could only do so much on air."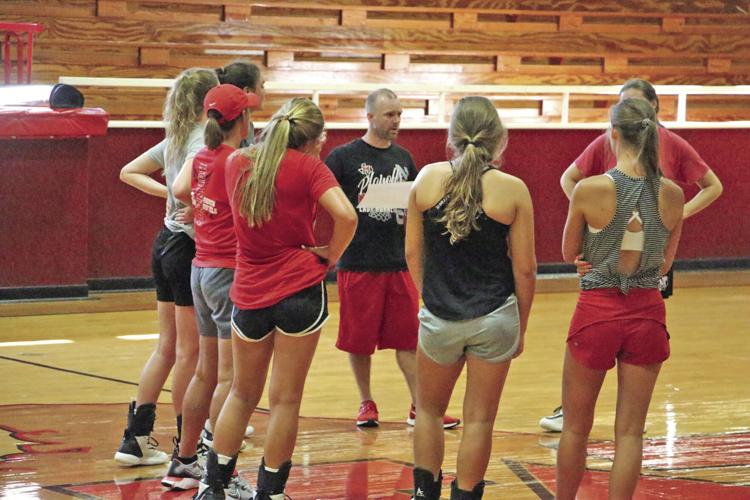 Not being able to play summer league games has been difficult for the Lady Hornets, Hightower said.
"It's killing them," Hightower said. "It's killing them. They love playing and that's one thing I love about Muenster. They'll play in whatever I suggest to them. I feel like losing those games is big, but I do feel like we've been able to make up a little bit in that area. The UIL has given us more time and in the past it's been only 30 minutes per day and now they give us an hour a day and I'll take that all day. It's been really, really nice."
Hightower said the attendance and enthusiasm from his varsity players has never been in question and that the summer has been very fruitful for the entire girls athletic program.
"Muenster's always had a culture of they are going to be working out if the gym is open," Hightower said. "We've had way better numbers in the girls program this summer. The returners are able to teach the younger ones coming up. It's gotten to where I don't have to do a whole lot. They want to show the younger girls that they want to be there."
Even the middle school program has been actively participating in summer workouts and Hightower said it's all about personal growth this time of year.
"I think the kids see it that way too," Hightower said. "It's a way for them to hone their own personal skills and an opportunity to make themselves better for a potential bigger role when it comes to the team aspect of it. We're really building something special as far as a culture here. They're always up here watching the high school team and they're always enamored with them and they just want to be around what's happening at that varsity level."
The varsity squad is chock full of seniors this season and Hightower said there is a certain sense of finality in the air for the players knowing it is their last chance to win the state championship, especially after coming so close last season.
"The cliché that unfinished business is there and I don't have to do a lot of motivating when it comes to that, but I'm worried about winning the district and getting back to region," Hightower said. "They know they have to get better in certain areas and their mentality is they have to take advantage of the opportunity. They saw what it took last year and how much more they could have done compared to last year."
Patrick Hayslip can be reached at sports@gainesvilleregister.com or on Twitter at @PatrickHayslip