The Gainesville Lady Leopards struggled against the Sanger Lady Indians on Friday, Jan. 18. The Lady Indians were never in danger of losing their lead, so Gainesville spent most of the game trying to work on its own game.
Sanger held a 28-9 lead at halftime and rolled to a 55-19 victory.
Gainesville had trouble turning the ball over too much and head coach Shaun Weaver was quick to point that out after the game.
"Some of them were forced and some weren't forced," Weaver said. "We're not being confident with our passes. At some point, we run into people and our ball handlers get double teamed trying to make the passes tougher. I told the team, we have to get rid of those lackadaisical passes."
Meme Davis led the team in scoring with 13 points, including all eight points for Gainesville in the second quarter. Kat Creeks added four points while Karina Ortiz had two points.
Gainesville had trouble scoring most of the game, especially in the first quarter that saw the Lady Indians take a 14-1 lead headed to the second quarter.
Gainesville did score eight points in the second quarter, but still trailed by 18.
The third quarter was also stagnant for the Lady Leopards, as they were held to just two points. They trailed 43-11 at the end of the third.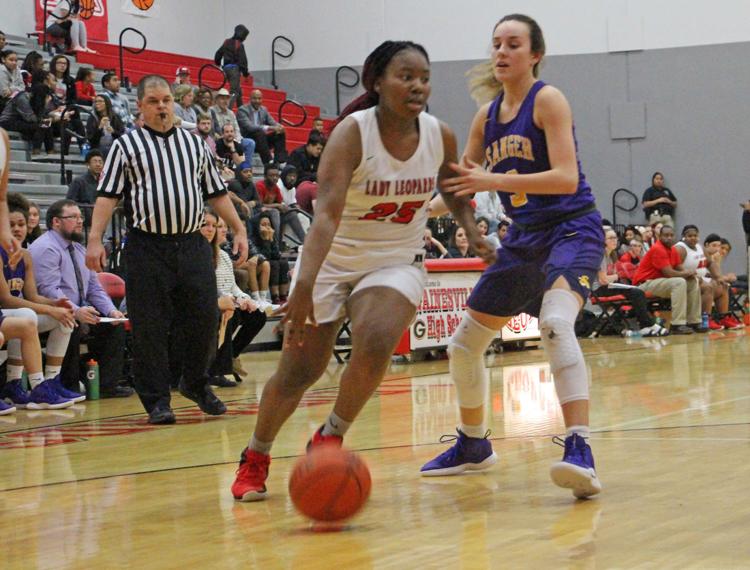 Despite being down, Weaver's message to the team was to keep playing and to continue to try to make progress.
"After the first quarter, I told the kids, I'm going to keep coaching so they might as well keep playing," Weaver said. "I think it set in mentally. We got down 5-1 and I think the monkey jumped on our back and then they just gave up. That's what we're trying to teach them. But at the beginning of the year, when we were doing good, we would fight through those things."
The Lady Leopards continued to fight though as they managed eight more points in the final quarter.
After the game, Weaver asked her team what she could do to help them improve.
"We spent a long time after the game and I'm just asking them, at this point, what do you need from coach Weaver because we go over the fundamentals, we go over ball handling, defensive transition, blocking out, rebounding and ball handling," Weaver said. "Most of their response was, 'coach you're doing all you can do at this point, we got to do it ourselves.'"
Gainesville will host Melissa in another district tilt at 6:15 p.m. Tuesday, Jan. 22.
Patrick Hayslip can be reached at sports@gainesvilleregister.com or on Twitter at @PatrickHayslip