In their first playoff games of the year, the Collinsville Lady Pirates used a clutch 10-9 win in Game 1 to breeze past Valley Mills 7-1 in Game 2 for the series sweep in the area round of the Class 2A playoffs.
The first game was a teeter-totter affair as Collinsville took an early lead and a late lead only to have it erased multiple times.
However, in the seventh inning, Carrie Johnson delivered the game-winning RBI double.
Collinsville head coach Daniel Johnson said the team's confidence never wavered.
"We went up 4-0 early and we had some errors and they tied it up at 4-4," Johnson said. "In the fifth inning, we went up 9-4 and they tied it up again in the seventh inning 9-9. They just started hitting the ball. Carrie's hit was huge. When we have tempo and energy, at any time, our girls can perform at a high level. When we went into the bottom of the seventh, we had zero doubt. None of them were scared."
Carrie not only hit the go-ahead double, but was the anchor in the circle for Collinsville despite having an off night.
"I don't think she had her best outing at the end of the game, but the first four runs we gave up were in a weird inning," Daniel Johnson said. "I just felt like they were hitting the ball. They had the momentum. I don't think she was at her best and she told me that after the game, but it was a weird night. It was a humid and wet night, but it was humid for both pitchers. We always say that if you're going to give up runs, you have to make runs and she hit the walk-off double."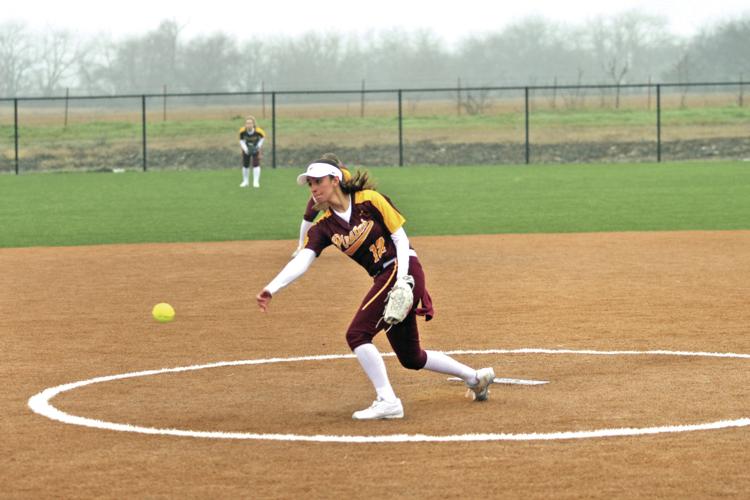 Johnson said the team was feeling good knowing it was in the driver's seat headed into Game 2 on Friday, May 3.
"With that first win out of the way, we knew Valley Mills had to beat us twice on Friday," Johnson said. "We discussed that they had to beat us twice, but we didn't want to play the third game. You saw the level of confidence our girls had and our four captains led the way, from getting off the bus to the game."
In Game 2, Johnson said it was one swing of the bat that tilted the scales in the Lady Pirates' favor.
"We went down 1-0 and tied it up 1-1 and then both pitchers were pitching lights out," Johnson said. "In the fourth inning, Lexi Martin, on a 2-0 count, hits one about 250 feet way over the fence. That really gave us momentum. When she hit that home run, our girls just electrified. Everyone jolted. From that moment forward, we never looked back."
Johnson said the rest of the offense came to play as well.
"Brooke Haning hit the ball crazy good all series, all over the park," Johnson said. "I can't say enough about how she hit the ball. She hit a home run in Game 1 and in Game 2, she was hitting them off the wall left and right. In the Game 2, Kaitlyn Long hit a home run to seal the win. You could tell the other team was done. Gracie Cavin behind the plate was phenomenal. Carrie went 3-for-4 with three doubles."
Defensively, Johnson said several other players stepped up.
"Katy Claytor made some great catches in center field," Johnson said. "We pitched a lot of their batters inside and Martin probably caught more pop flies in this game than she has all year. Talon Andrews at shortstop as a sophomore, you could tell she really picked it up in Game 2. She really showed us what her potential is."
The Lady Pirates have earned a date with the top-ranked team in their region in Crawford, which just defeated Lindsay 12-2 in the area round.
"Crawford beat us last year in the same round and they were good both games," Johnson said. "They haven't lost anybody. They're really good. I think we're in the mode of where we were last year. We're just now peaking."
Collinsville will face Crawford at 6 p.m. Thursday, May 9, at Crowley High School in a winner-take-all game.
"Anything can happen in a one-game series," Johnson said. "Their coach and I flipped for a series or a one game and I won. I won home field too. He has depth at pitching and they have two or three pitchers that throw at a high level and we have one pitcher that has thrown multiple games. One game benefits us."
As for how the Lady Pirates emerge victorious, they have to play their cleanest game of the season according to Johnson.
"We're going to have to play our best game of the year," Johnson said. "I always tell the kids when we have to be perfect and we have to play the best defense we ever have. We have to put the ball in play, but the most important thing we have to do is not give up runs and don't make errors."
Patrick Hayslip can be reached at sports@gainesvilleregister.com or on Twitter at @PatrickHayslip