The Gainesville Leopards had their first scrimmage of the season against Pilot Point on Friday, Aug. 16, and from the JV up to the varsity, the Leopards flashed their athleticism and showed they were every bit as good as Pilot Point.
Gainesville displayed its speed that easily led to big plays on offense and well as some sturdy defensive stands.
Head coach James Polk was fired up with how his team played, but also recognized there were several areas left to fine-tune.
"I feel a whole lot better than I did 365 days ago," Polk said. "We got stronger over the offseason. We got a lot stronger. We implemented some different training methods instead of just heavy, heavy, heavy all the time. We did a lot more running and a lot more quick stuff with a lot more stretching. Our trainer put us on a mobility exercise stretch routine and over time that helps as we continue to get loosened up."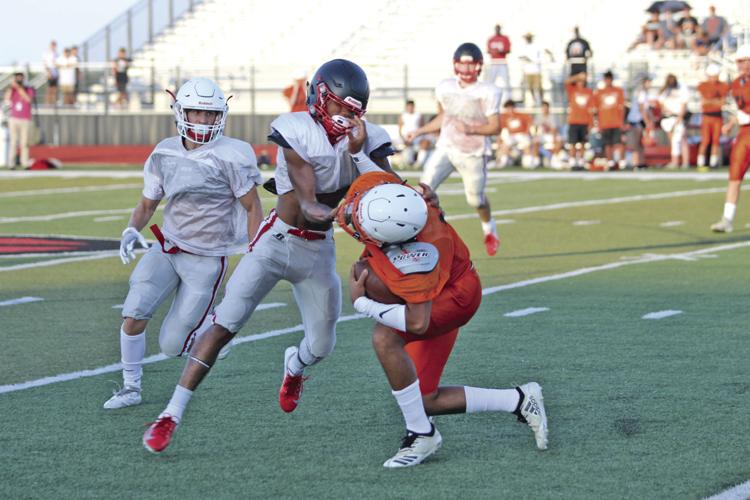 Polk said he was happy to see some of the backups and JV players get some invaluable experience.
"There were many opportunities out there," Polk said. "Let's take Bubba [Brandon Baker], for example. I think he had 100 yards rushing on six carries. We could have given him the ball 15 times and just ran up and down the field, but what does that tell us about his backups? What does it tell us if he goes down? What does it tell us about other kids that need to step up? We want to look at a lot of kids that we need to play roles and move into positions when our guys need a break."
The Leopards will scrimmage Bonham on the road Thursday, Aug. 22.
Polk said the plan is to start putting a more practical offense in before then.
"We'll start trying to put down additional stuff and actually try to move the chains instead of just calling a play," Polk said. "There was a situation where it was like 3rd-and-inches. Well, in a game we're going to go run the ball. We've got two downs. We're still going to run the ball to get the first down, but because we need to see other things we decided to throw the ball."
The pass fell incomplete, but Polk said the wide receiver was in the right spot to make a play.
There were still blemishes in the game and Polk said he is evaluating several positions.
"I don't want to go into a game and say, I wonder if this will work or I wonder if this looks good," Polk said. "I want to have it on film multiple times. Now I feel comfortable that the quarterback can make that throw and that we can protect because we have some protection issues today too. I'm telling you I'm fired up. We missed eight tackles and that's just having want-to. It wasn't a scheme thing."
Patrick Hayslip can be reached at sports@gainesvilleregister.com or on Twitter at @PatrickHayslip