For the second straight year, Lindsay junior quarterback Kolt Schuckers has been selected as a Built Ford Tough Texas High School Football Player of the Week.
Schuckers was presented his trophy on Monday, Oct. 19, by Klement Ford General Manager Ben Bindel for his performance against Collinsville in Week 5.
Schuckers was quick to credit his teammates for their play to help him earn this award.
"It's humbling and I couldn't have done it without my offensive line and my receivers," Schuckers said. "Tyler [Yancey] has speed. Caleb [McKinney] has height and go get it on the top shelf if he needs to. Garrett [Ellender] is obviously our all-state receiver from last year. He's been there and he's a reliable source. We've also got Derek as a check down. Jace [Edington] can play as a slot and as a running back too."
Schuckers was 31-of-45 for 431 yards passing with a school-record seven touchdowns in a 68-26 victory against the Pirates and he followed that up with seven more touchdowns against Tioga in a 76-12 win.
"I'm really excited, but at the same time I'm humbled," Schuckers said. "Even though I won it last year, it's just really humbling to receive the award again. I didn't really have the chance to take it in last year. I wasn't really aware of how big it was at the time. It is just a blessing and I really couldn't have done it without my team. It means a whole lot more than it did last year because I have a better understand of what it means."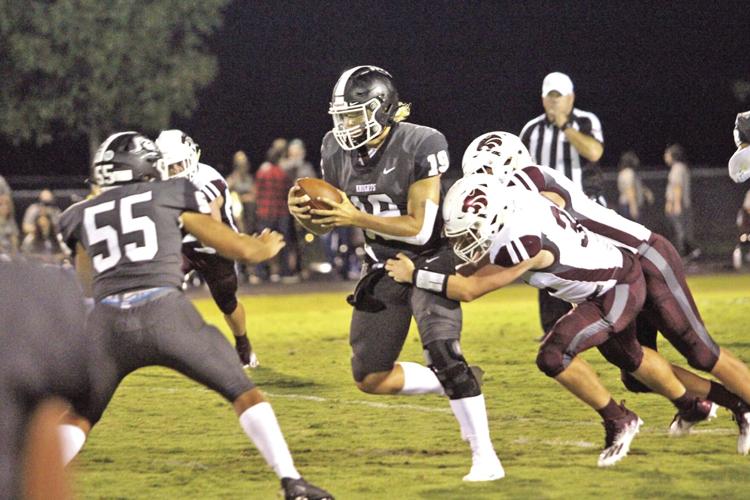 Lindsay head coach Jeff Smiley said he isn't surprised with Schuckers' progression as a quarterback.
"Kolt is a better player this year than he was last year and he'll be better next year than he is this year," Schuckers said. "He's still growing and maturing, but he's definitely coming into his own. He's a special player. He understands the scheme so much better."
The Knights are 8-0 on the season and defeated Alvord 35-7 on Friday, Oct. 16, to clinch the district title.
Overall this season, Schuckers is torching the competition.
After being selected to the Class 2A all-state first team last year, he is 160-for-232 for 2,858 yards in eight games this season, which ranks him No. 1 in the state and No. 4 in the nation.
He also has 42 touchdowns, which ranks him No. 1 in Texas and No. 2 in the nation.
Schuckers credited his time working with offensive coordinator Zach Birdwell over the summer to perfect his game.
"We worked on me stepping up in the pocket and make better reads," Schuckers said. "That's what I've worked on and that's where I've grown. I'm not playing as conservative as I did last year. I'm not taking as many risks, but at the same time, I'm trying to play smart. We obviously want to make it to state and to do that, we can't play conservative. We're taking more shots on offense. Our long-term goal is to play in December and make state."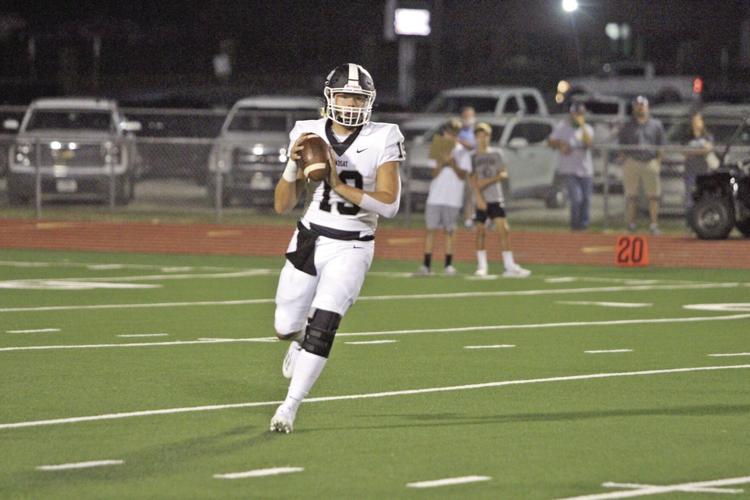 While the stats reflect Schuckers' dominance on the field, it's the team success that drives him. Last year, Lindsay fell in the second round of the playoffs to Sundown. This season, the Knights have eyes on a deep run that hopefully ends in a state title.
"We're more confident this year," Schuckers said. "We're able to spread the ball around and our defense is more confident. I'm very confident, especially with our defense holding teams to 21 points at most. As long as our defense can make stops, our offense will score. Last year, we played Sundown in the second round. We got too cocky because we were up 21-0 in the first half. We know we have to keep our foot on their throat all game."
There is much work left to be done, but Smiley said the sky is the limit for Schuckers and the Knights.
"We know this team has a lot of potential," Smiley said. "We have to go do it and we have to get better this week. We're playing really good football right now and we played really good against Alvord. It wasn't perfect, but it was a good game in all phases."
Reach Patrick Hayslip at sports@gainesvilleregister.com or on Twitter at @PatrickHayslip