On the surface, it might seem as if the Class 2A state championship the Muenster Hornets won was a singular magical season, but behind the scenes, the crop of upcoming players already is familiar with the coaching staff, scheme and expectations.
In a few years, they'll be ready to seamlessly take over the reins as the top playmakers.
So when it comes time for the younger players to step up and play in big situations like state title games, they aren't blindsided by the opportunity or the moment.
Muenster head coach Brady Carney credits the success of the football program to the willingness of the younger athletes to commit to work hard and learn the game.
That commitment was on display Wednesday, July 24, during Muenster's summer football clinic that included incoming first graders to incoming freshmen.
"We're anywhere from 65 to 75 kids and that's just one of those things that makes this place special," Carney said. "And I think the parents push them to do the camps to get out of the house and that's one thing that I think that helps me out tremendously is how the parents are willing to push them to do that kind of stuff."
Carney said doing the summer clinics is a big step towards assimilating the incoming freshman for JV football.
"The reason I think a lot of us coaches do the camps that we do is because it is an opportunity to get a leg up on a few formations and a few plays, to kind of get them familiar with our terminology and how we do things," Carney said. "So yeah, it's an advantage for sure to be able to do the camps and practice two hours a week now that the UIL allows us to. I think that definitely gives everybody a little bit of advantage if you take advantage of it."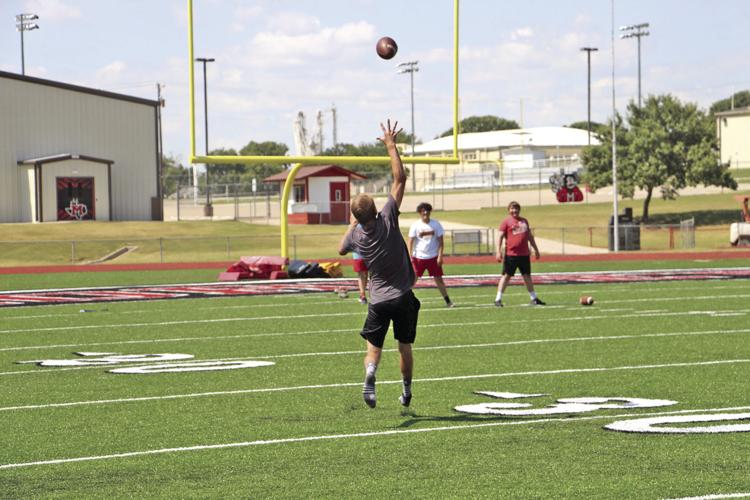 With defensive coordinator Mark Stevens taking the Saint Jo head coaching job, Wes Johnson has been elevated to coordinator.
Carney said the program would miss Stevens' expertise, especially at the middle school level, where he was coach as well.
"I'm worried about our junior high more so than our high school because Mark did an outstanding job at our junior high," Carney said. "Now it kind of falls on coach Johnson and coach Tyler McDaniel, our new coach, to kind of take those guys and continue to push them and work with them and teach them the skills they need to be successful in high school because I think coach Stevens did a wonderful job of that around here."
At times, Carney has to remind himself these kids aren't his varsity athletes.
"Today, I had to run back a station and you just break it down a little more simple for those guys," Carney said. "So you maybe don't do as much and you focus on just the little things like just how your arms are when you take a handoff, or how you carry a football, being high and tight across your chest and not out here away from your body. I think you just adjust what you're doing today. You have to be able to do that and it kind of says a lot about a coach when you're able to adjust your style to who you're coaching."
Patrick Hayslip can be reached at sports@gainesvilleregister.com or on Twitter at @PatrickHayslip