From the first whistle to the last, the Muenster defense put on another dominating display.
Despite Muenster holding a lead the entire game In a Thursday, Nov. 19, area-round matchup against Quanah, the Indians put a scare into the Hornets by cutting the lead to four points early in the third quarter.
But that was as close as Quanah came as the Hornets didn't allow another point and came up with big play after big play en route to a 50-22 victory at Memorial Stadium in Wichita Falls.
"Overall, their quarterback was a good player and we knew we were going to have a hard time tackling him, but we shut them out in the second half besides the offensive touchdown and to do that against a team that throws it as much as they do with as many skill players as they've got, I thought we were outstanding defensively," Carney said. "And we have been the last couple months."
The Indians busted the opening kickoff to the Hornets' 20-yard line, but Muenster held Quanah to a punt for a touchback to keep the game scoreless.
It took Muenster just two plays to land the first punch as running back Colton Deckard used his speed to rip off a 66-yard touchdown to put the Hornets up 7-0 just two minutes into the game.
Quanah drove the ball down the field on its next drive, but the Hornets forced two consecutive incompletions on third and fourth down to turn the ball over on downs at the Muenster 27-yard line.
Muenster used a concoction of runs and passes to move the ball on its next drive. The Hornets converted a key fourth down to get the ball to the Quanah 35-yard line and then despite committing a penalty on the next play, senior quarterback Trent Anderle launched a 43-yard touchdown pass to Eli Saucer to give Muenster the 13-0 lead with 1:17 left in the first quarter after a missed extra point.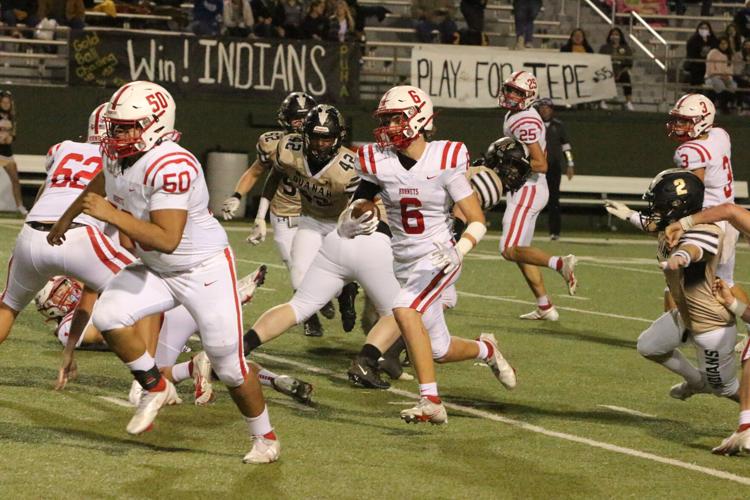 The Indians found the scoreboard as quarterback Landin Leija's 1-yard touchdown run and 2-point conversion trimmed the lead to 13-8 with 10:20 remaining in the second frame.
Anderle kept with his scoring ways on the next Hornets' drive as his 29-yard touchdown with 7:52 left in the first half put Muenster up 20-8.
"Offensively, I feel like we're playing really good, but our biggest enemy is ourselves right now with the penalties," Carney said. "We're getting better at it and hopefully we can continue to do so next week."
After each team exchanged punts, Muenster sophomore Grant Hess made the first of his several game-changing plays with an interception of Leija.
However, Muenster couldn't capitalize and was forced to punt on it's next drive to its own 44-yard line.
Leija needed just two plays to cut the lead to 20-16 as his 39-yard touchdown run and 2-point conversion got the Indians back in the game with 1:41 left in the half.
Muenster fought through some adversity on its next drive with Anderle out for the series.
Backup quarterback Eli Saucer found running back Jonathan Wheeler, who absorbed a tackle and snuck into the end zone with 14 seconds left to give Muenster the 26-16 lead after the failed 2-point conversion.
Carney said that play gave Muenster some key momentum headed into halftime.
"I wasn't sure how bad Trent was hurt, so I wanted to get to halftime with a four-point lead, but we put Eli in and we had two big runs," Carney said. "We threw to Jonathan and Eli hit it and J-dub [Wheeler] broke two or three tackles. I thought that was huge going into the half."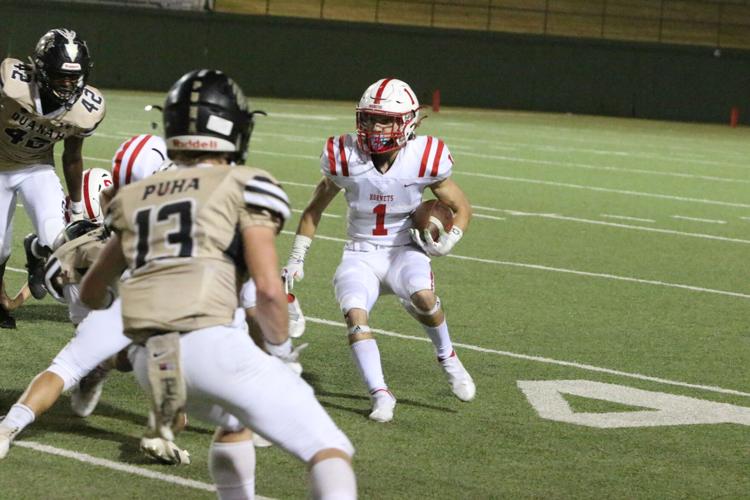 Each team punted on its first drive of the second half and it was the Indians that scored first as Quanah linebacker Braydon Garcia stole the ball from a Muenster running back and returned it for a touchdown with 8:20 remaining in the third quarter.
But from that point forward, Muenster put it into cruise control.
Even though both teams exchanged punts again, it was an 11-yard touchdown run from Deckard that pushed the lead back into double digits at 33-22.
"I told them that bad things happen in football and you have to move past it and win the next play and the next series," Carney said. "You have to get past it as quick as you can and they did a great job responding. A young team that keeps responding when their back is against the wall makes a coach happy."
Muenster's defense held the Indians to another turnover on downs with 1:57 left in the third and the Hornets' offense didn't waste the opportunity.
With Anderle back in the game, he launched a deep pass to Hess with perfect touch. Hess caught it in the back of the end zone for a 32-yard touchdown to extend the Hornets' lead to 40-22 with just over nine minutes left in the game.
"They started to get momentum and we needed to respond and I was just thinking, don't drop it, don't drop it," Hess said. "It was a great throw right in my hands."
Carney said Hess has shown plenty of progress throughout the season.
"Grant has really become the player we thought he could be," Carney said. "He's never played wide receiver and he's got a big frame at 6-3, 190 pounds. Early in the season he had a lot of drops and all of a sudden he started getting better like the rest of the team. I'm confident just throwing the ball up to him and he'll go get it. It was a heck of a throw by Trent too. Our passing game was really good tonight on third down especially."
Martie McCoy tacked on the 21-yard field goal to push the lead to 43-22 with 3:05 left and Hess capped off his spectacular night with an interception return for a touchdown to salt away the 50-22 victory with 2:36 left.
"That felt awesome knowing we were sealing the game right now and we're moving on to the next round," Hess said. "I think we can do it and we've really got something going now."