Every year, students from the University of Austin embark on a 70-day biking trek from Austin to Anchorage, Alaska, but this isn't just any group of students.
These are people that have committed nearly two years preparing for the ride and they joined a group named Texas4000, which not only rides in support and awareness of cancer, but raises money along the way.
The ride is the longest annual charity bike ride in the world and Wednesday, a group of riders stopped in Gainesville, where they were treated to meals from mayor Jim Goldsworthy along with facilities to stay in at Gainesville High School.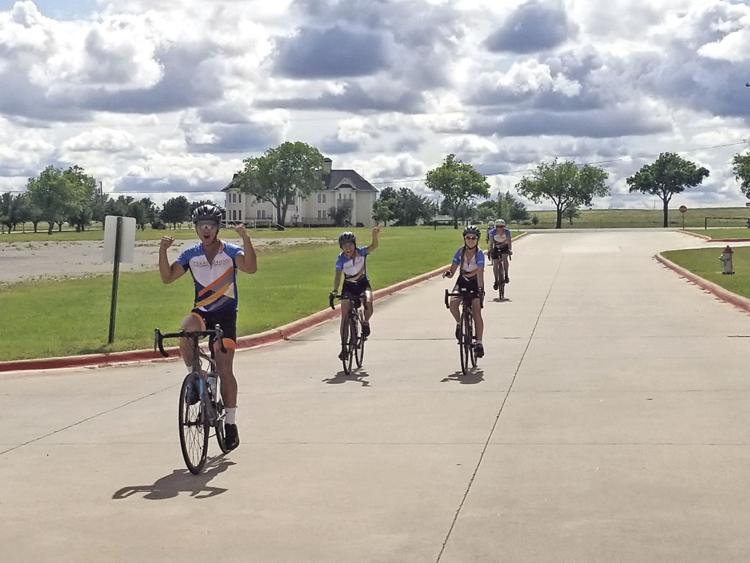 One of those riders was Maria Iuliano, a 22-year-old biology senior.
When Iuliano first heard about Texas4000, she was on her college visit to UT. She turned to her dad Jim, who was also an avid biker, and couldn't control her excitement.
Jim used to joke about Iuliano's family riding cross-country and now she is doing so.
But Iuliano didn't apply for Texas4000 at first.
After the 2018 team had already been announced, Jim was diagnosed with stage-four CLL (Chronic Lymphocytic Leukemia), which is incurable.
Maria's father is always on her brain, so naturally, riding with him in mind while raising money and awareness for cancer was a perfect fit. Maria also rides for others as well. Her aunt is a breast cancer survivor along with several others close to her that have been affected.
Maria rides for "hope" along with goals for a cure and doing so with her father in mind is important to her.
"Knowing that I'm doing this to fight for him and raising money for something that has so obviously impacted his life, that's really, really important to me because it makes me feel so much closer to him," Iuliano said. "He always talked about biking across the country. He isn't able to do that anymore so it kind of feels like I'm completing a goal for him in a way."
Iuliano talks to her dad almost every day and she said it's nice knowing she is motivating him to fight leukemia.
"It's really, really encouraging hearing sometimes he's getting on the bike because he knows I'm riding and stuff," Iuliano said. "I like seeing how hard he's trying and how motivated he is to fight cancer. It has been really motivating for me get on my bike every day and do those long rides that are sometimes really hot."
Iuliano didn't know much about biking at first, but she picked her dad's brain for any helpful advice while she dove further and further into the sport.
At first Jim didn't attempt treatment but now Iuliano said not only has Jim been taking medicine, treating his leukemia and enjoying life, but he was able to ride on the first day of the trip called 'Day 0' with Maria before her group began its 4,000-mile ride.
Iuliano's stop in Gainesville was Day 5 and now she and her group are already in the Rocky Mountains.
As she prepares for over 60 more days of riding, even Iuliano has a hard time fathoming what she is trying to accomplish.
"Before I even applied and when people hear about it, we're biking to Alaska, it just seems so incredibly outrageous," Iuliano said. "We're actually doing something and we're actually trying to make a difference, which I think will show how serious we are about supporting people who have been affected by cancer and fighting the disease itself."
Michelle Chen is a 22-year-old that just graduated with her degree in neuroscience and is already headed to graduate school at McGovern Medical School in Houston.
Chen heard about Texas4000 from some friends that were on the 2018 squad.
After hearing their stories and many others from those affected by cancer, she felt compelled to apply.
"Throughout our training year, we fundraise, we volunteer and train on our bikes, so it's been a pretty great experience leading up to this point," Chen said. "I think we've all grown in character a lot and just like being able to partake in something like this is really like a once-in-a-lifetime opportunity to actually take action on."
Chen rides for several people, including her grandfather, but it is her friend Joshua Ma that inspires her.
Ma was also a UT grad that had a job lined up at a big-time investment firm. Instead, Ma moved to Guatemala, where he worked with underprivileged kids at risk of abuse.
When Chen visited Ma on a mission trip in 2017, Ma was diagnosed with stage four stomach cancer.
At that point, it had already spread to his liver and his lungs.
Ma made a decision to spend the rest of his life in Guatemala with his pregnant wife and 3-year-old daughter.
Chen said that to the kids at the Kids Alive International, Ma was a father figure and well respected.
Ma passed away while Chen and her mission group were in Guatemala and Chen said the experience was extremely hard for everyone involved.
"His story really inspired me to do something beyond myself, just like he did," Chen said. "And I guess this story really showed me that caring for something and taking action for something or a cause that you care for, that you are passionate about, is important. I think Texas4000 embodies taking action for a great cause. He passed away on the Thursday that we were there and it was just really heartbreaking."
Chen said on the second day of the trip in Dallas, her group kept being stopped as several people made a point to comment about the phrase on the back of their jerseys.
Seeing how much awareness the trip is bringing is incredibly important to Chen.
"We rode like 115 miles and my group was the last group because we had stopped so many times on bike by strangers, who saw the back of our jerseys which say fighting cancer every mile," Chen said. "After they heard what we were doing, to me that shows that we are impacting the community and that people do see what we're doing. I think what we're doing is something really great for people."
Patrick Hayslip can be reached at sports@gainesvilleregister.com or on Twitter at @PatrickHayslip