The Valley View Eagles aren't done yet. Despite being picked to lose their past two games, the Eagles defied the haters again and this time, they did it in style.
The Eagles held a two-point lead with just under two minutes remaining and the San Saba Armadillos were attempting the go-ahead field goal from about 30 yards out.
Senior Luis Morales came flying into the backfield to block the kick and preserve 14-12 victory to advance the Eagles to the Class 2A state semifinal game against Post.
Valley View head coach Curtis King said Morales' hustle and determination led to the clutch fourth-quarter play.
"I don't know if they would have made the field goal, but I didn't want to wait and see," King said. "Luis took care of it."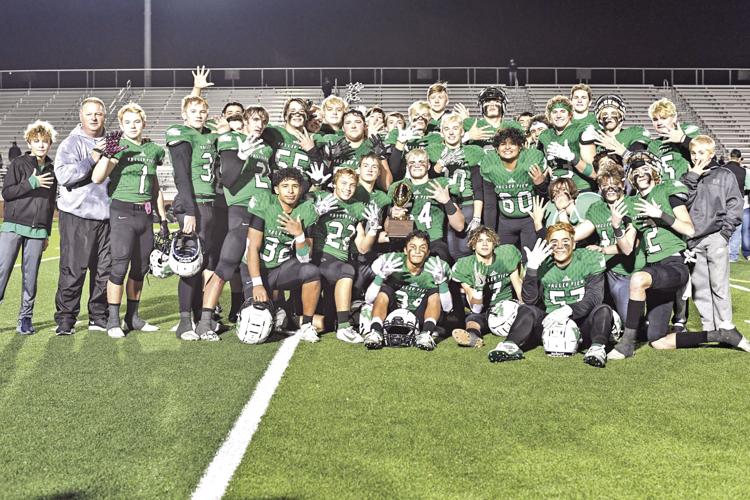 With time still left in the game, the Eagles still had work left to do. San Saba still had two timeouts remaining, so Valley View needed one first down to salt away the game.
The Eagles got more than the necessary first down as senior running back Clint Epperson broke lose for a 78-yard run down to the Armadillos' 1-yard line, where the Eagles took a knee to run out the clock.
"We had two penalties and it was 2nd-and-20, but then Clint broke one down to their 1-yard line," King said. "The first half, we were up 7-6 and you could tell that we caught [San Saba] by surprise a little bit. Our kids had tons of energy. At halftime they were stoked."
The 14-12 victory was one of the Eagles' lowest scoring games of the season.
Valley View totaled just 187 yard of offense and just 151 on the ground. Epperson led the team with 96 yards on 12 carries while Morales had 49 yards on 12 carries.
"It was a defensively battle and I wasn't sure if it would be or not. Part of me was afraid we'd have to score with them because nobody had held them to that few of points all year. It was kind of a rush to see it. The boys executed the game plan almost perfectly.
Senior linebacker Bryan Avalos said the team has thrived under its underdog mentality and will employ the same attitude this week against Post on Thursday, Dec. 12, in Brownwood.
"At first we had to prove ourselves, but it felt great," Avalos said. "It was very emotional to win such a big game. We practiced so hard. It's always nice to be the underdog and win. From the third round and up, we've been the underdog and we expect that. We just want to keep proving them wrong. We just have to keep working hard, listen to coaches and stick with the game plan."
Patrick Hayslip can be reached at sports@gainesvilleregister.com or on Twitter at @PatrickHayslip