The Valley View Eagles are in the midst of their precautionary time off, but senior quarterback Zach Isbell still has a fire burning inside him to earn back the starting job for next season.
Isbell began last season as the starter for the first seven games before Logan Lewis took over. With the Eagles transitioning to a different offensive style and up to Class 3A from 2A, Isbell is itching to reclaim the quarterback throne.
"I'm extremely hungry and I've got a lot to prove to a lot of people," Isbell said. "I've got a lot of people that don't think I can do it and those are the people that forced me to be better than I was. Last year, I don't think I was prepared the way I needed to be to start the season. This year, I definitely feel a lot better from everything to the mental and physical part of the game."
Isbell transitioned to the wide receiver position after Lewis took over and made the District 5-2A second team as a wideout, but he admitted it was tough to stomach the demotion.
"It's hard being at the top and falling," Isbell said. "It's a lot of heartbreak, but that's the point where you have to make a decision about what's better for yourself or for the team. You can handle it the correct way and keep the locker room healthy because if you don't have a healthy locker room, you don't have a healthy team and I've seen the things that can happen. I tried my best to support my teammates throughout last season."
Valley View athletic director Curtis King said he can tell Isbell has a motivated look in his eye.
"He's got a chip on his shoulder, which I think is good," King said. "He's worked extremely hard during the offseason. He's gone to a personal trainer and has worked before school even when school wasn't there. He's in great shape and is working his butt off."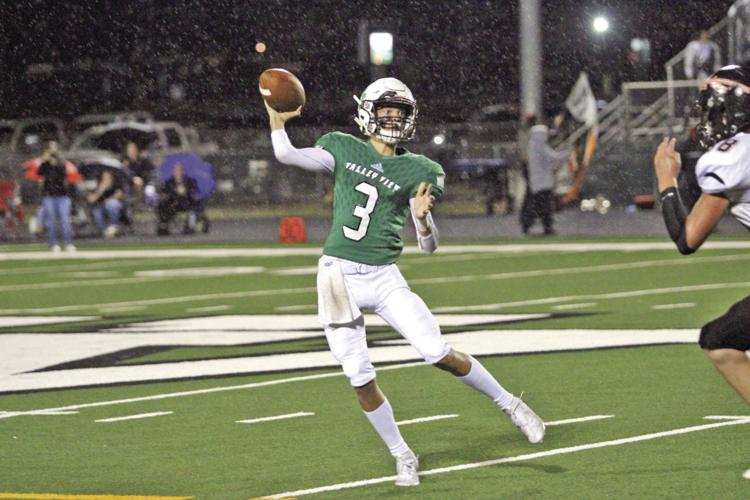 Isbell knows he has much to improve on as he moves into his senior season.
"I've been throwing in the mornings and it's a lot of footwork drills," Isbell said. "I'm trying to get more fundamentally sound in the pocket because my pocket presence wasn't the best it could be last year… I'm trying to put myself in a position to lead and if you don't show up, your guys aren't going to follow you. I'm just trying to lead by example."
King said Isbell is just one of many players that is driven to cement a starting spot next season.
"I tell all the kids that every position is open," King said. "Nobody is guaranteed for anything. Last year, when we made the switch, Isbell really didn't do anything we did wrong. It was just a different direction we wanted to go with the offense and Logan kind of fit that last year. Going into this year, we're going to change the offense again and they're going to have to learn a different style and a different way to do things. Isbell and Lewis are both going to have to work and the best kid is going to be the starter in game one."
Despite the temporary pause on summer workouts, Isbell said it's good to be back working out again with his friends and teammates, especially after having his baseball and track seasons cut short.
Isbell played shortstop and third base for the baseball team.
"It feels good to be back after being cooped up for so long and the instability of the whole situation makes it hard," Isbell said. "Coming out here and seeing the guys again reignites what happened last season. There's a sense of satisfaction, but there is a lot left that we have to do with the group we have now. Being away from sports was hard, especially when you go 100 miles per hour going from baseball to track like we were at the end of the season. It's good to come back to it after being gone for so long."
Before the past two weeks of respite, King said the summer program was going really well.
"We had been running the best numbers we've had in an offseason and there is a sense of unfinished business," King said. "For us, it's a little different. It's unfinished business, but we're also moving up a class and it's going to be a lot tougher this year."
Being granted the extra hours of sports-specific workouts has King optimistic about the return to football in August.
"It's huge," King said. "The UIL gave us extra time and that's big because we can do that stuff now before two-a-days. We can start with practice and not reteach the basic stuff when we get to two-a-days. We're just trying to get them faster. We're watching film this summer and we identified some things we need to get better at."
The team has been watching film from last season and King said the lack of speed amongst other things stuck out, especially in the Eagles' final playoff game against Post – a 35-7 loss.
As the Eagles move forward, King said he is going to leave it to this year's overall young group of players to decide what they practice in order to keep the workouts fresh.
"Right now, we're going basics across the board," King said. "We're working better to catch the ball. When we see the kids' juices running low, we're going to change it up to make it a little bit more fun. We want to work on the basics. We've got a young group overall. We've got only eight seniors."
Patrick Hayslip can be reached at sports@gainesvilleregister.com or on Twitter at @PatrickHayslip